ZÜRICH
Forty years is a long time
By Bob Enzel
When I was a tourist in Zűrich over forty years ago it didn't strike me as a place I wanted to re-visit. I felt it to be a cold-business-like city compared to Geneva which seemed to be more visitor friendly. Many times during this time frame I was in Zűrich to change planes or to drive from the Arlberg region directly to the airport without paying much attention to anything except my airport destination. Interestingly though, as travelers we always found the airport in Zűrich to be a user-friendly sanctuary. It has lots of good stuff to entice the traveler.

This past winter some ski friends and I were headed to Zermatt to ski and once again the Zűrich Airport was our transfer city and once again I went downstairs to board the very convenient train for Visp, which was our changeover point to Zermatt. And once again, I viewed the cityscape from a moving vehicle. On our return from Zermatt we all agreed to stay overnight at the Hotel Montana located a half block from the train station, known in much of Europe as the Bahnhof. The Montana was comfortable and conveniently located for a mad dash to the airport should time be a factor the following day.

Our hostess, Aurelia from the Swiss Tourist Office kindly provided us with Annamaria Pál-Műller as our tour guide for a walk-around the old city after a lunch at the very friendly Adler Swiss Chuchi Restaurant. After a lunch that lasted longer than anticipated our walking tour had to be shortened a bit and we had to move a little faster and look a little quicker.

I'm now a Zűrich city believer. It is a wonderful city to walk, look and marvel at. This was January and the weather was a mite chilly, but we enjoyed our walk and we all agreed that seeing Zűrich when it was warm would be even more exciting. With Annamaria as our guide we did not have to use our brain to
navigate, merely played follow the leader as we looked into the wonderful shop windows lagging behind quite often. The button shop, the oldest chocolate emporium, the smallest retail shop, St. Peter's church, the many, many fountains (over fourteen hundred we were told) small walkways where only horses and humans could navigate were built long before motorized transport became fashionable. And, of course the Zűrichsee where birds of many varieties pretty much had the lake to themselves on this pleasantly chilly day. In warmer weather they would reluctantly yield a portion of the water for swimming and boating.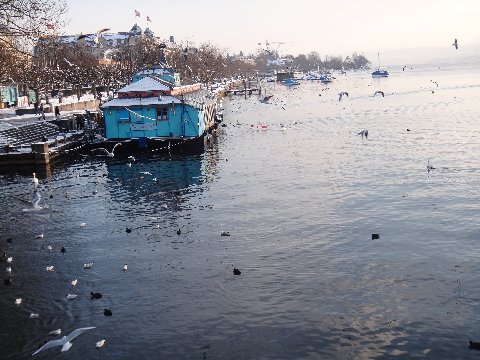 We had use of a ZűrichCARD Pass that permitted us into many of the buildings and to ride public transportation at no charge, ride first-class via train to the airport and use the pass to enter the museums of Zűrich free or ride the sightseeing boat. For forty-eight Swiss Francs it is the most reasonable way to sightsee Zűrich. It is well worth the fee and I recommend it highly.
After a superb two to three hour sightseeing walk our time was running short, but we still wanted to visit the Kunsthaus Zűrich Museum which was only a short distance. We were not anticipating the breadth of the museum's painting's diversity. From Medieval artist, Albrecht Durer's Adam and Eve to Jan Brueghel the Elder, Edvard Munch, The Scream to Caravaggio, Monet, Salvador Dali to modern painters and sculptures by Switzerland's own, Alberto Giacometti, and Rodin's The Gates of Hell...and then, time ran out on us. Dinner reservations restricted us to barely a two hour visit. Definitely not enough time to see all the marvelous paintings and sculptures at this amazing museum in Zűrich.
The birds have the lake to themselves in chilly weather.
Credit: Fred McKinney
Our dinner reservation was at the five hundred year old Zeughauskeller restaurant which specializes in traditional cuisine, but it was so crowded that we couldn't even get in the door to claim our reservation. We opted to cross the small alley-type-street and went into Cantinetta Antinori, an Italian restaurant that unexpectedly proved to be a dining delight where we happily ate, drank and marveled over the super day we had touring the city.
The short walk to the Bahnhof from The Hotel Montana the next morning for our train ride to the airport was a "piece of cake". Using our ZűrichCARD to ride in first class comfort we arrived within minutes to the state-of-the-art Zűrich Airport.
All things end, good or bad, but we all agreed that a return to Zűrich in warmer weather would be in our future travel plan.
For more Switzerland information:
www.MySwitzerland.com/
Note: If you're traveling to Switzerland via Zurich request the Airport Guide, "Flughafen Zurich". Or go on-line at www.zurich-airport.com and view this neat little guidebook to airport facilities...duty free. railway connections and special services. Such as, many Swiss trains stations allow you to check your luggage before your flight and issue you a boarding card. You may also check in the evening before a flight which is very useful for those early departures.
Some Airport Conveniences:
Self-check-in machines

Extended hours for airport shopping and dining

Staffed nurseries/playrooms at Gates A and E

Pre-order duty-free items via the Internet
Also on the GolfSkiandTravel.com web site check out the very humorous short films about Switzerland, They're under "Switzerland Spoofs Itself".
*(click on thumbnail for larger image)