GOLFING OKINAWA
By Bob Enzel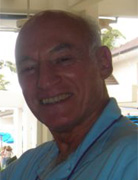 Situated between the East China Sea and the Pacific Ocean near the end of the Ryukyu Island chain is the infamous island of Okinawa. Okinawa, of course, was the site of Japanís last naval stand against the Allies in WWII. Many, many lives were lost on
both sides and itís certainly worth a visit for those who like to view former battle sites to enlarge their sense of history. These days, Okinawa is also considered a great location for scuba diving, but certainly does not appear as a top golf vacation site.
Yet the Island sports over half a dozen golf courses, which is quite a lot for this smallish island. Sightseeing and weather conditions during my visit allowed me only enough time to play the Banyan Tree Golf Course situated on the Kadena Air Base. A rather neat little course situated adjacent to the flight take off and landing field of Air Force fighter jets.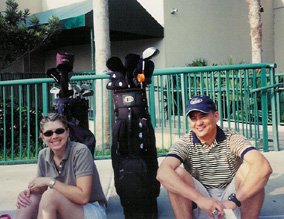 The par 72 Banyan Tree offers golfers a choice of the 6,604 yard Blue Tee; a 6,250 Red Tee or a 4,951 yard White Tee. Not knowing the course we opted for the Red Tee yardage. Without benefit of any significant sand-holes and only a few water-holes, the narrow fairways and rough provided enough of a challenge. One might consider the rough as being a sharp-edged-rough...hard on legs in short pants.
During our round somewhere between the 11th and 18th hole we were entertained by four waves of four F-15's taking off for
The course fee was nominal--very inexpensive for military and reasonable for non-military. There is a very nice pro shop where rental golf clubs are offered at a choice of $7.00 for an everyday set of thirteen or $15.00 for a high-end set of Calloway/Mizuno quality clubs. Golf carts and pull carts are available as is a driving range. A nice little snack bar-restaurant with a view of the air field round out the facilities. The course opened in 1960 under the name Kadena Golf Course on non-farmed land and is now able to employ over 100 local Okinawans who maintain the facilities.
Okinawa is not Hawaii. The island was officially returned to the Okinawans in 1972. At which time the Okinawan government opted to return to their heritage by using the yen as currency, driving on--what we call--the wrong side of the road, and having most of their signage in their native language. There did not seem to be many--if any--foreign tourists looking and poking about. Of course, natives from the main island of Japan were in abundance checking out the battle sites, memorials, temples and the relatively new aquarium and park complex. All very interesting I might add. There is now a movement afoot to construct European type gambling casinos to attract tourism to the island. In fact, a delegation visited Austria to view and consider this type of attraction.
More information about the Banyan Tree facilities and a map of the course layout may be found on www.18services.com/golf.