LUCERNE AND ENGELBERG
Great Names To Drop
by Bob Enzel
At cocktail parties –or anywhere- skiers will name drop ski areas and tell ski stories at the blink of an eye. Generally, the name-dropping turns into a one-upmanship game over anything that has to do with skiing and perhaps even take an odd turn. For instance, any skier who has even been to the large resort of Engelberg in Switzerland can rhapsodize about its famed Mt. Titlis and then suddenly change the subject to the charms of the nearby city of Lucerne.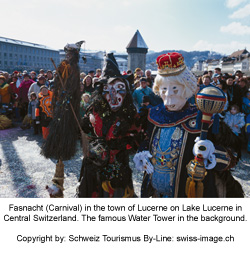 Count me among these guys who can fire both barrels. And let me elaborate. Lucerne is a city that refers to itself, as the "essence of Switzerland" and its geographic and historic centerpiece. It's also true that Lucerne is known for its Wagner, Mozart and delightful museums. Certainly, Lucerne is a staid Swiss city with the usual Swiss respectability.
But in February that image changes dramatically with a Mardi Gras- type celebration that rivals the revelry of New Orleans. Carnival time deletes any impression that the Swiss are a nation shorn of fun. All bets are off when The Carnival in Lucerne kicks off on Dirty Thursday at 5am with a loud boom. "This peaceful city along the lake suddenly becomes a wild, spooky stage for imaginary masked figures to roam." Along with Fat Monday and Tuesday these become Lucerne's "craziest and wildest days." The crowning finish takes place Fat Tuesday evening when roving bands of noisy musicians shake the foundation of the town. Specifically, carnival time turns the town upside-down with a fun-fun atmosphere. In 2006 the fun-loving people cavort from February 23 through March 2, 2006.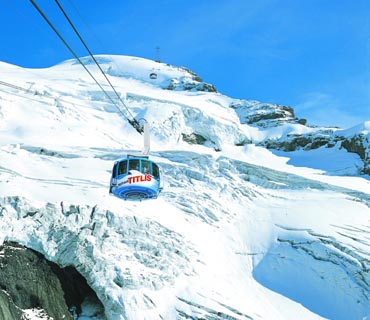 However, those of you over the age of 40 may want visit Lucerne in a quieter time. The city can accommodate that with ease. Let's start with fashion and soft music. In the later part of November, Lucerne comes alive with piano music during its Fashion Festival. Skip the entire month of December when their Bar-Street Festival and New Year's Ball is being hosted and come at the end of January when Mozart is in vogue or in July-August when Wagnerian operas go on, an on...and on. On the other hand, Lucerne hosts so many festivals—Comedy; Blueballs; Blues; Rowing; Band, and many more--throughout the year that it would take a bit of planning to miss one of them. For more festival info or for more about the fun city of Lucerne click onto www.luzern.org. You'll quickly notice that it is an ideal destination for mismatched couples---those in which one thirsts for vertical drop on the mountain and the other hungers for culture in the city.

Just for the record, Lucerne is located on the shores of the Lake Lucerne, which features every kind of sightseeing and water sport you can imagine. And year round you can take a delightful cruise on the beautiful lake that never freezes.
Visiting during ski season allows you to visit the country; sightsee the city, and of course ski Mt. Titlis and enjoy colorful Engelberg. If you wish to demonstrate your immaturity, come during November when the ski season begins on Mt. Titlis. This November's winter watchword is, "go skiing in your underwear." For the young skier it's a hoot, but for those of us over the age of 30 it's an entertaining spectacle.
It's too late for you ski in your underwear this season, but you can check out the mountain on www.titlis.ch. Pay particular attention to the fascinating Rotair, a rotating, aerial cable car with magnificent views. To ease the burden of ski travel you can rent your entire ski wardrobe at the Titlis cable-car station and you will find that the area is perfect for all levels of skiing abilities.
For more on skiing check out the web site, bluebookski.com.
Find more information for U.S., Canadian, and European
ski statistics and ski resort information here:

United States ski resorts,
Alaska ski resorts, Arizona ski resorts, Alabama ski resorts, California ski resorts, Colorado ski resorts, Connecticut ski resorts, Delaware ski resorts, Georgia ski resorts, Idaho ski resorts, Illinois ski resorts, Indiana ski resorts, Iowa ski resorts, Maine ski resorts, Maryland ski resorts, Massachusetts ski resorts, Michigan ski resorts, Minnesota ski resorts, Missouri ski resorts, Montana ski resorts, Nebraska ski resorts, Nevada ski resorts, New Hampshire ski resorts, New Jersey ski resorts, New Mexico ski resorts, New York ski resorts, North Carolina ski resorts, North Dakota ski resorts, Ohio ski resorts, Oregon ski resorts, Pennsylvania ski resorts, Rhode Island ski resorts, South Dakota ski resorts, Tennessee ski resorts, Utah ski resorts, Vermont ski resorts, Virginia ski resorts, Washington ski resorts, West Virginia ski resorts, Wisconsin ski resorts, Wyoming ski resorts

Canada ski resorts,
Alberta ski resorts, British Columbia ski resorts,
Saskatchewan-Manitoba, Atlantic Provinces ski resorts,
Ontario ski resorts, Quebec

Europe ski resorts,
Austria ski resorts, Austrian Gemütlichkeit ski resorts,
France ski resorts, Germany ski resorts, Italy ski resorts,
Switzerland ski resorts, Scandinavia ski resorts,
Norway ski resorts, Sweden ski resorts, Iceland ski resorts,
AANDORRA and the French Pyrénées,
Spain ski resorts, Slovenia