The Good; The Bad; The Golf in Palm Springs
By Bob Enzel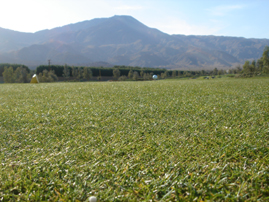 My golfing family and I checked into the Marriott in Palm Desert during high season with a week of golf in front of us and many courses to choose from. To ease us onto the golf scene we opted to start off with the home course, Shadow Ridge at Marriott. As a Marriott member the fee of $110 was reduced to $100 which for Palm Desert during high season we considered to be reasonable. The course was in excellent condition and proved a suitable challenge, however, the weather wasn't quite as good as we anticipated, but neither were we. There were sufficient water holes to keep our attention focused away from the beautiful mountain scenery and enough sand bunkers to give everyone's sand wedge a decent workout.
On our second day we decided to play Shadow Ridge again because we felt it was a good course worthy of our exceptional golfing abilities. This time around the course layout was familiar and we knew which bunkers we did not want to be in and where we preferred our balls to land. The course was beautifully laid out and reminded us of Hawk's Landing a delightful course in Florida which is also a Marriott property (see George Schissler's detailed review.) The weather improved to an anticipated Palm Springish feel and our game improved as we got over our jet lag and found our groove…so to speak. It was a fun day on the course.
The magazine "Golf News" had an advertorial on Indian Springs Golf and Country Club in Indio; their ad sold us on giving it a try. It was a nice course, but with 729 homes in this residential development we thought the course a bit cramped. On the narrow fairways two balls clunked roofs; another disappeared into a fenced off yard and one plopped into a swimming pool. One of the more interesting aspects about this course was that to get from hole #9 to hole #10 and from hole #18 back to the clubhouse, golfers have to cross a traffic controlled intersection. On a positive note, their excellent GPS system was right on the money and the fairways and greens were in fine condition. The ad truthfully claimed the greens were small and well maintained at a tournament level 10 rating on the USGA stimpmeter. The fee was perhaps bit high for this semi-private course in my humble opinion at $99—the advertorial promised the best golf value under $100…but it didn't tell us we had to pay extra for driving range balls.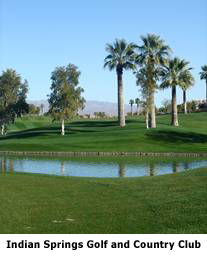 Now it was time to play one of the more well known courses. Our reservation to play Trilogy Golf Course at La Quinta had been made weeks before so all we had to do was show up. For our $130 fee we anticipated a top-of-the-line golf course, but perhaps we anticipated too much? Yes, the mountain scenery from Trilogy is beautiful, but the scenery is also attractive at most of the other lesser lights, however, the "Skins Game" is played here and maybe therein lays our consternation. Playing the course we noted that we crossed street after second-home-street from one fairway to the next. Our feelings were that Trilogy is not a golf course decorated with lovely homes, it is a housing development with lovely tee boxes and fairways. At this particular time the greens had been reseeded and were several weeks away from putting merit. Which reminds me, golfers have to pay extra for a decent course layout and the carts did not provide GPS service. If you accept the premise that because a couple of golf pros play the course once a year it must be a great resort, then you've been had. Our opinion is that Trilogy doesn't respect the recreational golfer—it's after money. There were some good points, such as, an excellent driving range, putting and chipping facilities, but was this worth thirty more dollars over equal or better facilities at Shadow Ridge? We thought not.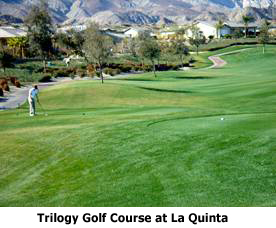 The following recently appeared in the "Travel & Leisure Golf" magazine. "Escena Golf Club…which opened in 2005, is a wide-open Nicklaus designed affair, forgiving without being facile. The conditions are superb year-round, and the greens fees top off at $115, a veritable bargain around here." Around here referred to Palm Springs. We went on the Internet to check out the Escena Golf Club and found that the on-line rate was only $75 dollars---a Palm Springs bargain. The weather continued to be good and the price was fair, but the resort was still undergoing construction which perhaps reflected the rate. The driving range consisted of a back yard-type-hitting net and a practice putting green the size of a nutshell. Range balls were free, but hitting into a net was like kissing your sister. According to a golfer that joined our threesome; "the club house has been under construction for three years."
Hole one was over five hundred yards. It's not often that you begin with a par five and a chance to use one third of your clubs on the first hole. The course had its good and bad points and perhaps the bad outweighed the good at this juncture of its short life as a golf course. The greens were large and interesting but several were under repair; the par 3 holes offered a nice mixture of long
and short holes; the sand traps were strategically placed; abundant water with lots of wildlife, but, the cart paths were unpaved--sandy and dusty. A couple of the fairways were quite divoted from previous golfers who must have been using pick axes instead of golf clubs; so many divots it looked like a mole convention was in town. The management at Escena was good enough to provide a nice little course layout booklet at no charge similar to one that Trilogy sells for about $7 dollars. The scenery was lovely, of course, mountains all around us, but this was a facility of the future that we would try again after it completes the construction.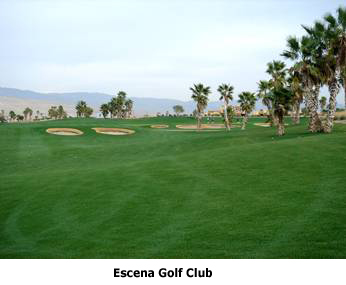 When it came time to decide where we would play our final round, we decided we'd rather play the Marriott's Shadow Ridge Golf Course again then play another housing development course in Palm Springs or Indio. After all, Shadow Ridge is not a poor relation—it's a Nick Faldo designed championship course with formidable bunkers, generous fairways and subtle undulating greens. And, the ubiquitous Santa Rosa Mountains are also in the background.
The bottom line is that it's your money and your time. Sure, play famous courses and say you did it, but don't be conned by the "Skins Game" into believing Trilogy is the greatest resort since sliced bread. When you watch the pros play on TV you don't see construction or streets between fairways--what you do see are gorgeous mountains and beautifully manicured golf holes. The pros play on a lot of courses around the U.S. and we've played a number of them without finishing the round feeling like we'd been part of a marketing plan.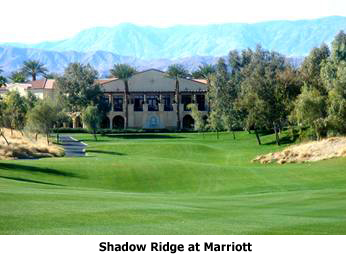 We've now returned home in the cold and long for the pleasant weather in the Palm Springs valley and the enjoyment of playing golf in the desert. No question, Palm Springs has a lot to offer the recreational golfer on vacation who wants to escape the bone-chilling cold of winter. If you get the opportunity, by all means go and enjoy the mountains and the fine golf courses carved out of desert sands.
Tip: Check out the local "Southern California Golf News" (paper) for advertisements offering reduced fees. There was even a January $99 special at Trilogy which we couldn't take advantage of and a $55 special at Indian Palms. Also, check for on-line specials.
.
Brief course comparisons:
Length/Tee Course Rating/Slope Course Designer
Escena 6615 yards/Championship 71.1/124 Jack Nicklaus
Indian Springs 6671 yards/Gold 72.0/127 Roger Snellenberger
Shadow Ridge 7006 yards/Black 73.9/134 Nick Faldo
Trilogy 6883 yards/Black 72.1/127 Gary Panks