Skiing Dubai
113 Degrees Outside and You're Going Skiing???

by Bob Dever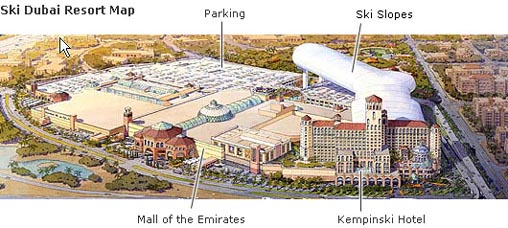 Many of us have had the opportunity to ski or board when the temperature is in the mid-40s. It usually involves shedding some of those layers of clothing that we've built up during the winter, pushing around lots of wet snow, and in some cases accessorizing our wardrobe with green or black trash bags. We understand 45 degrees Fahrenheit, but what about 45 degrees Celsius - or 113 degrees Fahrenheit? Is it really reasonable to have temperatures over the century mark and winter sports in the same thought? Well, it is in one place in the world.

Since the middle 1970s we've seen increases in the price of energy result in an enormous transfer of wealth from the developed world to the oil-rich sheikdoms of the Middle East. How this money gets used differs from country to country. However, in one particular place, a small amount of it was used to build a ski hill.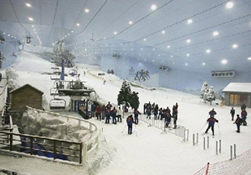 The country of Abu Dubai sits west of Pakistan, east of Saudi Arabia, and across a narrow body of water from Iran. Itís little more than a sand bar with limited native vegetation and the only green that you see are the imported palm trees that line local highways. Itís a tax-free, duty-free state, a shopping and banking mecca, and home to a significant percentage of the world's construction cranes. And, it has a ski slope that does over one million skier visits a year.

I passed through Dubai on my way to South Africa. I routed myself, Philadelphia--London-Dubai-Johannesburg because I wanted to see what indoor skiing was all about in a country where the temperature at midnight is 95 degrees.

Ski Dubai is the third largest indoor slope in the world. The area covered by snowmaking is 22,500 square meters, the size of three football fields. The vertical drop is approximately 200 feet and at its center the slope is about 90 feet wide. The housing, or outside structure, reaches to over 250 feet, the height of a 25-story building. Thirty tons of new snow are made every night and pumped into an area that is maintained at a constant temperature of between 28 and 30 degrees Fahrenheit. There is a kindergarten, a ski school, summer camps, and the entire complex has 250 full-time employees.

For 140 dirham (the local Dubai currency), or the equivalent of $40 US, youíll receive boots, a snowboard or skis, poles, socks, a blue and red parka and a pair of ski pants. Hats and gloves must be purchased. You also get a lift ticket that entitles you to two hours of skiing and the use of a quad chairlift.

The slope is open day and night the entire year. Capacity at any point in time is 1,500 skiers and during their peak season--our summer--skier visits average over 6,000 per day. In the off season 3,000 skiers per day is normal with about 4,500 on weekends. These may not seem like large numbers per day but remember that Ski Dubai operates twelve months a year, and with its annual number of skier visits at over one million, rivals the major American and European resorts.

Who skis here? Dubai is a transient town. Itís a city of second homes, apartments, and condominiums. Itís a tourist destination for international shoppers and a plane stop for Americans and Europeans on their way to sub-Saharan Africa, parts of the Middle East, and the Indian subcontinent. Of the people that I spoke with, about half were tourists, just passing through, and the others were local residents (read local in that sentence to mean somewhere in the Middle East). The tourists were there to experience indoor skiing and take the opportunity to add another ski area to their list. The locals, however, want to introduce their children to the joys of winter sports. They ski regularly in Dubai and travel, mostly to Europe on an annual or biannual basis. They picked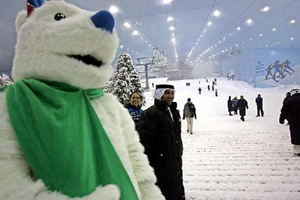 Switzerlandís Zermatt as their preferred European destination with Austriaís St. Anton running a close second.
Whatís it like to ski there? Itís pretty dull to be honest! Two hundred feet of vertical and a relatively smooth surface won't keep you enthused for very long. The idea of skiing indoors though, especially when itís stifling hot outside, in the middle of summer, does have value.

Abu Dubai bills itself as ďTomorrow's City Today.Ē Is its approach to winter sports the future -- doubtful? Was it a unique experience for me -- absolutely? But, we all know that there is a lot more to winter sports than just sliding down the hill and being confined inside a shopping center, with artificial light, man-made snow, and 1,500 other skiers/boarders on 200 feet of vertical -- well, you get the idea.

Of course, there is that idea that any skiing is better than no skiing.
Find more information for U.S., Canadian, and European
ski statistics and ski resort information here:

United States ski resorts,
Alaska ski resorts, Arizona ski resorts, Alabama ski resorts, California ski resorts, Colorado ski resorts, Connecticut ski resorts, Delaware ski resorts, Georgia ski resorts, Idaho ski resorts, Illinois ski resorts, Indiana ski resorts, Iowa ski resorts, Maine ski resorts, Maryland ski resorts, Massachusetts ski resorts, Michigan ski resorts, Minnesota ski resorts, Missouri ski resorts, Montana ski resorts, Nebraska ski resorts, Nevada ski resorts, New Hampshire ski resorts, New Jersey ski resorts, New Mexico ski resorts, New York ski resorts, North Carolina ski resorts, North Dakota ski resorts, Ohio ski resorts, Oregon ski resorts, Pennsylvania ski resorts, Rhode Island ski resorts, South Dakota ski resorts, Tennessee ski resorts, Utah ski resorts, Vermont ski resorts, Virginia ski resorts, Washington ski resorts, West Virginia ski resorts, Wisconsin ski resorts, Wyoming ski resorts

Canada ski resorts,
Alberta ski resorts, British Columbia ski resorts,
Saskatchewan-Manitoba, Atlantic Provinces ski resorts,
Ontario ski resorts, Quebec

Europe ski resorts,
Austria ski resorts, Austrian Gemütlichkeit ski resorts,
France ski resorts, Germany ski resorts, Italy ski resorts,
Switzerland ski resorts, Scandinavia ski resorts,
Norway ski resorts, Sweden ski resorts, Iceland ski resorts,
AANDORRA and the French Pyrénées,
Spain ski resorts, Slovenia