THE CAPITAL CITY OF BERN
An ideal place for an Add-on
By Bob Enzel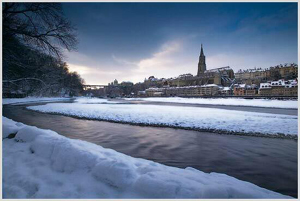 As an inveterate traveler I am conscious of my three P's of traveling: planning, patience, and politeness. Patience and politeness are merely a matter of good manners and courtesy honed to silence during critical moments. But planning takes thought ahead of time.
What does this have to do with Bern you may wonder? A few years ago my friends and I had visited Interlaken and the ski meccas of Grindelwald, Mürren and Wengen. We drove from Zurich at our leisure, going around the city of Bern without so much as a decent look. In retrospect that was extremely poor planning. Our focus was toward awesome ski slopes just outside of Interlaken. Not visiting Bern--even for only a few hours--was a shameful omission on our part.
But even omissions can be corrected and I can now report that Bern is a city that should not be missed on the way to the Eiger, Mönch and Jungfrau mountains. The city of Bern is located about 45 minutes by train from Interlaken (trains run twice an hour).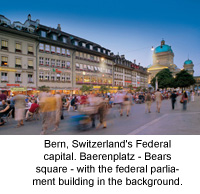 This winter is an excellent time to visit Bern. If you are an architectural buff and a painting enthusiast, you must visit the recently opened Paul Klee art museum. This avant-garde edifice was designed as if a series of gentle waves beckon you inside to view an unprecedented number of paintings by one artist in one location. More than 4,000 of works of iconic Klee are in this one center. The museum is wonderfully sectioned into several functional parts: the middle hall offers a rotating smaller exhibition; the main hall overwhelms you with his paintings and there is a Children's Museum (Creaviva) for children ages four and older.
But this is the year of Einstein. Albert Einstein lived in Bern for seven years during which time he developed the Theory of Relativity. And, things being relative, a visit to Bern this winter must include a visit to the special exhibit "Albert Einstein 1879-1955" at the Historical Museum. Meet Einstein by experiencing his physics. Watch films and computer animations as they present his life and role in world history. "Hands-on" technological displays allow you to watch construction of a Roman Arch, lift weights by treadmill, ride a bike on a high wire, or even drive a disc-wheeled wagon. These are just the tip of a two-floor 2500 square meter exhibition. His life from Russia to Princeton with stops in Bern, Zurich and Ulm along the way will fascinate you.
Bern also wants to show off its STADE DE SUISSE. This multifunctional arena for cultural events and sporting venues will truly amaze your senses. Book a tour if your time is limited. If you can speak German or French, it's easy enough to do by Internet at www.stadedesuisse.ch/, but if not, you can still get a pretty good idea of this mammoth solar-sized power station and comprehensive facilities by surfing the site.
Before I mention some other Bern sites, allow me to suggest you opt for a BernCard. Pick up one of these little gems in the Tourist Centers of Bern Tourism at the railway station or at the Bear Pits. Again, you can go on-line and access them at www.berninfo.com or contact them at info@berninfo.com. Good news for those that have trouble with French and German---it's in English. In short, the BernCard offers an amazing number of discounts on tours, strolls, 27 museums and unlimited travel on the excellent public transportation system.
Bern is a walking city with an Old Town you'll fall in love with. There's the medieval Zytglogge "clock tower"; the Bear Pits, in front of churches, bridges and fountains and its famous Bundeshaus. Of course, there is much more, but this is enough to get the travel juices flowing.
Lastly, may I remind you that the capital city of Bern is also a UNESCO Cultural World Heritage Site.
Now that you have been alerted, when you do the planning for your next ski trip to Switzerland, include the lovely and magical town of Bern.