ZELL am SEE
By George Schissler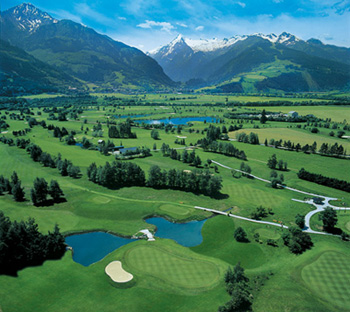 You have hit on to the GolfSkiandTravel site and what better way to be able to golf, ski and travel than an all-in-one parcel. If you are a man for all seasons Zell am See/Kaprun, Austria is truly where you want to be. A place where all seasons are to be enjoyed during the summer months, for it is here you can golf, ski and more--all in one day.
THE GOLF
Golfers have a choice of two championship courses at the Golf Club Zell am See which affords spectacular views of the nearby Kitzsteinhorn Glacier, which is accessible year round for skiers. The golf courses are open for play from April through November and are located in the Salzach Valley, the largest facility in the Austrian Alps. No other region in Central Europe can compete when combining golf and skiing as activities--although the views from the golf course are certainly distracting and may add a few strokes to your score.
The par 72 "Schmittenhohe" course measures 6,837 yards for the men and women play it from 5,881 yards. Although the "Kitzsteinhorn" layout is shorter than the "Schmittenhohe" at 6,565 yards for the men and 5,844 yards for the ladies it plays one shot more with 73 as par. Both courses are heavily sand trapped with water coming into play on several holes. ("Kitzsteinhorn" has 46 traps and you can drown a ball on at least 13 water holes). There is an excellent pro shop, full service restaurant and bar where alcohol can counter-act all the previous water.
GLACIER SKIING:
During the summer months skiers can have fun on the Kitzsteinhorn Glacier in nearby Kaprun. From atop the Kitzsteinhorn you easily view the Grossglockner, Austria's highest mountain peak. You will want to ski in the morning while the snow is still firm, while afternoons should be saved for golf or water activities on beautiful Lake Zell am See. Buses run from Zell am See to Kaprun taking skiers right to the lifts, of which there 27 (6 chairs, 3 cable cars, 16 surface and 2 listed as other). Terrain is rated 37% beginner; 45% intermediate and 18% expert with an uphill capacity of 35,500 per hour.
Here's the arrangement. Take a gondola to the bottom of the glacier and board a quad chair to the mid-station, or you may also access the mid-station via the funicular railway where vast open, above tree-lined powder fields await. During the winter months there is also plenty of skiing in Zell am See on the Schmittenhohe Mountain which affords beautiful views of the town and the lake below.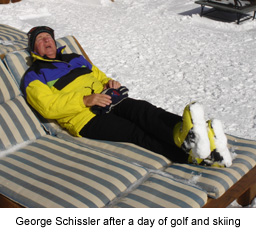 WATER ACTIVITIES:
Zell am See (translates to Zell by the lake) at the foot of the mountain is exactly where the town is located. It lies between the lake and the "Schmittenhohe". Lake Zell with its crystal clear water invites you to take a plunge. You can also river raft on the Salzach, go canyoning (a combination of climbing, jumping and swimming); mountain biking; or take a quiet lake sail. Virtually every summer activity is available to the adventurous traveler. If there is an outdoor activity you enjoy you can do it here. During the summer months all the seasons invite the "man for all seasons."
More Info: http://www.europasportregion.at/golfclub/