Martinique
"The Isle of Flowers"
By Bob Enzel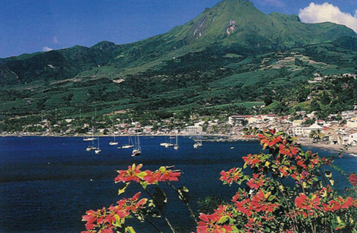 If perhaps you are bored with Cancun or maybe want to show your disdain for Aruba or merely looking for a unique experience in a friendly country--one that really wants North American visitors— Martinique is a sparkling alternative.
Most everyone has heard of Martinique, but where is it and how do you get there? Two excellent questions. Think sun, sand, and the middle of the Caribbean and you'll have an idea where this neat little island in the sun is. If Columbus could find it, you can too.
The American Air Line's non-stop flight out of JFK has been terminated for the winter; but, Delta Air Lines has picked up the U.S. non-stop service departing out of Atlanta every Saturday. Also, beginning February, American Eagle will offer daily service out of San Juan, Puerto Rico.
Those of you who prefer the Club Med life style will love their recently opened $60 million luxurious Club Med Buccaneer's Creek Resort. Consider splashing about in a 5,000 square-foot pool; lounging in a plush bed or perhaps using the decadent Club Med spa or state-of-the-art fitness facilities. It sounds like the makings for a good vacation…
Not interested in Club Med, no problem. The island has over 6,000 hotel rooms spread among 160 properties from budget to deluxe. Here are a few other hotel options to consider.
The Relais & Chateaux Cap Est Lagoon Resort & Spa not only has the longest name for a hotel but is the island's only four-star deluxe hotel. Conde Nast Traveler named it as one of the 80 best new hotels in the world in 2004. If you don't want to swim with the hoi polloi they offer 35 deluxe suites with private swimming pools.
About a half hour from Le Lamentin International Airport in the Atlantic Coastal town of Francois is the boutique lodging of Maison d'Hotels Plein Soleil. It is considered the hotel to relax or perhaps to break up the visit with excursions to a couple of nearby islets.
For a discerning few the 12 room Domaine Saint Aubin on the Northern Atlantic Coast offers fine manor living in its Louisiana-style hotel with Napoleon the 3rd furniture.
Perhaps the trendy Sofitel Bakoua is more your type with 198 ocean view rooms fit for both leisure and business travelers. The Sofitel is located on the outskirts of Fort-de-France. As an aside, the Karibea Hotels as one of the more popular choices is quite tuned into the many leisure activities of its guests.
Here's a hook for golfers. The Martinique Golf Club stands alone. So alone, it's the only golf course on the island. www.golfmartinique.com/
The Martinique website is www.martinique.org/ The Martinique Promotion Bureau telephone number is: 212/838-7800 ext. 228. There are several island air sites to check out for rates and reservation information, such as, www.takeairlines.com/
U.S. and Canadian citizens will need a passport of course, but a visa is not required. Citizens of other countries should verify if there is a visa requirement.