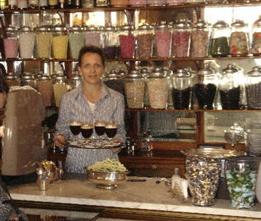 Vignette on Wine and Cheese
So Many Wines. So Much Cheese. So Little Time
By Bob Enzel
The one thing I knew before hand when I traveled through France and Italy was that it would be impossible to cross the threshold of the many wine and cheese districts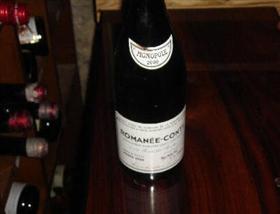 without reflecting on great wines to taste and mellow cheese to savor. Situated in a bucolic countryside setting, the enchanting "Mont d'Arbois" lodge in Megeve, France was our first stop . We anticipated a nice welcoming dinner, but not the eight course gourmet meal that was served with four different wines. While we waited to be seated, the head waiter showed us the wine cellar. It was not significantly large, but it was piled top to bottom with many types of wine---perhaps two thousand bottles. We inquired about Romanee Conti (Burgundy)and Chateau Pestrus (Pomerol.) With a big grin, the wine steward
pulled out a 1966 and 2000 Romanee Conti and a 1995 Chateau Petrus. Both wines are tops in their class, but hard on the pocket book (If you have to ask the price, you can't afford them.) Just seeing these exceptional wines was enough to whet our palate.

A full description of the extravaganza is worthy of its own article. In short: the sauteed foie gras, monk fish meuniere, roasted "Mieral" pigeon made up three of the eight courses. The food was accompanied by a Baroness Nadine Chardonnay 2008--a wine produced by a partnership between the late Baron Edmond de Rothschild and the late Dr. Anton Rupert of South Africa--and a Chateau Clarke Medoc 2003 Edmond de Rothschild. The Chateau Clarke was called "...a sleeper of the 2003 vintage by Robert Parker." Also, a Chateau Peyre-Lebade 2002 Haut-Medoc by Baron Benjamin de Rothschild, son of Edmond, whose vineyard is a neighbor to Chateau Clarke. The meal concluded with the delicious desert wine Mas Amiel "Vintage" 2004 by Olivier Decell to compliment the Jivara chocolate cake and cheese assortment. The following day, a hike over the hills above Megeve worked up an appetite.
We wound down the mountainside to the picturesque little town with quaint shops and restaurants. It also contained the ubiquitous memorial to those who did not return from World War I and a church of old, but no ancient significance. With Marithe Crozet, director of Megeve Tourism, we had lunch at the newly remodeled "Bistrot de Megeve" and dinner at "Fermes de Marie's" restaurant, both great places to eat and drink. In the city of Chamonix we checked into the "Le Hameau Albert 1er" hotel, located about a minute from the town's centrally placed statue commemorating the first men who climbed Mont Blanc. The "Albert 1er" is tucked in a secluded setting with several separate lodgings. I was in a lovely room in the main building; others were in first class rustic lodges. Dinner was at "La Maison Carrier" where we ate another excellent meal , but fortunately for my waistline it was not eight courses. It was served with a Quenard Pinot Noir 2006 from the Savoie Domaine Jean-Pierre--a good local wine that went well with the Poulet fermier roti and Les fromages de Savoie.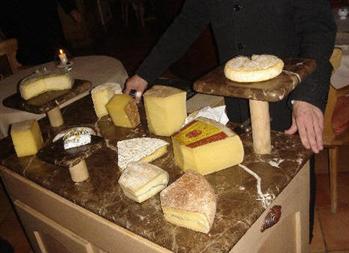 Along with wine we drank in France, we tasted a number of different cheeses out of a plethora of options. Savoie is well known for its many cheeses but less known for its wine. The word tomme means 'cheese' and precedes the names of many cheeses produced in the Savoie Mountain. To name a few: Tomme de Savoie, Tomme des Bauges and Abbaye de Tamie are semi-soft from cow's milk and Tomme de Chevres is a soft cheese from goat's milk. There were lots of other savory choices: Roquefort was the most famous among the many blue-veined cheeses, and familiar names, such as, Brie, Camembert, Gruyere, Emmentaler were generally on the cheese rack. France has many wine producing sections--Burgundy, Bordeaux, Champagne, Provence-- but there is only one Savoie region that produces a variety of mountain cheeses to complement the wine.

The other local wines we drank in France were good, but not memorable, yet no wine was left in the bottle. I prefer to drink the local wine, because it is only local and not shipped out of the country. For example, two of the Vins de Savoie we had were Domaine Edmond Jacquin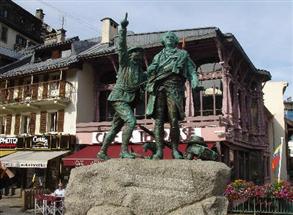 2007 Chardonnay and a 2005 Mondeuse by Jean Cavaille. Both were light, refreshing wines. Either you drink them here or not at all. Some are truly excellent and others merely drinkable...none are bad.
After several epicurean days of Savoie cheese and French wine, we left France via the Mont Blanc tunnel and headed to Torino, home town of Fiat and host city for the 2006 Winter Olympics. This lively former Roman city is located in the famous Piedmont district, where some of Italy's finest wines are grown: Barolo, Barbaresco, Barbera, Moscato and Nebbiolo. In fact, 45 Piedmont wines proudly wear the D.O.C. (Denominazione di' Origine Controllata) crest on the label.

We stayed at the "NH Santo Safano" hotel and had splendid rooms with the hotel well-located for sightseeing and strolling. For a change of pace a short walk brought us to a small shop of immense popularity and renown in the Piazza della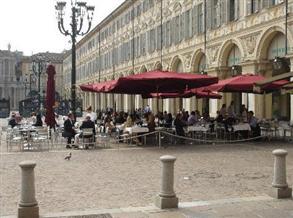 Consolata. In business before Napoleon was born, "Cafe Al Bicerin" is a charming cafe-chocolate shop not to be missed. The specialty "Bicerin" is a hot drink made of coffee and chocolate, with milk floating on top. Delicious! Nearby was the gigantic central Torino market area in the Plaza Della Republica. The mostly outdoor market seemed to have an infinite variety of foods, flowers and sundry non-edibles. We squeezed in a visit, but it was just a side show for our group. We headed for lunch at the world famous San Carlo Plaza where the 2006 Winter Olympics was broadcast from and which is lined with high end stores like Armani, Hermes and Brows. All corners of the square are populated by restaurants. We sat down for a delightful antipasto buffet lunch at the historic Cafe San Carlo, which offered a mouth-watering array of cold Italian specialties. This was accompanied by a Roero Arnot Tonin, the perfect wine for a light lunch.

It's difficult to believe any of the above could be topped, but we were to visit "Eataly" the following night. We were invited to dine at "Casa Vicina" a Michelin guidebook restaurant, which interestingly is situated in the lower level of "Eataly," a grocery-department store. However, calling "Eataly" a grocery store is a gross understatement. It is an eye-opener. The senses are assaulted by pleasant smells and sights of food. The main floor is loaded with displays of cured meats, cheeses, fruits, vegetables, fish, coffee and baked goods. There are numerous tasting stations, a 2000 book themed library with a cooking course room, an in-house bakery with wood-burning oven, fresh pasta, a coffee roasting facility, and a large countered sit-down dining-drinking area. Downstairs is a tapas bar, a beer corner and a large wine department with perhaps 100 varieties of Barolo alone hidden in its own corner. There was not enough time to view the many Piedmont District wine varieties before the call to dinner. Shielded behind all this wine was "Casa Vicina" restaurant. Dinner did not disappoint in the gastronomic department. It was a five-course gourmet dinner, but the menu was printed in Italian and I distrust my translation for fear of not doing the "Menu di fine Estate" justice. To accompany the meal we were served a prestigious full-bodied FontanaFredda, Serra Lunga d'Alba 2004 Barolo suitably carrying the D.O.C.G. crest.
The renown of Piedmont as a fine wine producing region was evident in two locales we visited just to the west of Torino. The first, "Vigneti del Ghiaccio" (ice wine vineyards) was quite remarkable in that it only produced ice wine for three years. It was their hope that we would take back the news that San Sebastiano 2005 ice wine is meritous of being available in the U.S. They had already found outlets in Japan and Argentina, but they were ambitious and wanted to move forward. At about $50 dollars the wine is certainly worthy of being served at my table to accompany desert. Additionally, we were privileged to taste their Ice Wine Liquor di Genepy (74 proof) and a Liquor di Miritti (54 proof.)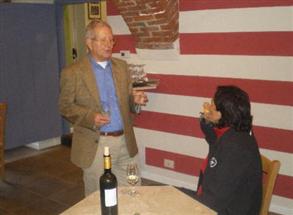 The following day we visited the "Orsolani Wine-Cellar" in the Canavesi area of Piedmont where we were greeted by Luigi Orsolani and his son, Gian (John.) This small vineyard has operated since 1894 despite the hardship of WWII and has deservedly built a stellar reputation. Cheese, bread and several types of wine were set out for our late arrival. The personable father and son team started us off with a 2004 Cuvee Tradizione Brut (dry) Classico Spumante, a reasonable ($20) champagnoise method wine that goes well with drinking in the New Year. This was followed by La Rustia, a 2007 light, dry white wine from sun-ripened Erbaluce vines giving it a non-acidic flavor. Lastly, we tasted the Orsolani Sule Caluso Passito 2003 made from overripe Erbaluce grapes that are fermented slowly and aged for three years in oak barrels and then aged in the bottle for over a year. It produces a slightly sweet, velvety, golden-hued dessert wine for a bargain $30 dollars.

Later that night we strolled down the Via Po, a wonderfully portico-lined street of popular shops and restaurants. Our dinner was at the "in" Porta de Po in the very nightlife-active Piazza Vittoro Veneto that attracts young revelers out for a fun time of food, drink and camaraderie. The service was a turn-off preceded by a ho-hum dinner accompanied by an unimpressive Roero Arneis Controlle E. Garantita 2007 Cornarea white chardonnay that was cloyingly sweet. This was accompanied by a Fratelli Alessandria that was a light bodied red of fair quality. Perhaps it was me after a week of wonderful food and wine, yet sometimes an "in" place has read its own reviews and can no longer live up to expectations. Regions like Piedmont and Savoie are wonderful areas to visit. They contain a no-vehicle-permitted village like Megeve, Chamonix's historic center and large Romanesque cities like Torino that are active with people of all ages that enhance the travel experience. All the above are within two hours of each other which makes a daytime excursion easily possible.

Postscript. After returning to the U.S. I tried to find the Chateau Clarke locally with no success. It may be available in other major wine distribution regions such as, New York City. However, I did find a sister wine, Chat Malmaison 2003 "Baronne" Nadine de Rothschild from the Listract property adjoining Chateau Clarke. Its soft tasting wine goes well with lamb, fowl or game dishes, but I preferred it with cheese. Of course!
Contacts:
www.hameaualbert.fr
www.chalet-montarbois.com
www.eatalytorino.it/ or www.eataly.it/
www.nh-hotels.com
www.orsolani.it