AURORA BOREALIS
By Bob Enzel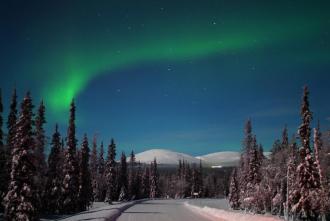 Finland may be the ticket if you are searching for some place different to visit? Until you visit Finland's in its "top of the world" location you will have missed the best seat to view the Northern Lights or by its traditional name, Aurora Borealis.
The chance of seeing this weather phenomena north of the Arctic Circle is best from September to March.

Consider the do-it-yourself approach of riding through the snow on a snowmobile of the Aurora Borealis or the laid-back approach of sitting in a hot tub and watching the display.
Here are several intriguing options.

In Kakslauttanen in 2010 a new viewing concept, the "Sky Panorama Bus" has the only panorama skylight in Finland that can take you to the best viewing area in comfort.

Or, stay in the Kakslauttanen Igloo Village close to Ivalos that offers thermo glass Igloo accommodations where you may watch the blaze of lights in comfortable room temperature conditions.

Visit www.kakslauttanen.fi/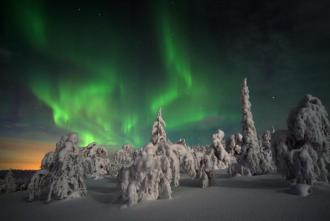 From your own room in the Ruka Ski Resort situated in the Arctic wilderness you may sit in your private hot tub at the new upscale "Hotel RukaVillage" and view the lights in total comfort.

Visit www.ski-inn.fi

Another hotel with a different experience is the Arctic SnowHotel. This accommodation as its name applies is built from ice and snow and is located close to Lapland's capital of Rovaniemi. A fleece-lined sleeping bag will keep you comfy after the hot tub Northern Light watch.

Visit www.arcticsnowhotel.fi
If the above are perhaps too tame for your viewing pleasure there is a hands-on opportunity. Hop on the "Aurora Safari "and take a midnight snowmobile ride across ice fields to a lookout point on a ride that lasts an hour and a half and is offered at a reasonable rate.

Visit www.safarisunlimited.fi

There you have it. Get motivated by visiting www.visitfinland.com