The York of Yore
By Ted Heck
We Americans can boast with equanimity about our English heritage that was recently celebrated with the 400th anniversary of the settling of Jamestown. Citizens of the walled city of York in northeast England wouldn't be impressed. They can go back in time 20 centuries and more, with a rich history that transcends several cultures and languages.
In two days of whirlwind sightseeing recently Connie and I caught the flavor of this beautiful city, but left with huge gaps in our understanding of those changes. We learned about the Roman invasion in 43 A.D. and that Latin was the dominant language for four centuries. We were talked through Anglo-Saxon times, arrival of the Vikings, conquest by the French Normans, life in the middle ages, the marvelous architectural changes that make the city a delight to stroll in.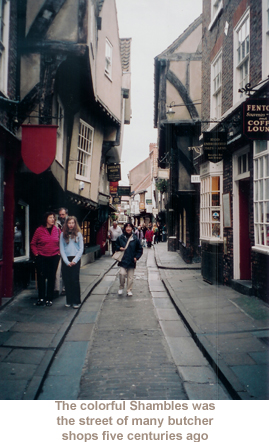 We went underground for some of this history, exploring the crypt and foundations of the Minster, a magnificent cathedral that dominates the town. Consecrated in 1472, the minster is the largest Gothic cathedral north of the Alps, but beneath it are remnants of an earlier Romanesque church, and ruins from the Roman period. Above ground we gaped at extraordinary stained glass windows of the cathedral, through which light rays streamed from the setting sun. We were attending the daily Evensong service of prayer and choral music.
We went underground again for a colorful view of Viking times, when York was Jorvik. A special tour, similar to an amusement park ride, took us through a reconstructed village with manikins going about their duties. The tourist office calls the museum "an archeological treasure trove." It contains more than 15,000 objects recovered in a major dig here only 31 years ago.
Although we did not walk the two-mile wall the surrounds the old section of town (and makes it primarily a pedestrian area), we strolled through picturesque, narrow, cobble-stoned streets. In the Castle Museum, we stepped back into Victorian times on a reconstructed street of shops and services.


Following the regimen of earlier visits to the Lake District of England and the city of Edinburgh in Scotland, we relied on a bed and breakfast facility in York. We stayed in Hedley House, convenient to a bus stop and a short walk to a neighborhood pub, where we had a quiet game of darts, about the only exercise we could handle after running through history.
You can see York, too, in the quiet of your den. Check www.visityork.org.