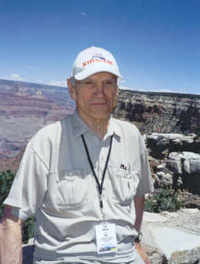 Switzerland Revisited
By Ted Heck
Connie and I spent two weeks in Switzerland this spring, where I spent a couple of days on the slopes of Meiringen and a week in the gigantic Jungfrau Region.
It was a trip I organized myself, showing that I sometimes fail to practice what I preach. In touting merits of membership in a ski club, I often cite a primary benefit of having someone else decide on a destination for a club ski trip. A trip leader haggles with travel agents and handles all details, so interested parties only have to pony up the price and climb aboard.
Here are several excuses for doing this one myself. Probably the most honest one was not being able to make up my mind. There were so many choices for this confirmed Europhile. Which country: I can find my way to a water closet in several tongues, but I am more comfortable with German gutterals than lilting romance languages. I chose a Swiss location where German is dominant.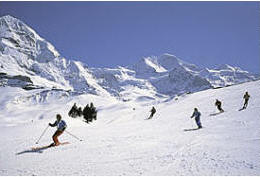 We blew 100,000 frequent flyer miles and kidded ourselves that we saved a lot of money on airfare, conveniently forgetting the magnitude of the credit card charges that accumulated those miles. But we had the freedom to pick our own dates and airports.
A skiing friend asks "Why Europe?" when snow in the American west is better than in the Alps and matchless in how it is groomed. True—but ah the ambience abroad. Charming and quaint villages, castles, culturally rich cities, strange accents, change of pace, even a chance to see relatives. Also, there is that quintessential difference for skiers---interconnected mountains that reach to the horizon, sometimes so far from the starting point that a tired skier can return by a 30-minute train or bus ride.
Our chief destination was Grindelwald, the largest of several villages beneath the impressive trio of the Jungfrau, Mönch and Eiger mountains, all higher than 13,000 feet. It has 4,000 plus residents, with three times as many beds for tourists.
For Connie, who is susceptible to altitude illness, Grindelwald's low 3,400-feet elevation was a blessing.
Connie did not ski, but I tried to see how many of the 120 miles of linked runs and 45 lifts I could handle. They were in the terrain that also includes neighboring villages of Wengen, Lauterbrunnen and Mürren. Wengen is the finish line for the famed Lauberhorn race. Of course, I missed my goal, but consoled myself with "quality time."
One adventure took me in a cable car up to the Schilthorn peak above Mürren. The revolving restaurant offered a 360-degree lunch and a look at vast snowfields and astounding peaks adorned with glaciers. Every James Bond fan has been atop the Schilthorn, if vicariously. The restaurant was headquarters for villain Telly Savalas in the movie "On Her Majesty's Secret Service."
It was the only time George Lazenby played Bond. We never heard of him again, until he married tennis star/commentator Pam Shriver.
Our headquarters in Grindelwald was the Hotel Belvedere, located 300 meters from village center and the train station, with a magnificent view of the north face of the Eiger. The Belvedere is a superior four-star family-run hotel that celebrated its 100th anniversary last year. It has a loyal following, some of whom have been coming for 20 years.
Grindelwald is a year-round resort and abundant in tradition, two major credentials for being a member of the Best of the Alps marketing group, which includes 12 top resorts in five alpine countries.
If you'd like to learn more about this remarkable resort, check out the Grindelwald page in "The Blue Book of European Ski Resorts," at www.bluebookski.com. The map we have there will make you want to see, too.
Find more information for U.S., Canadian, and European
ski statistics and ski resort information here:

United States ski resorts,
Alaska ski resorts, Arizona ski resorts, Alabama ski resorts, California ski resorts, Colorado ski resorts, Connecticut ski resorts, Delaware ski resorts, Georgia ski resorts, Idaho ski resorts, Illinois ski resorts, Indiana ski resorts, Iowa ski resorts, Maine ski resorts, Maryland ski resorts, Massachusetts ski resorts, Michigan ski resorts, Minnesota ski resorts, Missouri ski resorts, Montana ski resorts, Nebraska ski resorts, Nevada ski resorts, New Hampshire ski resorts, New Jersey ski resorts, New Mexico ski resorts, New York ski resorts, North Carolina ski resorts, North Dakota ski resorts, Ohio ski resorts, Oregon ski resorts, Pennsylvania ski resorts, Rhode Island ski resorts, South Dakota ski resorts, Tennessee ski resorts, Utah ski resorts, Vermont ski resorts, Virginia ski resorts, Washington ski resorts, West Virginia ski resorts, Wisconsin ski resorts, Wyoming ski resorts

Canada ski resorts,
Alberta ski resorts, British Columbia ski resorts,
Saskatchewan-Manitoba, Atlantic Provinces ski resorts,
Ontario ski resorts, Quebec

Europe ski resorts,
Austria ski resorts, Austrian Gemütlichkeit ski resorts,
France ski resorts, Germany ski resorts, Italy ski resorts,
Switzerland ski resorts, Scandinavia ski resorts,
Norway ski resorts, Sweden ski resorts, Iceland ski resorts,
AANDORRA and the French Pyrénées,
Spain ski resorts, Slovenia