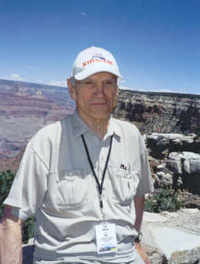 Spotlight On Meiringen By Ted Heck

By Ted Heck
Elementary, my dear Watson. There are clues everywhere to point out that Meiringen in the Bernese Oberland canton of Switzerland is a noteworthy ski destination.
Sherlock Holmes died in the Reichenbach Falls in Meiringen during a tussle with his archenemy Professor Moriarty. Died temporarily, that is. Fans of the famous, fictional detective wouldn't let him die; they beseeched Sir Arthur Conan Doyle to resurrect him, which he did in subsequent novels, after saying that Holmes had really survived the plunge.
Meiringen hasn't let him die, either. There are plaques and souvenirs, a museum and even an inexpensive Sherlock Holmes Hotel. The falls are there, too, even though in winter they can be merely a frozen trickle.
Conan Doyle did know a good thing when he saw it. A confirmed ski addict, credited with encouraging early development of the sport in Switzerland. Today, there are 50 miles of prepared runs and 19 lifts. The town of Meiringen, which has 4,900 inhabitants, has an elevation below 2,000 feet, but a cable car whisks skiers up to where they connect with one of the gondolas and subsequent other lifts.
Those who venture near the top of the Glogghus peak, nearly 8,000 feet high, can't ski all the way back down to Meiringen, but they can drop 4,500 feet on a six-mile run. Another interesting descent is on the FIS downhill course, a three-mile run from Planplatten. Upper reaches have billowing snowfields; lower areas are in the trees. Some of the 22 miles of cross country tracks are at the higher elevations. Winter hikers have 36 miles of paths.
On the top of Planplatten is the Alpen Tower, a spectacular structure reached by an express gondola. The view from the restaurant and its deck are fine, but the circular bar at the very top offers an incredible 360-degree panorama.
A small exhibit adjoining the restaurant contains a collection of alpine birds and mammals, including two eagles. One is a stuffed bird created by a taxidermist; the other is a huge artistic rendition made of crystals found on the mountain.
Meiringen joins with local hamlets and the city of Brienz to promote themselves as the Alpen Region. Axalp mountain above Brienz is a gentler area, suitable for young families. Meiringen has a full menu of winter sports, a stunning gorge to visit, and lots of diversions after dark.
The resort's central location in Switzerland makes it easy to get to. Only 90 minutes from the Zurich gateway and 45 minutes from the popular tourist city of Luzern, it is also close to the glaciers of the Jungfrau Region and the extensive ski areas surrounding Grindelwald, Wengen and Mürren.
A word of caution, though. In Meiringen you can wear a Sherlock Holmes double-peaked hat, puff on a souvenir pipe and examine things with a magnifying glass. They go with the territory. In other towns you might get hooted at.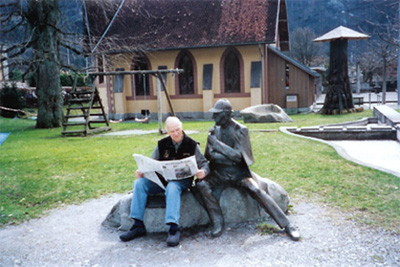 I couldn't resist posing for this gag shot, reading the international edition of the Herald Tribune, with the statue of Sherlock Holmes looking over my shoulder. In the background is the church whose basement has the Sherlock Holmes museum. Tourists see the living room of the fictional Baker Street address in London that Sherlock shared with Doctor Watson.
The museum sits beside the Park Hotel Du Sauvage, an elegant hotel built in 1880 and apparently visited by Sir Arthur Conan Doyle. On my recent ski trip to Meiringen I stayed at the hotel, too. A busload of British people were also guests, but I had no clue about how much they were interested in their most famous detective.
Perhaps they were following up on another legend Meiringen fosters. The first meringue confection was produced here around 1600. Although the tourist office cannot substantiate that the word meringue has developed from Meiringen, it can boast the record for the largest meringue in the world. Made of 2,000 egg whites and 250 pounds of sugar, it measured 82 inches long, 28 inches wide.
Local bakeries turn out 1,500 meringue products a day. The shop I patronized sold me one that was almost as sweet as the skiing.