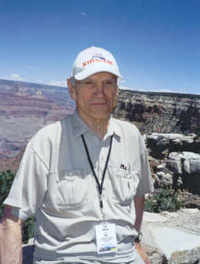 SKIING ALONG THE NILE
By Ted Heck

Reprinted from Harrisburg Patriot News
Tutankhamun did not ski and probably never saw snow, according to Achmed, our guide during a recent trip to Egypt.
Teenage King Tut might have tried sandboarding, if the sport had been invented back in 1331 B.C. and if his advisors had allowed him to. Egyptians do it now in their western desert on 500-feet-high dunes.
Valarie D'Elia, a travel TV producer in Manhattan, is a member of the writers/photographers group I was traveling with. She has done it. She risked dermabrasion from face plants in the sand. Her verdict: "Fun, but I found it impossible to turn."
What was I doing in the land of pharoahs in the height of ski season? I asked the same question of Evelyn Kanter, who had organized the trip for the Freelance Council, a department of the Society of American Travel Writers. She's in charge of finding sites for meetings of the council and negotiating package deals for us.
This was the best time she and the Egyptian Tourist Authority could agree on. And it cost her some skiing, too. A grandmother, with whom I cannot keep up on the mountain, she led us to snow in Alberta last February.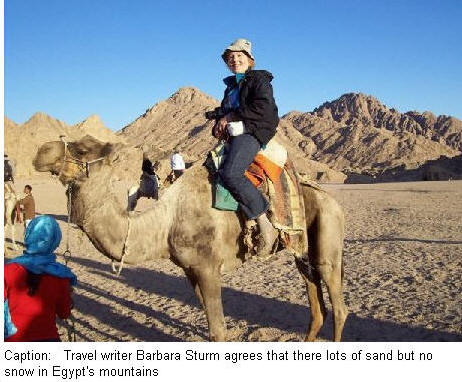 I could rhapsodize here about this year's meeting: the large museum in Cairo that covers 7,000 years of history, tombs in Valley of the Kings, relocated statues of Abu Simbel, pyramids, Sphinx, temples, temples, and a cruise on the Nile.

But let me lament, I ask with tongue in cheek. SATW members have type cast me and conversations often swirl around skiing.
Phyllis Meras, with whom I once worked on a German guidebook, popped into an elevator on day one. She greeted me, not with "Hello," but "Why aren't you skiing?

In the Karnak temple Rochelle Lash, travel columnist in Montreal, asked me to photograph her with a Mad River Glen bumper sticker "Ski It If You Can." She wants to put it on the Vermont lodge wall, along with one that came back from a space orbit.
Evelyn saw me block out the Egyptian sun with a cap with a logo from Kufstein. It happens that the Austrian village is where she first stepped onto skis 43 years ago. She's come a long way since.

Betsa Marsh, well-known writer/photographer from Ohio, remembered the time in Mayrhofen, also in Austria, when three of us were confined to quarters with food poisoning. It kept me off the famed Hintertux glacier.

Larry Habegger, of California, where he edits Travelers Tales, quizzed me at lunch about my favorite ski area. I dodged the question by giving him two on each continent. He prefers to ski closer to home in resorts around Lake Tahoe.

Long-time friend Claire Walter lives in Boulder, Colorado. Prolific writer, she led a professional development seminar aboard the Nile cruise ship, coaching us on how to jump aboard the blogging bandwagon. Claire is my "go to" girl, whenever I want to know the significance of a skiing news release that has wormed its way into my e-mail.

Patty and Bud Foulke, of Lake George, are a pair of beavers who have produced 15 guidebooks, including one on Colonial Philadelphia. A former head of a college English department, Bud is a noted maritime historian. We talked about our first meeting on a ski slope—years ago in the Pocono Mountains of Pennsylvania..

And then there was Alison Wright, photographer from New York, whose work appears in National Geographic. I skied fast with her last year at Marmot Basin in Jasper. A remarkable feat for her, who eight years ago sustained terrible injuries in a head-on crash in Laos between her bus and a logging truck. Her memoir of how she survived ("Learning To Breathe") was a gripping read that shortened my long flight to Egypt.

It's only a short flight, however, from Europe. Ski clubs should consider the country a good add-on for their trips to the Alps, even though the vertical drop on the Nile is a minus number.