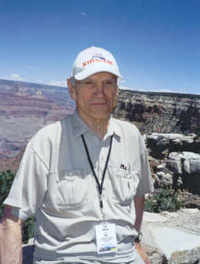 Remembering Skier Gerald Ford
By Ted Heck
Gerald Ford, the skiing president, left quite a legacy and the lasting image of a nice guy.
In obituaries that flooded the news Gerald Ford was remembered often for replacing disgraced Richard Nixon and later pardoning him. Some people still think that "healing" action may have cost Mr. Ford the chance to be elected on his own.
Several accounts attributed his loss to Jimmy Carter to frequent and merciless lampooning of Jerry Ford by Chevy Chase, then on Saturday Night Live. The comedian made merry about Ford's tripping and stumbling.
I recalled a news clip of Jerry Ford's skiing with Secret Service men ---and falling. Without injury, I was sure, but I decided to Google. Into the search box went "Gerald Ford injured while skiing." An hour and maybe 200 references later, Google, in its inimitable fashion, started playing back other Geralds and even the word "while." I tried to be more precise with "Gerald Ford's ski injury."
The only thing picked up was that Mr. Ford did suffer the injury all skiers dread---a torn anterior cruciate ligament. But it didn't happen while he was skiing; the torn ACL was an old football injury that had never been repaired. It was speculated that it may have accounted for those stumbles.
What Google did yield was panegyrics on the president's accomplishments and his subsequent public service. And frequent references to his life in Vail and Beaver Creek. He and Betty Ford built a slopeside luxury home at Beaver Creek. Any of us who ever skied there has ridden a lift that passes right over the house.
The Fords lived in Vail while their house was being built, The Vail Cascade Lodge and Spa named their number one suite after the president.
There are other references to Gerald Ford in Vail, most prominently the large amphitheater and park named for him, The former president was inducted into the Colorado Skiing Hall of Fame five years ago, He was honored for community service and 20 years on the board of the Vail Valley Foundation. Many residents give credit to Mr. Ford for helping to bring World Alpine Championships to the state.
I had the good fortune of meeting Gerald Ford at a celebrities ski race in Beaver Creek. He was relaxing in street clothes on the deck of the press box at the finish line and was nice enough to chat with me for a few minutes about skiing and the racers. He also smiled for my camera.
I was writing a newspaper column in Pennsylvania at the time. My story mentioned the ex-president but focused on the public address announcer, who happened to live in the paper's circulation area. From photos I submitted with the story, the editor chose one of the announcer. Gerald Ford did not make the cut.
But he certainly made a lasting impression on the world. That was obvious to anyone who watched the televised funeral service in the National Cathedral, The eulogists reminded us of Gerald Ford's accomplishments during his short time in office.
Many of us will also remember his devotion to skiing.