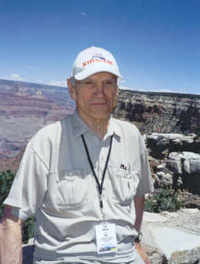 Former Steelworker Saddened on Lake Superior
By Ted Heck
The ferry boat had just risen 21 feet in the locks at Sault Ste. Marie in Michigan's Upper Peninsula, as we passed from Lake Huron to higher and larger Lake Superior. So this is what Miss Early was talking about in fourth grade geography 74 years ago.
But what caught my eye was the blast furnace spewing smoke on the Canadian side of the channel. The Algoma Steel Company was alive and well-- and it made me sad to picture the desolate scene back in Bethlehem. I was one of the many thousands of steelworkers who worked there when Bethlehem Steel was the dominant industry in the region. In addition to two summers in the shell shop, I spent my junior year at Lehigh University attending morning classes and then working middle and night shifts handling hot steel.
As the boat passed mounds of iron ore and limestone, I could see the cliff-like slag pile in the distance. It conjured up earlier recollections of playing on what we called the cinder dump, where we watched molten slag pour from huge cauldrons like lava from an erupting volcano.
Miss Early had described how the ore for Bethlehem had been mined in the Mesabi range on the far western shore of Lake Superior and carried to ports, such as Cleveland and Toledo on Lake Erie. When we passed back through the Soo locks, we went ashore to visit a grounded ore ship that is now a museum. In the hold of the 555-feet-long Valley Camp we imagined what it looked like when loaded with ore.
Among many exhibits was a list of ships that Bethlehem Steel used to own. I looked for one that might be named Eugene Grace or Charles Schwab, but the only ship named for a major executive of the company was the Stewart Cort.
Sault Ste. Marie has only 13,000 inhabitants. It used to be considerably larger during steel's heyday and when we had a B-52 airbase here during the Cold War, ready to defend us against hostile planes flying over the North Pole. Today the town is a focal point for many summer visitors to the Upper Peninsula; they come to explore the huge recreation area within its woods and waters.
In another tourist destination, the village of St. Ignace, a small but impressive museum offers a walk through geologic time and also a look at history and customs of Ojibwa and other native Americans who fished these waters centuries ago.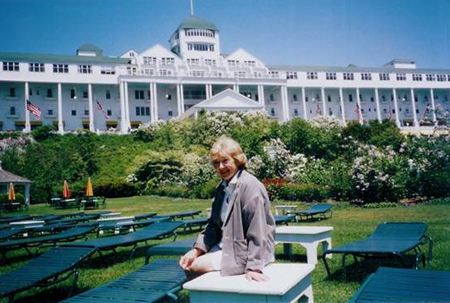 A bonus for Connie….The Grand Hotel on Mackinac Island
My fiancée had long wanted to see the Soo locks, too. But she had another grand vision—this renowned hotel on a tiny island in Lake Huron. Connie had lived in Detroit for nearly two decades and had dreamed of the Grand Hotel, but had never gotten this far north.
She was delighted when I decided to attend a meeting here of the Society of American Travel Writers. Our four days in the hotel lived up to everything she had heard about the world's largest summer resort hotel, which is celebrating its 119th birthday. The huge patio overlooks Lake Huron and the dining room seats 800 people served by liveried Jamaicans and Latin Americans. Hotel guests dress up for an epicurean dinner, but the buffet luncheon is so elaborate that it becomes a tourist attraction in itself. Golf and tennis are available for the few who are not content to sit back and just relax.
Guests arrive by horse-drawn carriages, which is not a bit pretentious. The island is completely free of automobiles and may set a record for per capita ownership of bicycles. Taxis are pulled by Belgian or Percheron horses and even UPS packages are delivered from a flatbed buggy.
Mackinac Island has many other hotels and restaurants, of course, to accommodate summer hordes. Most buildings are Victorian in style. There are galleries and museums, including exhibits in historic Fort Mackinac, which sits on a promontory above the harbor. Shops abound, for various needs and with every conceivable type of souvenir.
Oh, yes--fudge. Chances are that strollers along the lake are carrying a bag of fudge. Merchants say the island is the world capital of the confection—and there are 17 stores to substantiate the claim. Watching soft fudge being rolled and turned on a table is a popular adventure, especially when the worker spoons off a sample for you.
For more information on how sweet a northern Michigan holiday can be, visit these Internet sites: www.grandhotel.com, www.mackinacisland.org, www.saultstemarie.com, www.stignace.com, www.westernup.com, and www.uptravel.com.