Longtime Snow Journalist Ted Heck Receives Prestigious Award

By Karen Lorentz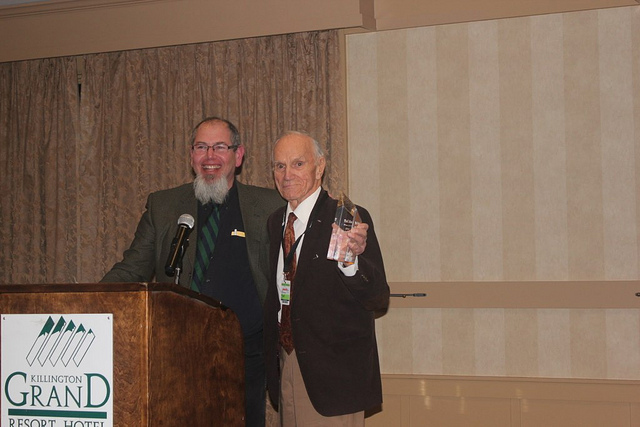 Ted Heck has easily lived nine lives. One of them is as ski writer for 60-plus years, another as a skier of 68 years, and yet another as editor and publisher of the Blue Book of European Ski Resorts.
All this in addition to a stint in the army, a career in advertising, sales, and marketing with executive positions of such companies as Kraft and Hunt Wesson Foods, a retirement gig as an international marketing consultant, and various other roles such as father, spouse, and world traveler.
It was for his many writing accomplishments, but especially his dedication and enthusiasm for capturing the spirit of alpine skiing, that he was honored with the North American Snowsports Journalists (NASJA) Mitch Kaplan Award March 27, 2014, just hours before he turned 92.
The award is given annually by the group in honor of the late Mitch Kaplan, a dedicated journalist who succumbed to a rare blood cancer in 2010.
"There were eight nominees and some heated discussion, but when they heard about Ted, the Board came to a consensus," NASJA President Martin Griff told SnoCountry.com.
"Ted exemplifies the enthusiasm and joy that Mitch found in skiing, and with his ESWA and NASJA colleagues," wrote Kaplan's wife, Penny.
Heck delights in the irony of chance, choice, and coincidence. "When in combat in eastern France in terrible cold and snow, I said, 'If I survive this, I never want to see a snowflake again.'"
A year later as part of the occupation in post-World-War II Germany, he was "on a losing team in a softball tournament when someone suggested that we go skiing."
'Love Affair' With Skiing Begins
"I had never skied but I flopped around on the Zugspitze glacier and was hooked," he recalled of a love affair that began on 220-cm rentals with bear-trap bindings. He was 24.
Heck also has had a thing going with words, having started to write "at age 14 when I was a Boy Scout Troop scribe." He wrote "a gossip column" for the Bethlehem High School, Pa. newspaper and later wrote for army publications and Overseas Weekly.
Upon his return from the war, Heck wrestled and played football at Lehigh University. Naturally athletic, he also played tennis.
He returned to Europe for three years as a civilian athletic consultant to the army, a job that entailed "helping to run athletic programs and teams. I wrote about all sports during that time and, in the process, did a lot of skiing." A week in Davos in 1950 led to his habit of "skiing every chance I got."
His ski adventures have provided material for more than 1,000 articles as he skied at 311 areas, 200 of them in Europe, South America and New Zealand.
Relishing The Humor
In a story for the Evening Bulletin, a former Philadelphia newspaper, he wrote about a German lady who had left a "mash note" in his ski boots, which he had left outside his hotel room thinking they were dirty and might be cleaned. She wished me a good morning." He could find stories in the oddest occurrences and relished the humor of having "met the lady on an elevator" and her having tried to "pick me up."
Another time in a lift line, he overheard Swiss skiers laughing at the "moon boots" and funny American. "I was in Hanson boots and had 180-cm Rossi Stratos which were short for the time," he said. His understanding German led to his first story in Skiing Magazine: "How to Start a Conversation Without Saying Anything." After that 1974 story, he was invited on a Swiss press trip and his travels and writing about them never stopped.
While a vice president of Lehigh Valley Dairy, an editor left his job and suggested that Ted replace him as the ski columnist, which he did for the next dozen years, "I was in the right place at the right time," he noted. He joined the Eastern Ski Writers Association and became a member of NASJA.
"My whole life has been governed by the 4 C's — choice, chance, coincidence, and communication. So I've had a lot of fun and good fortune in my life," he said, adding that he appreciates "the camaraderie, interesting experiences, and good friends I've made through skiing."
Those friendships led to a decision to join with ski buddies Bob Enzel, George Schissler, Bob Wall, and Richard Muello to found the Blue Book of European Ski Areas, which they produced together from 1993 to 2002. Ted took over in 2002 and has been publishing the Blue Book ever since.
Knowledge Of European Areas
Ted's knowledge of European ski areas also led to his becoming the European editor of an online publication overseen by Craig Altschul, who is currently editorial director at SnoCountry.com. Ted breaks into a smile as he recalls the story of "Craig's Creek."
"Altschul, Schissler, Enzel, Wall and I were skiing in Gargellen, Austria, and were off piste. We came upon a creek that was three to four feet wide. We had to jump across, but Craig didn't make it and got wet," Heck said with a chuckle and a quip "not sure that will make your article." (Editor's Note: He's still not forgiven, well-deserved award or not.)
Such travels and stories — along with his insights — were shared in another weekly column he wrote for 18 years for The Harrisburg Patriot News — many of which can be found on its website (Pennlive.com).
Balance issues have slowed Ted down and he mostly skis the blues now. But on those days when he passes his "test of standing on one leg for 3-4 seconds," he still skis. Like at Camelback's and Round Top's 50th anniversary celebrations in his home state of Pennsylvania, where he was born and resides. (See Heck's story in SnoCountry.com on those anniversaries.)
Also receiving NASJA awards at the Killington event, as voted by the membership, were: Ski Utah's Marketing Vice President Raelene Davis who received a Lifetime Achievement" Award; Michael Berry, president of the National Ski Areas Association, recipient of the Carson White Golden Quill Award; and Jon Lundin, communications manager of the New York Olympic Regional Development Authority, recipient of the Bob Gillen Award.
Photo: NASJA President Martin Griff presents award to journalist Ted Heck at Killington (Karen Lorentz)
Reprinted with permission from SnoCountry.com
* * *