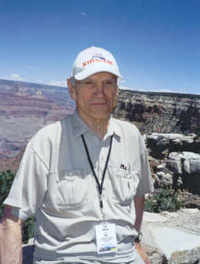 Bed and Breakfast and Beyond
Smiling Service in the English Countryside
By Ted Heck
Richard Stewart of Keswick, a charming village in England's famed Lake District, is more gregarious than a gaggle of geese. He has the right temperament to be host of a bed and breakfast with his significant other Linda Williamson.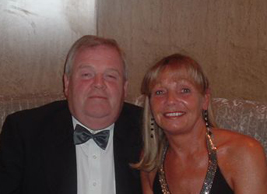 Connie and I found their Dunsford guest house in Rick Steves' excellent guide book of Great Britain, which promised comfortable quarters and a full English breakfast for $120. A relatively modest price in England, where the pound outweighs the dollar two to one.
What the book didn't say, however, was the Richard would drive 30 miles to our train station and back, saving us $40 in the process. Nor did it tell us that we could use his computer and call home to America free of charge. Or that he would voluntarily repair the broken wheel on our heavy suitcase.
We're sure Richard is just as hospitable with other guests, but we hit it off early, when he learned we were from Philadelphia, a city that may have had an impact on Richard's earlier career as a decontaminating engineer. He specialized in ridding commercial buildings of Legionnaire's Disease. It was at an American Legion convention in our city in 1976 that the world focussed on the City of Brotherly Love. More than 220 veterans became ill and 34 of them died.
His prior work gave us early entrée into Richard's pysche and showed that he loves to help. He told us where to maximize our three days in the scenic wonderland, when to go the marketplace for a sample of barbecued pork, which pub would have a dart board. Where to catch the bus that would take us to Grasmere, where Wordsworth "wandered lonely as a cloud," when he wasn't smoking opium with fellow poet Coleridge.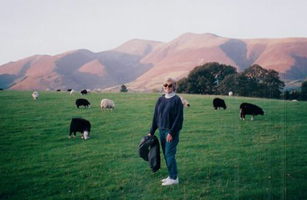 We disagreed with only one of Richard's suggestions. He touted the local, repertory theatre production of "Rebecca," based on the DuMaurier novel. We thought the heroine was not up to the role. He did steer us right, however, in telling us to go early, and stroll along beautiful Lake Derwentwater at sunset and among hundreds of grazing sheep.

When Linda, a former bookkeeper, served us hearty breakfasts, we discovered that Richard was in the kitchen doing the cooking. Connie wouldn't let me try a pun on "who cooks the books," But I'm sure the congenial couple would have roared.
When it came time to move on to Edinburgh, jack-of-all-trades Richard "just happened to know of David and Irene Wright and their B&B in Scotland." It, too, was recommended in Steves' guidebook. Richard made all the calls and set up the visit for us. It was a demonstration of networking that goes on among B&B landlords---and yet another example of Richard's helpfulness.
The visit to Keswick and Edinburgh were post-convention trips that we took on our own after a five-day meeting in Manchester of the Society of American Travel Writers. We also spent time in York and London.