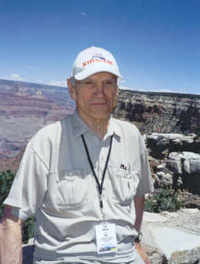 What Would Avery Brundage Say?
By Ted Heck

The Olympics in China are about to distract me from nightly fixes of Law and Order and print media is awash with more information about athletes than I can absorb.

NBA basketball star LeBron James, destined to become a legend, is on the cover of TIME magazine, which highlights 100 American sport stars who will sprint or kick or toss their way to glory. Thousands of others from around the world will participate and, like James, many will be professionals. They are not the amateurs the Games were originally designed for.

Avery Brundage must again be spinning in his grave. The controversial and domineering president of the International Olympic Committee spent many years denouncing pros. His refrain: "Sport must be amateur or it is not sport. Sports played professionally are entertainment."

Avery Brundage

Recently on Google I found by chance my name in Brundage's diary. It listed a date we had in November of 1951, when I was a civilian running sports programs for Munich Military Post in Germany. The occasion was his appearance as guest speaker at the season-ending banquet for our football team.

I had seen in the Stars and Stripes newspaper that he was in Amsterdam and I invited him down to talk to our "pure" athletes. He jumped at the chance and we had a public relations coup. The general thought I was a genius.

Brundage had a second reason for coming to Munich. During dinner he leaned over and asked if I was available for a late breakfast the next morning. He picked the restaurant, which was directly across the street from the town hall. Although he had been to the city many times in his storied career, he had never seen the marionettes dancing in the tower when the clock struck 11.

He seemed enchanted by the brief show; it was consistent with his lesser-known reputation as a Renaissance man, engineer, highly successful businessman and noted art collector. Quite different from the iron-fisted, long-time leader of the Olympic movement.

I was interested in his meal of fish and beer. "That's an unusual combination for breakfast," I ventured.

"Something I learned in Stockholm in 1912," he replied. He told me that he had been a competitor in those Games and his specialty was the decathlon.

"I was the number two man on the USA team, behind a fellow you've heard of--- Jim Thorpe."

Who hadn't? As a Pennsylvanian, of course I knew of Jim Thorpe, the famous alumnus of the Carlisle Indian School, whose gold medals in pentathlon and decathlon were stripped from him, when it was learned that he had played semi-pro baseball before the Olympics. Afterward he became a full-fledged pro, spending a total of 16 years playing major league baseball and professional football. ABC's Wide World of Sports called him the athlete of the century.

Thorpe died at 65 in 1953; seventy years after Stockholm his medals were restored and presented to his heirs.

Thorpe is also known to us, because he is buried in the small town in the Poconos originally called Mauch Chunk.Village fathers, with an eye out for tourists, thought that if they changed their name to Jim Thorpe and brought his body there, tourists would come.

Ten years after our Munich meeting Brundage and I met in Philadelphia, also at my invitation. He came to talk to a public relations group about the next Olympics. But with another secondary motive; this time to visit the famous art museum. This museum and many others across the country had wooed the philanthropist for his major collection of Asian art. He awarded it to San Francisco, the only one flush enough to guarantee a separate building.

Brundage died at 87 in 1975. A Google look at the man comes up with references to accomplishments during his long reign. But also many pros and cons. Some considered him a Nazi sympathizer, partly because he replaced two Jewish athletes in the 1936 Berlin Olympics. It may not be a fair indictment; he replaced them with black athletes, hardly a bow to "Aryan supremacy." Jesse Owens stunned Hitler by winning four gold medals.

Others faulted Brundage for not halting the 1972 Olympics in Munich, when terrorists killed 11 Jewish athletes and coaches.
He felt the Games had to go on.

Some people downgraded Avery when a made-for-TV movie about him a dozen or so years ago described his decades-long relationship with a mistress, while he was married.

There are different opinions of who blew the whistle on Jim Thorpe way back in 1912. One suggests it was a sports writer in North Carolina, who covered the semi-pro league.

Others wonder if it could have been a guy in another lane on the Stockholm track.