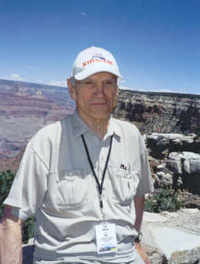 Austria's World Tourism Games Draws Big Crowd
By Ted Heck
One of the best examples of all the sports fun you can have in the Alps in summer time was the World Tourism Games sponsored by the Austrian National Tourist Office in 2006.
They pulled out more stops than an organist struggling with a Mozart composition.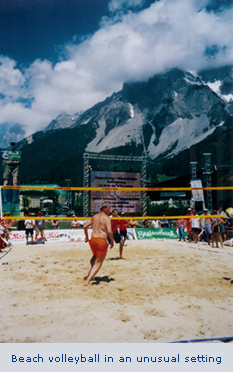 They left nothing to chance when they staged the Games in Schladming-Ramsau region of the state of Styria. It was a grand demonstration of hospitality and Gemütlichkeit. Nearly 650 sportive guests from 42 countries participated in a program designed to promote visits to the alpine nation. Guests included tour operators, travel agents, allied men and women in tourism, and journalists. I was among the last group, part of an American contingent that participated in archery, beach volleyball, golf, mountain biking, running, tennis, triathlon and skiing. (Yes, skiing in summer on the Dachstein glacier.) We vied for medals which were awarded in daily Olympic-like ceremonies.
"As a Styrian , I am naturally pleased to be able to welcome you to my native region," said Arthur Oberascher, CEO of the national tourist office, "where a diversity of holiday offers is combined with highest quality. We are a top destination for sport holidays, be it in summer or winter. You can experience for yourself what it means to be active in Austria."
These were the third WTG I have been privileged to attend. Four years ago I entered the ski race on the glacier above Kaprun in the state of Salzburgerland. Two years ago I competed in tennis in the Olympic village of Seefeld in the Tyrol. In Styria I played tennis again. I found the competition too tough, but other members of the American team this year ended up on the podium.
Gabriele Wolf of Austria's New York office had assembled our team and was impressed when three women beat the Europeans in skiing. Carrie Sheinberg, a member of the U.S. team in the 90s and now a journalist, won a gold medal in the giant slalom race. Lili Winslow, a former ski instructor in New England, won a silver in another age category. Michelle Cournoyer won the gold in cross country. Lili also won a gold in mountain biking and Michelle a silver in triathlon. Michelle and Lili work in tourism.
Our three-man golf team was edged out by golfers from China, Canada and India, but they took some comfort from playing on a course of incredible beauty, with a backdrop of huge cliffs, alpine pastures with grazing cows and an occasional chalet.
Because of the huge number of contestants, we were assigned to different hotels in Schladming and neighboring villages, with centuries-old .buildings, charming restaurants, and flowers everywhere. When we weren't playing, we were still networking with various members of the tourist industry. I didn't win any medals in the athletic venues, but I starred in wine tasting.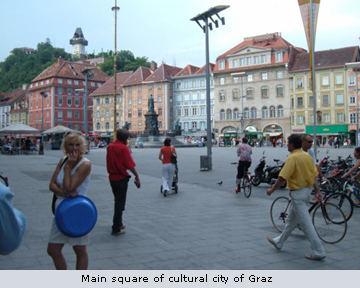 Pre-Games Fun in Graz
Some of us went to Austria early to visit Graz, capital of Styria and second largest city after Vienna. We strolled among marvelous architecture and along the Mur River, which rushes through the town. We dined in fine restaurants, including one that sits on a promontory and overlooks the red tile roofs of the old quarter. A highlight for all of us was a tour of the armory; its huge collection of armor and weapons is one of the best in Europe.
An hour away in the countryside we stopped at the stud farm, where Lipizzaner horses are bred for the Spanish Riding Schol in Vienna. Lunch of cold cuts and fine wine was served later in an inn overlooking vast vineyards. A special treat was a tour of a tiny factory where we watched pumpkin seeds being heated and pressed into cooking oil. The jolly owner, who is also the village mayor, cooked eggs for us in his cellar restaurant. Black eggs, of course, covered with his product.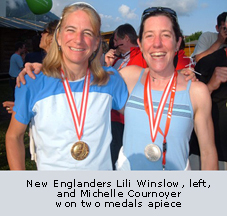 Fortunately, we had the World Tourism Games still ahead of us to work off some of the calories.