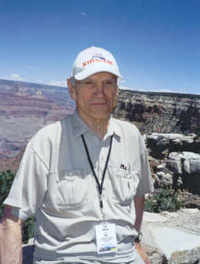 Arizona Rocks
Beautiful Formations in Northern Arizona

By Ted Heck
Lake Powell in northern Arizona and southern Utah is a man-made lake behind Glen Canyon dam, enclosed by stunning rock formations, with 63 canyons and more nooks and crannies than a shipload of English muffins.
The dam that created the lake by backing up the Colorado River was begun in 1956. The lake has a tortuous shoreline longer than the Pacific coast. Brilliant blue water surrounded by tan, brown, red and orange rocks is a boater and photographer's paradise and a popular recreation area.
"Arizona rocks!" That was the theme of my whirlwind tour of Lake Powell, the Grand Canyon and the towns of Flagstaff, Page and Williams. Joint promoters in extolling their extraordinary landscape, they hosted a meeting of the Society of American Travel Writers and hired the AZ Communications Group to shepherd us around.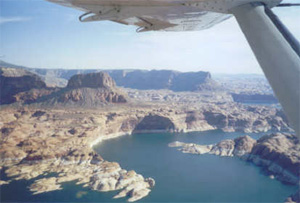 I fell for Lake Powell and liked it more than Grand Canyon, maybe because it was my first visit to the lake. (The canyon I saw years ago.) The view from my room in the resort hotel included the marina and exotic formations, but the highlight was a double exposure---a 45-minute ride in a roomy airplane in the morning and a three-hour cruise on a luxury houseboat in the afternoon. The plane flew over towers, mesas, buttes and boulders. It circled over Rainbow Bridge, a sacred place for Native Americans. The boat floated beside huge boulders and rugged cliffs and with a bit of imagination I could see familiar faces and shapes in them.
In a hike through one of numerous slot canyons photographers had a field day in the narrow, convoluted passageway. They asked for models to pose in shafts of light that beamed down through multicolored spiral walls.
Another pleasant experience on water was in Glen Canyon down river from the dam. Twenty of us climbed aboard a snout rig, a four-pontoon raft, for a three-hour float on the Colorado, the river that had carved the shoreline of Lake Powell and scooped out the Grand Canyon.
We alighted once at a campsite to view petroglyphs carved on canyon walls nearly a thousand years ago. We ended our gentle ride at Lees Ferry, where a bus picked us up for a return to our hotel.
The Grand Canyon. Our visit to the canyon was less vigorous. Some of us eagerly lined up for a half-hour helicopter ride that flew around and over its eastern section. Others were content to stroll along the south rim and marvel how the narrow river we had been on had carved this masterpiece over millions of years.
At one particularly scenic spot a pretty and fearless member of our group posed for her colleagues, while standing on a narrow ledge and looking ready for a mile-high jackknife dive into oblivion. I will be asking Lorry Heverly to autograph my shot of her.
The shooters among us fired away on the train ride from the canyon down to Williams. Strolling through the cars with his guitar was a country music singer. A faux marshal was aboard to protect us; sure enough, masked robbers on horseback came out of the ponderosa pines, stopped the train and attempted to rob us. The marshal captured the bandits, twirled his mustache. Our money was intact and we could afford dinner and drinks in a saloon with a Route 66 theme. Like many Arizona towns, Williams blends the Old West with billboard modern.

Three nights in Flagstaff. The mayor of this city of 62,000 people welcomed us during our stay in the 246-room Little America Hotel. We used the hotel as a base for visits to some of the various ways to have fun in Flagstaff.
We heard lectures on geology of the region and also had business meetings, including a professional development seminar. Just like lawyers, doctors and businessmen and women, SATW members schedule morning meetings before they go out to play. Of course, travel writers work throughout the day.
No laughs, please. We actually opened notebooks while Sherry and Dick Mangum took us around the historic district. The attractive retired couple in circa 1900 costumes enchanted us with legends of the region.
A special treat for me, a devoted skier, was dinner in Altitudes restaurant, near the train station, where more than 100 freight trains a day zoom by. Owner of the restaurant Lynda Joerger explained why vintage skis and boots were on the wall and laminated trail maps on the tables. She's a ski instructor at Snow Bowl in nearby San Francisco Mountains, Arizona's highest. This was late May and we could still see snow on the peaks.
Another view on another night was after dinner in Lowell Observatory, noted for its 1930 discovery of the planet Pluto. Each of us had a chance to peer through the eyepiece of the gigantic telescope, which magnifies 120 times. It was focused on Jupiter, which appeared about the size of a nickel. Above it were four white dots—four of Jupiter's 63 (!) moons.

Other Adventures. Much copy and photography will come out of our visits to pueblo ruins in Wupatki National and Walnut Canyon Monuments and the Museum of Northern Arizona.
All of Arizona was beautiful. Rocks, sure, including lava and grown-over volcanic craters. Deserts with giant cactus, sagebrush and juniper trees, but also lakes and rivers and pine forests. Indian trading posts. Navajo Hogan's on the reservation, where pick-up trucks have replaced horses.
The scenery changed dramatically in the 280-mile bus ride from Lake Powell to the airport in Phoenix. The huge window was a flat screen, with images flashing by faster than those possible in a TV control room.
Those I missed can be replayed by studying dozens of brochures and booklets our hosts passed out, but you can see what my shouting is all about by visiting web sites of these organizations:
Arizona Office of Tourism (http://www.azot.gov/)
AZ Communications Group (azcomgroup.com)
Flagstaff Convention/Visitors Bureau (flagstaffarizona.org)
Little America Hotel (www.littleamerica.com)
Page-Lake Powell Tourism (pagelakepowellchamber.org)
Williams-Grand Canyon Chamber of Commerce (williamschamber.com)