Great Swiss Train Rides
1. The Captivating North Shore of Lake Geneva
2. Along The Rhone and Rhine


By Ted Heck

The Captivating North Shore of Lake Geneva

Lake Geneva is listed as the largest lake in Europe, 45 miles long and nearly nine miles across at its widest point. But I don't measure it linearly; I say it's about an hour and a quarter long—the time it takes to ride a high-speed train from Geneva on the western end to Montreux on the east. It is an all-too-short period of time, because there is so much to see along the spectacular route along the Swiss northern shore.

Starting point of my recent journey was Cointrin airport, oft-visited by me in a half-century love affair with the Alps. A brief stop in Geneva reminded me that the cultural city was headquarters of many international organizations and had many fine museums.

On the second day of spring I was glued to a right window. On the lake that never freezes a solitary rower rippled the blue water. One of us was out of season. I was circling the lake to get to Champéry to ski in famed Portes du Soleil, the international domain that Switzerland shares with France. Behind the man in the boat, across the lake, snow-capped mountains caught low-lying clouds---puffs of cotton in the couloirs.

Between Geneva and Lausanne I was a bobble head, bouncing between the lake on the right and extensive vineyards on the left. What wines would flow from them in a few months? Behind the yellow apartment buildings I could picture the Olympic museum and its outstanding exhibits, not only of all the achievements of the modern Games, but of artifacts dating back to their Greek origins centuries before the Christian era. A great place for a skier to visit on a bad weather day.

I wondered if the ladies who relieved me of a few francs were still playing bridge in their posh hotel. When we stopped briefly in Vevey I remembered a visit to the home of Charlie Chaplin where a group of writers met with the family of one of his sons. A bronze statue of the Tramp on the lawn overlooking the lake was a reminder of the magic of the famous comedian. Vevey's cemetery holds at least two other prominent actors, Audrey Hepburn and Richard Burton. Our group also spent an evening with the son of Russian novelist Vladimir Nabakov; he had created a career out of reading from his father's works.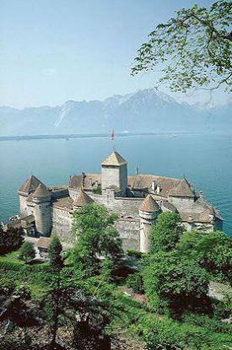 When I wasn't staring at the lake, I scanned the hills for castles and saw an occasional one. But at Montreux I jumped up from my seat as the train breezed by the 13th century castle of Chillon, featured in Lord Byron's famous poem "The Prisoner of Chillon." I knew that it would be in view for only a minute or two as we arced around its location on a tiny island.

When the lake disappeared, there was water still to be seen. The Rhone River flows into Lake Geneva at this end, emerges on the west and enters France to become its third largest river (after the Seine and Loire). I am always fascinated by the fact that three major rivers, primarily associated with other countries, originate in tiny Switzerland. France's Rhone, Germany's Rhine and Austria's Inn all have their sources in the Swiss Alps.

My memorable train ride ended shortly afterward in the town of Aigle, where I made a connection for my Champéry destination. But if I were going farther on this express train toward Sion and Brig for a visit to Crans Montana or Zermatt, there would have been many more vineyards to marvel over and castles to romanticize.

These Were Not Railroad Signals

Sometimes there can be distractions, interruptions in reminiscence. During an earlier train ride from Geneva to Zermatt I heard a voice over my shoulder. "Are you an American? You were talking to the conductor in English."

She was blonde and pert, wearing boots and a leotard and looking like Janet Leigh with a few miles on her. Let's call her Janet. I did not notice her when she came aboard. When a passenger across the aisle left the train, Janet slipped into the empty seat.

Thus began a three-hour encounter in which Janet flashed more signals than there are stoplights on Broadway. She was a widow from Australia, who didn't miss her husband or his kids from an earlier marriage. "Isn't it interesting that you and I are both going to Zermatt," she said. "Do you believe in fate? It's such a romantic place, especially with new friends. I know you will be skiing, but what else are you going to do?"

She probed for areas of mutual interest. Did I like Hemingway? Wasn't it a shame about Scott Fitzgerald's wife Zelda? Whenever I tried to point out something in the passing landscape, she had a different frame of reference. The vineyards along the Rhone River didn't interest her, but she wanted to know my preferred wine vintages.

I deftly worked into the conversation that I had served in World War II; she could easily calculate my age. I mentioned that I usually travel with my fiancée Connie. Janet ignored the irrelevant clues.

A horse drawn carriage from a top hotel was waiting for her at the station in Zermatt. I purposely avoided telling her the name of my hotel, but as we parted I said that I might call. Maybe we could have a drink.

"That would be truly lovely," she said.

I never did call. The brief encounter was good for my ego, even though it did nothing for my id. Long ago in B.C. - Before Connie - I might have had that drink. I hope Janet liked Zermatt.

Ed. Note: Ted didn't call because he was overmatched….
Along the Rhone and Rhine

I had another great train ride and nostalgic binge last winter. Armed again with a Rail Europe flexible pass, I was able to pause along the way to ski in eight major resorts and jump back on the train a day or two later. In a three-week journey I saw much of the Rhone and Rhine rivers, even when they were young and tiny brooks in the Alps of Switzerland. Memories poured through the train window as amazing landscapes whizzed by.

This Swiss trip started in Martigny, after I had skied several days in Chamonix, France. The impressive Verbier resort, where I had been a year earlier, was a tantalizing, short distance away, but I was headed for Arosa and Davos in the Graubünden canton of eastern Switzerland.

Between Martigny and Brig I was blinking at the same scenery mentioned above in the north shore story. Vineyards, castles, white-wigged mountains, a major highway---and the Rhone River on its way to Lake Geneva and into France,

As we paused in Visp, I regretted not having in my plan a detour south to Zermatt to waltz again on the glacier beside the Matterhorn, the world's most distinctive rock. Zermatt is one of my favorite areas, for its ambience, beauty and vast terrain that spills over into Italy.

In the large city of Brig I remembered its many cultural activities that made the aprés-ski scene more than a night at the bar. After changing trains here, I was glued to the window at Bitsch to see if I could spot where Connie and I spent two weeks a dozen years ago. High on the mountain in a chalet for which we had made a vacation-home exchange with Swiss friends. It was our base for skiing in Rieder, Fiescher and Bettmer Alps, three interconnected areas not seen often by Americans. They overlook the awesome Aletsch, at 14 miles the longest glacier in the Alps.

(I returned several years later on a press trip to ski with Art Furrer, trick ski artist of the 1960s who is now a prominent hotelier in Riederalp. In his mid-70s, he still does javelin turns, with one ski up behind his ear.)

When the train stopped briefly in the colorful village of Münster, I remembered a bit of its history. It was the birthplace of Césare Ritz, a 17-year-old peasant who started in Paris as a waiter and became an international hotelier. His hotels were noted for elegance, hence the word "ritzy.".

During this part of the journey the train seemed to jump over the valley. We could look directly across the way to the side of another mountain, where we had just been. The flip flop was possible because of bridges and tunnels.This is the route of the famed Glacier Express between Zermatt and St. Moritz; in its eight-hour ride the train passes over or through about 300 of them.

Between Münster and Oberwald I enjoyed watching and envying hundreds of Noridc skiers sliding or skating along 60 miles of groomed trails, some of them within 50 yards of the train tracks. In brilliant sunshine skiers were showing off their "Cross Country Paradise."

We needed tunnels to get over the Furka and Oberalp passes, which are closed in winter. At one stop we watched patient travelers put their cars aboard trains to be ferried through the passes. The Furka squiggles past the Rhone glacier, where the river gets its start.

The train made a longer stop in Andermatt, which sits on a plateau between the two passes. It is a well-known ski resort that I have not tried in winter but have hiked around in summer. That trip also included trekking up to the source of the Rhine, just north of the Oberalp pass. The river begins as a trickle in a cliff and forms tiny Lake Thoma. The stream that comes out of it grows and grows, enters huge Lake Constance on the Swiss-German border, goes through Basel, forms a boundary with France, ends up in Rotterdam, Holland, some 800 miles away.

I dangled a sore ankle in the frigid water of Lake Thoma---for about 20 seconds. "How cold is this?" I asked the guide, who had been explaining how he rappels down the cliff in search of semi-precious stones, something other collectors are not brave enough to do.

He held his thumb and forefinger about an inch apart. "This cold," he smiled.

Between Oberalp and Chur, capital city of the canton of Graubünden, the train on this trip passed through Sedrun and Disentis, two resorts that I have sampled on skis. The slopes were visible from the train. Some distance from the valley and beneath an imposing mountain range were Flims, Laax and Falera, whose sking "circus" is affectionately known by natives as the White Arena.

It is an area that I have visited often in the past40 years, primarily because of Swiss cousins who had a vacation home in Laax. It is another great area that, sadly, still needs to be discovered by Americans. (See the Flims page here in the book.)

Some of my visits were in summer; an exciting one found me whitewater rafting on the Rhine.

The cultural city of Chur, with an old part of town that is straight out of the Middle Ages, holds a bundle of memories, too. My older cousins and I used to dine here in romantic surroundings. In a popular guild hall they managed to convince me that a heavy meal of fondue or raclette needed an after-dinner Schnapps "to make the cheese less binding."

On this trip I flashed my Rail Pass in Chur as I changed trains, from the Swiss national system, to the small Rhaetian railway for the amazing switchback ride to Arosa, where new adventures awaited.