Kuala Lumpur, Malaysia
By Bob Enzel
[Part Two. Kuala Lumpur]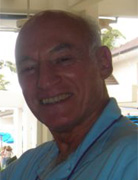 But at this moment I'm now in Kuala Lumpur walking in and out of hotel lobby's, checking out their facilities, wandering through expensive plaza mall after expensive plaza mall thinking to myself, just who has all this money? Maybe Malaysians do since gas is reasonably priced and local prices are at a very favorable rate. A little research on my part determined that the Malaysian Ringgit exchange rate varied from RM 328 (Marriott) to RM 340 (Shah Alam) to RM 369 (Central Foreign Exchange) per one hundred dollars.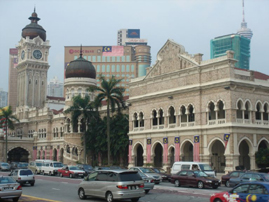 I'm wandering the streets of KL looking like a typical NYC tourist with his head pointed upward toward the beautiful sculptured buildings, but also warily keeping an eye on Kuala Lumpur traffic. I've driven in NYC many times, driven in Italy and most of Europe, but for now I'm not prepared to tackle KL traffic. First of all they drive on (my) the wrong side of the road. Traffic seems non-ending at rush hour, but of course, that's why they call it rush hour. Best if you remember that Malaysian drivers are used to allowing vehicular traffic the right of way--not the pedestrian. Merging into traffic is an art perfected by all KL drivers. You just merge and the car you cut off stops to avoid you--a normal KL driving technique. But guess what? Traffic noise is just that. No horns beeping or blaring. In one week I can only recall having heard car horns blown three times and two of those times was my own taxi driver returning me to the hotel from my day of sightseeing.
During the drive homeward the taxi was shuttled aside along with 3 solid lanes of traffic by the King's Motorcade. Being the lone passenger, I brightly inquire, "Is that The President returning home?" Stoic Chinese taxi driver says, "King." Chastened I quietly look out the window while he concentrates on shifting from center lane to right lane to center lane to right lane, then finally (he) decides to take the circuitous way around on the toll road to beat the traffic. Even so, my fare was a very reasonable RM 70 which included 2 tolls and 50 minutes of rush hour driving. RM 70 in case you haven't already calculated is about $20 U.S. And tipping in Malaysia is not expected.
Back at the Shah Alam Hotel I finally have some time to check out the hotel shopping and surprisingly discover that the hotel has a charming little arcade of shops. One in particular--M & M Gifts--attracted my attention. I found out that its run by a very nice lady and her two helpful assistants. One of the girls, Jackie waited on me by following me around the shop with pen and paper taking (buying) notes, jokingly commenting, "Like my secretary." The shop is a franchisee of Royal Selangor, top-of-the-line pewter ware of superb quality. The shop's owner confided in me that the Selangor factory was only 40kms away. But take note, the factory doesn't give a 10% discount or even offer a cheaper price so why bother when the hotel store is convenient. So convenient in fact that I had them ship many of the heavier items home--arriving only a few days after my return. Great local Malaysian Royal Selangor pewter and my holiday shopping was a snap this year.
By the way, my only gripe with the hotel—not being a Muslim—was the five daily calls to prayers by loud speakers from the Sultan Salahuddin Abdul Aziz Shah Mosque, aka, the Blue Mosque. A belated conversation with hotel manager Karl enlightened me that his hotel regulars all know the prayers are broadcast on loud speakers so they request a room facing away from the lovely Blue Mosque. Ok! Next time I know, but you dear reader have advanced knowledge and can make an enlightened room request.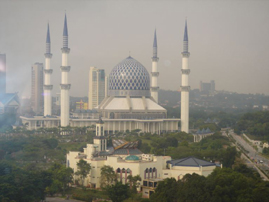 Like it or not, all good things eventually come to an end, but to lessen the pain of leaving this wonderful country I headed for my favorite airport hangout—the Duty Free shop. However, I had to board another plane in the U.S. and therefore couldn't transport any type of liquid. In the alcohol section I sadly left behind my favorite cognac and went to my next typical Duty Free stop, the men's cologne section. I even came close to buying Fahrenheit's new cologne but it was taken back by a no-nonsense clerk, her nose upright, when she saw my U.S. passport. What really hurt was the deal of all deals. A top growth French wine Romanee-Conti attracted my attention at $32 a bottle. One can't even buy a bottle of Romanee-Conti in the U.S. at (figuratively) less than a million dollars a bottle.
I tried to make up for the "no liquid rule" by buying out all of Air Malaysia's very favorably priced duty free merchandise. The airline guide "Invitation to Inflight Shopping" offered excellent merchandise with prices in RM or USD at a favorable rate of exchange. I was sort of mollified after having divested myself of all remaining Ringgits and a few U.S. bucks. But, even now, weeks later I wistfully recall the Romanee-Conti I left behind.
In August, 2007 Malaysia will celebrate 50 years of Nationhood and Kuala Lumpur may rev' up a bit. But hell, who will know, the city i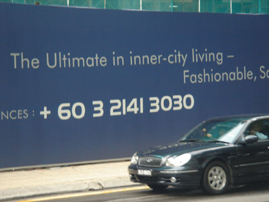 s already alive. I can personally attest that Malaysia has friendly people; likes Americans; has excellent sightseeing; and that their golf courses are priced to play. I think I've exposed the Kuala Lumpur, Malaysian atmosphere sufficiently enough to make you want to see the 50th National Anniversary celebration for yourself. So book early, at the Ritz if you like, but remember to change your money at the Central Foreign Exchange.
Perhaps a downside to visiting the Malay Peninsula is that it's a long trip, yet the wonders of Malaysia make the trip worth the effort. Also, this can and should work to your sightseeing advantage. Plan ahead so that you can layover coming and going and visit other exotic places like, Taiwan; Singapore, Bangkok or even Hawaii. Good travel packages at favorable rates are out there and you'll receive excellent service on Air Malaysia by friendly attractive hosts and hostesses. What more could you ask for?
Check it out on www.malaysiantourism.com/ and have a great trip.