Kuala Lumpur, Malaysia
By Bob Enzel
[Part one. Malaysia]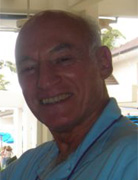 Malaysia! The exotic name itself conjures up images of foreign shores and sea breezes, but its capital Kuala Lumpur (KL) certainly does not resemble a comment made by the well known author, Tom Clancy in his book, Net Force/Cybernation on page 154--"If you're some poor backwards family in Kuala Lumpur..." This comment by Clancy certainly gives the wrong impression of the city and by association the country. I found KL to be rather sophisticated and not at all backwards.
Well known hotels, such as, Marriott, Ritz, Westin and Sheraton are there to satisfy your lodging needs. Two well known symbols, the Hard Rock Café and Planet Hollywood are there to feed you. Malls filled with elegant stores and top named brands are in abundance, as are (possibly) more familiar names such as, Subway, McDonalds, Burger King and the ubiquitous 7-11. The Petronas Twin Towers, the world's 3rd tallest structure (after Dubai and Taipei) towers 1,483 ft above the city can also be found in KL. A terrifying 40 stories up the two buildings are connected with a walkway bridge.
English (as in American English) is the chosen widely-used second language. On the o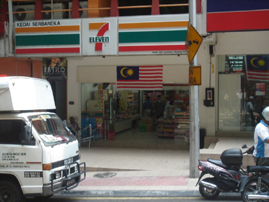 ther hand, Americans in Kuala Lumpur were not observed in abundance despite Malaysia's heartening attitude toward the U.S. Who then does visit Malaysia? Possibly not every country in the world is represented, but certainly every Asian country, plus Australia and New Zealand. Those from Great Britain I am told head for the beaches on the east side of the Malay Peninsula. A peninsula that has Malaysia sandwiched between Singapore at its southern end with Thailand stretched above it.
The South China Sea laps its eastern boundaries while Taiwan, Indonesia, the Philippines and Japan are among its South China Sea neighbors. Okinawa in particular looks out to the South China Sea. I know this as a fact having recently visited my daughter and son-in-law in Okinawa and peeked out at the South China Sea from their windows many times. Little did I know that less than a year later I'd be peeking back at them from the other side of this massive sea? Of course, the Island of Taiwan mars our view of each other.
I was in Malaysia to play golf, so frankly my sightseeing time was somewhat curtailed. Also, my 4-star Concorde Hotel Shah Alam was not in KL but in Selangor adjacent to the striking four minarets topped Blue Mosque. The Shah Alam is managed by an elegantly dressed New Zealander, Karl Muir and he is assisted by the personable Margret Lindblom-Lou in sales and the efficient Karen in the business office. Persnickety traveler that I am I can assure you that they were supported by a well trained staff from housekeeping to the restaurant service.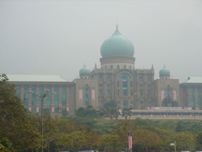 That said, our group of golfers did manage to do a bit of sightseeing by bus in between rounds of golf and hotel receptions. Traveling around Selangor we were able to visit some splendid sites which included the current capital Kuala Lumpur and the future capital Putrajaya. Permit me to briefly explain the capital city situation.
Putrajaya is a planned city under construction and will eventually be the administrative capital for the federal government of Malaysia. It will also be the central point for all the foreign embassies. The intention is to leave Kuala Lumpur as its financial and commercial center and ultimately reduce the traffic in KL "by constructing Malaysia's first intelligent garden city," Putrajaya. I believe the intention is to bookend these two cities so as to develop a thoroughfare similar to the Washington, DC--Baltimore corridor.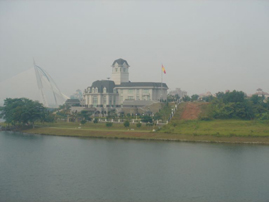 Putrajaya--named after Malaysia's first prime minister-- already contains a lovely complex of sites that stretches over eleven thousand acres with 70 % of the acreage devoted to wetlands and greenery. Our bus jostled around the massive, picturesque government buildings already built and those that are still under construction. We marveled at the beautiful, blue-domed office complex known as Perdan Putra that is home to the office of the Prime Ministry. Adjoining the ministry building is the Putra Mosque with a minaret 380 ft high atop a structure that is large enough to accommodate 15,000 people. It has a main entrance said to be "patterned after the gates of Persia". The mosque is framed by a large courtyard that overlooks scenic Putrajaya Lake and the Seri Putra Bridge
. There is much more to Putrajaya which can be accessed on line if interested at… http://www.abcmalaysia.com/tour_malaysia/putrajaya.htm/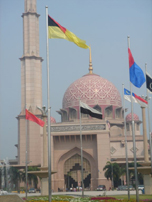 In conjunction with Putrajaya another new city is being constructed called Cyberjaya (nicknamed by locals as Cybercity.) I believe Cyberjaya is unique to the world. It is perhaps the world's first city built strictly to house Industrial Technology (IT) rather than a "Knowledge-Economy (K-Economy)". I'm not preaching that this is the city of the future, but if you're in the "IT" business you might want to check Cyberjaya out on the Internet at http://www.cyberjaya-msc.com/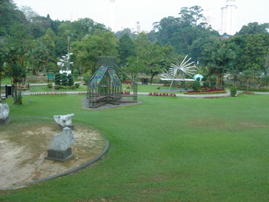 Also in Putrajaya is the Taman Botani, a floral paradise that is home to 700 species of ornamental plants. A walk through its garden setting is sort of like a walk though a fairy tale scene out of a book. It also has a neat little gift shop that helped me take care of modest gifts that I found helpful to have when I arrived home.
One further stop on the bus was another site definitely worth visiting, the Togu Negaraz (National Monument and Memorial.) It is set in a beautiful setting and "this massive structure depicts a group of soldiers holding up a national flag with their fallen comrades at their feet." The monument was erected for the heroes of "WWII and The Emergency". It was designed by Felix de Weldon, whose name you may recognize as being responsible for the Iwo Jima Memorial Monument in Arlington, VA.
After several days of golf and most of my golfing friends left town I managed to squeeze in a visit sans bus and guide by using a limo service to transport me from the hotel into downtown KL. My limo driver Sathia was a young kid of Indian nationality. He very thoughtfully informed me that if I wanted to extend my life I should visit the Hindu Temple and Batu Cave(s) with its 272 steps. The temple is one of the holiest Hindu shrines in Malaysia and is located 13 km north of KL. You see, the legend goes—and I'm inclined to believe it—that for every step you walk up your days on earth are extended by one day (for each step). That no doubt elucidates the longevity of the Malaysian native Indian population.
Sathia also provided me with other useful Malaysian tourist-type-info. For instance, those that want a break from the cosmopolitan life of Kuala Lumpur--gamblers take note—might want to visit Malaysia's only gambling casino which sits a mere 50 km from downtown KL. My web site research showed me that the Genting Highland Casino rests atop a magnificent hill-top city with fine hotels—one of which has 6,300 rooms—a theme park, golf course and of course, shopping malls. In other words, it is not your every day run of the mill modest casino city, but is an attraction unto itself.
Another interesting part of Malaysia suggested to me by my knowledgeable driver is the shopping paradise and duty free port of Langkawi Island situated at the northern top of Malaysia. No doubt worldly travelers are well aware of this duty free haven, but alas I was just a newcomer.
On my next visit to Malaysia I'll find my limo friend and hire him to drive me around the country. But before I start on this journey to see the mountains, beaches, rain forests and islands of Malaysia, I'll walk the 272 steps to extend my life, then make my fortune at the Genting Highland Casino and then my limo friend and I will drive to Langkawi Island where I will gladly give all my winnings back to the Malaysian economy through gift buying.