The morning came quickly and we were boarded into an all-terrain vehicle for an Inland Ice Cap adventure. It didn't take long to notice that we were about to see nature at her finest. Around every turn of the road there was awesome scenery--so much to see that the eye couldn't take it all in at one time. We passed frozen lakes and mountains of ice and rock that were millions of years old and then the road abruptly ended at the edge of the infamous Polar Ice Cap at Point 660—the only place it is (relatively) easily accessible. We were looking at ice as far as the eye could see and none of it gave evidence to the theory of global warming. What a thrill it was to walk as far as we dared or perhaps opt to ride on a conveniently available tooth-rattling snowmobile on solid but uneven ice.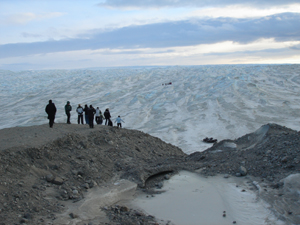 We returned to Kangerlussuaq the home hub of Air Greenland's international service, but also home to 5,000 wandering musk oxen. While we waited to board for our next leg some of us toured the convenient Airport Museum at the airfield that houses replicas of WWII U.S. aircraft and other memorabilia. After the tour it was time for the flight to our next destination, Ilulissat, whose name translates to icebergs and happens to be in UNESCO'S World Heritage List.
Captain Adam Grim welcomed about forty of us aboard his ship, Najaraq Ittuk the next morning. He and his crew of four then steered us expertly in-between massive icebergs. Words like: Wow! Look at that! That's awesome, flew out of everyone's mouth. On the return we stopped to watch fishermen whose boat was anchored at the edge of the ice fjord that empties into Disko Bay hauling in halibut without stop. We found out that they were using a "long line" which allowed them to reel in fish after fish. We waved goodbye to the fisherman and headed towards our next destination.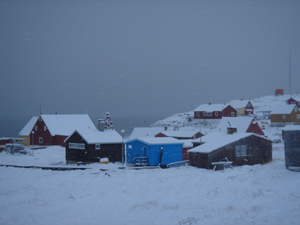 I happened to be on the bridge when the captain's eyes lit up. Apparently through his binoculars he could see that the ice flow had opened slightly and that he could maneuver the boat through the ice on a route that was not normally open at this time of year. All of us were seasoned travelers, but still stared wide-eyed as we went from dodging icebergs into solid ice that seemed to magically part. Captain Grim carefully maneuvered the boat to Iliminaq [Ill-im-e-nak] a small settlement of only 70 people. We trudged through the snow to look at a lovely little storybook church while the inhabitants were all in their warm houses...perhaps watching us? These are very hardy people for there is no running water directly into the houses and the community bath house requires each resident to bring their own hot water. But as far as quaint, the fishing village of Iliminaq is indeed that.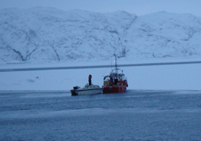 On the return to Ilulissat the captain went aft with a net to fish for sikuliaq-- pure ice. Chunks of iceberg went floating by but most pieces were disdained by the captain. Curiosity consumed us and we asked the mate, why only this chunk or that chunk of ice? To us ice is ice, but it was explained that there are over 100 different classifications of ice and the captain was looking for "new ice"—clear ice worthy of a journalist's drink. Anyway, among the thousands or millions of ice chunks that floated by we still didn't know how he could spot the three pieces he netted. Later at our hotel, The Hvide Falk we enjoyed a lovely buffet assortment of fish, salmon, shrimp, whale, reindeer, char and other native treats which tasted especially delicious after our outdoor adventure.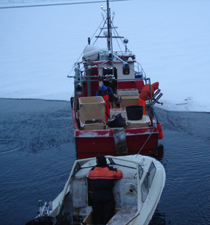 The next day it was still early, somewhat dark and cold when we went for an exhilarating dog sledge ride pulled by a dozen of Ilulissat's finest 5,000 resident Greenlandic Sled dogs. This pure bred descendant of the Polar Wolf is not permitted below the Arctic Circle, however, puppies may run loose until they reach the age of six months, after which, they must remain tied up with the mature dogs in individual outdoor kennels. This beautiful breed of dog (not to be petted) loves to be outdoors in the cold especially in front of a moving sledge. In the evening we dined at the 4-star Hotel Arctic that night and were served a gourmet meal and entertained by three local kids' that demonstrated Greenlandic gymnastic games.
On the following morning we were off to Sisimiut, a town of about 6,000 inhabitants where we were introduced into a small part of life in Greenland. We attended a class in school; learned to speak the native tongue and even to sing a Greenlandic song (sort of.) All in all, it was a fun session. We also had the pleasure of sharing tea and coffee with a native Sisimiut family. The parents are retired, one son is the local policeman and the daughter had recently returned from attending college in LA. The entire family could not have been more hospitable.
I opted not to wait for our mini-van for the half mile ride back to the hotel, but decided to walk through the snow and take in the sites and breathe some of Greenland's smog-free air. I was impressed by the activity on the street. Both men and women pushing baby carriages; kid's playing on their way home from school; and lots of pedestrian shoppers. On the way I came upon two kids (brother and sister) one trying to push the other uphill on a sleigh. I motioned for them to both get on and I'd push. After they delightedly climbed aboard and we reached their destination a quarter mile later I was rewarded with two big smiles, a one word, "bye" and a waved hand. Inwardly, I was still smiling about the kids on the sleigh when we arrived for dinner later that night at a great local restaurant, Misigisaq that served us delicious Greenlandic-Chinese food.
Another exciting boat ride the following day took us into the Sisimiut Fjord to an abandoned fishing village on Assaqutaq Island . It was a beautiful, bright, brisk day when we boarded the 35 foot boat skippered by Bo Lings, owner of Arctic Dive Service. Boots with good traction were needed to maneuver the deserted, icy-snow on the hilly island. Even though the island was uninhabited--except for one hermit--the church was in excellent condition and still used for special occasions. One other thing we squeezed in after returning to the dock was a personalized tour of the Royal Greenland shrimp (and crab) processing plant. At the plant we were outfitted in plastic from head to foot to protect the shrimp from being contaminated as it was being peeled, washed, split, sorted, packaged and frozen; ready for European markets.
Nuuk, the capital city of Greenland was our last town to visit. Compared to the other three towns, Nuuk was a metropolis with 15,000 residents. Its busy main street had the only two traffic signals within two million square kilometers. Our hotel in Nuuk was the Hans Egede, a businessman's type hotel--named after a Norwegian missionary—with a good dining room, active bar and lounge with piano player, European type breakfasts and comfortable rooms.
Due to very windy conditions our scheduled helicopter ride to visit a Viking settlement on an Air Greenland Sicorski 61-N helicopter was cancelled. Without seemingly missing a beat our three guides, Jesper from Greenland Travel www.gt.gl, Mads from Greenland Tourism www.greenland.com and Pers from Air Greenland www.airgreenland.gl/ somehow conjured up a full day of sightseeing. The impromptu tour took us to the Parliament and the Mayor's office; visited the Nuuk Art Museum that displayed fascinating artifacts and paintings by Greenlandic artists; then moved along to the Nuuk (history) Museum to view the internationally famous Qilakitsog Mummies; then to the Institute of Natural Resources for an enlightening discussion of polar ice, icebergs, Greenlandic animals and a scientific perspective on global warming. Lastly we headed to the official post office and mail box for Mr. Claus where all mail addressed to Santa at the North Pole is delivered. Where else?
The final tribute to our visit in Nuuk was a reception at "Katuaq", the cultural center of Greenland where we socialized with local residents. Also present at this social was Kevin O'Hara who displayed his beautiful four-color coffee-table book on South Greenland which may be viewed on www.greenlandphotos.com/.
The reception was followed by an elegant banquet where our table included guest speaker, Prof. Yvon Csonka from the University of Greenland ; Christian Keldsen with Air Greenland and his lovely fiancée, Britta--who was taking time off from her judicial duties. We attempted to concentrate on eating but attractive models dazzled us dressed in the latest Greenlandic fur and leather apparel followed by a local uaajeerneq (mask dancer) who made scary faces at us. It was a memorable evening to take away with us for tomorrow we would be leaving this wondrous country of Greenland—840,000 square miles of it whose beauty until now was selfishly kept to itself and to a small number of Danes and Icelanders that cared to visit.
I'm now a believer, but Greenland is not for everyone. If you're the type that doesn't like cold weather, gets sea sick on any kind of boat or is not a fond lover of dogs, then you should perhaps visit someplace else, say Malaysia where it's warm and there are no sled dogs. On the other hand, if you're of the type that likes adventure and drop-dead scenery and would rather brag about a snowmobile ride on the Polar Cap or a sledge pulled by Polar Wolf descendents then about shopping in Kuala Lumpur then you definitely should visit this island of colorful houses.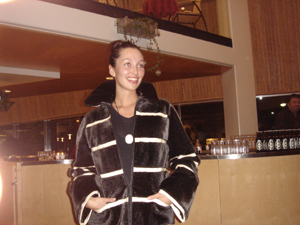 Basically it is a hands-on or hands-off country. Those that want to kayak fjords, climb unclimbable glaciers, heli-ski through fields of powder, hunt or fish 'til they drop can do it all in Greenland. Laid back types can tour, photograph and eat the catch of the day caught by the hands-on type. Providentially, we may all have to return because we missed seeing Southern Greenland, the Northern Lights, Reindeer and the many species of whales.
Post Script: The official America to Greenland adventure begins in May 2007 when Air Greenland's inaugural flight will depart from BWI. Thereafter the schedule calls for direct flights twice weekly until September and four hours later it will arrive in Kangerlussuaq where your adventure will begin and ours ended. There is excellent information available at www.greenland.com