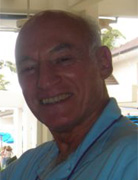 Greenland - - American's Next Destination

By Bob Enzel
The Airbus A330 owned by Air Greenland is cruising at 31,000 feet as I gaze out the window and reflect on my recent visit to Greenland, home of the largest Polar Ice Cap in the world. The plane is now over Corner Brook, Newfoundland and a beef tenderloin meal complete with a chateau bottled wine has been served with real silverware. I inquired about this anomaly and the response was, "no one said we couldn't" (use real silverware.) This is Air Greenland where civility in air travel still exists. Sure, they make you take your shoes off going through security, but when you grumble about it they commiserate with a smile and maybe even a light comment.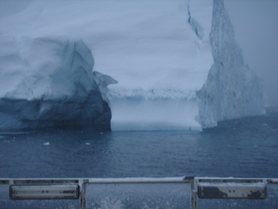 At the moment I was reflecting on whether Greenland Tourism owned by the Home Rule Government of Greenland and Fleming Knudson CEO of Air Greenland could pull off this happening where six thousand Americans will be enticed to visit Greenland this coming summer? It may well be the biggest air marketing gamble or the cleverest promotion in decades to attract U.S. visitors. At first blush it seems to be more of a gamble, but on deeper reflection, what does Air Greenland and Greenland Tourism really have to lose? The country has never been a destination that American tourists ever gave a second thought to visiting. Greenland has pretty much been viewed as an inhospitable piece of land that rested beneath transatlantic flights as the planes flew to and from Europe.

Below those transatlantic flights Greenland is a mere 435 miles south of the North Pole and is an 840,000 square mile island almost the size of the entire Louisiana Purchase. Under Danish Sovereignty it houses a population base of only 57,000 people--many of Inuit heritages with about 15% now from Denmark. It is the world's largest island measuring over 1600 miles north to south and over 600 miles wide with about 85% covered by inland ice measured to be two miles deep. Given this remarkable scenario just how will the marketing arrangement by Air Greenland and Tourism Greenland attract Americans to visit their country?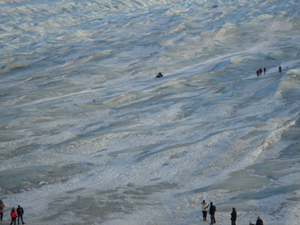 It's referred to as putting your best foot forward. They believe the U.S. traveler will embrace the thrill of almost touching an iceberg; marvel at the spectacle of the Northern Lights; be excited about a walk on a polar ice field and be interested in a visit to an authentic Viking Village. Or maybe the attraction will be something simple, such as, dropping in on the true home of Santa Clause. All of this and more they reason will have the American traveler standing in a Greenlandic line in just a few months. The gateway will be Baltimore, Maryland and May 2007 is the month that the initial service will begin.
My fellow (travel writer) passengers and I have just completed a visit along with a group of tour operators. With magnificent precision thanks to our efficient Greenlandic guides we were able to crisscross each other as both groups visited the same four towns: Kangerlussuaq, a town that sits at the head of "The Great Fjord" and where the International Airport is located; Ilulissat where there are as many sled dogs as inhabitants; Sisimiut,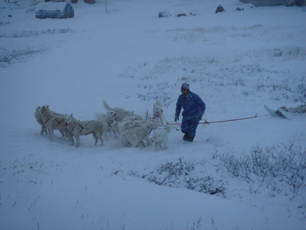 Greenland's northernmost town with open water during the winter and southernmost town with dog sledding. And, lastly, the visit took us to the capital city of Nuuk home of the only two traffic signals in all of Greenland.

The entire visit was rather spectacular. The first snow of the season greeted us upon our arrival in Kangerlussuaq and the snow also showed up to bid us a goodbye, however, the weather was kind to us for the most part. We walked and rode a snowmobile on the Polar Ice Cap outside of Kangerlussuaq. In Ilulissat we took an exciting boat ride to view the icebergs which became a momentous happening even for the captain and crew as the ice flow magically parted and allowed us to navigate a normally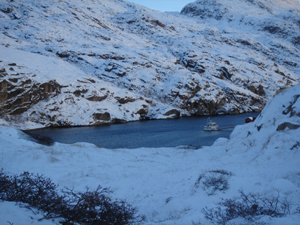 unapproachable ride through the ice flows. Many of us also enjoyed a Greenlandic sledge dog ride pulled by descendants of the polar wolf. Another boat ride out of Sisimiut permitted us to visit Assaqutaq, an abandoned fishing village on an island 6 miles into the Sisimiut Fjord. The village oddly enough still has one resident living the life of a hermit.
In Nuuk we were scheduled to visit Anavik, a thousand year old Viking settlement in Air Greenland's Sicorski 61-N helicopter, but high winds aborted the plan. The tour operator's group did this visit but the weather didn't hold for us. Our group then had an opportunity to observe the Greenlandic Parliament; view the paintings and handicrafts in the Nuuk Art Museum; visit Santa's little shop--home of the real Greenland Santa Claus; partake in a spirited discourse on the pros and cons of global warming at The Greenland Institute of Natural Resources and look at the Nuuk Museum which houses the world-famous "Qilakitsoq" mummies. Lastly, we all enjoyed the Katuaq Cultural Center which hosted both groups for an artistic and entertaining evening.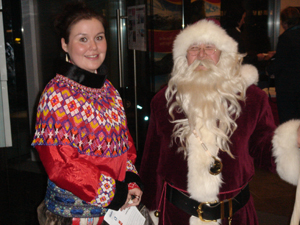 Perhaps your interest has been piqued enough to pursue a bit more detail about how to visit Greenland and experience your own adventure. On the trip I met a couple of tour operators that impressed me with their experience--Othmar Grueninger a 50+ year veteran tour operator runs the Grueninger Travel Group and can be found on the Internet at www.grueningertours.com and Natalie Chambers, Managing Director of Five Stars of Scandinavia which can be found on www.5stars-of-scandinavia.com. Both satisfied me with their vision of packaging Greenlandic tours beginning this coming May. Natalie is perhaps ahead of the game as her company has previously sent visitors to Greenland via Copenhagen and Reykjavik. A travel bonus for Americans is that the flight to Greenland only takes four hours from Baltimore making it the closest European country to the U.S.
There is a caveat or two where Americans are concerned. One is weather which can be a travel factor during winter months, but no doubt your tour operator will take this into consideration if a connecting flight is needed. The second is that Greenland is European and European's still like to smoke. So, if smoking bothers you ask for a non-smoking room on a non-smoking floor. That aside, the people of Greenland want Americans to visit their country and if possible visit with them one-on-one and share a cup of coffee. Your tour operator can simply build a home visit into the package.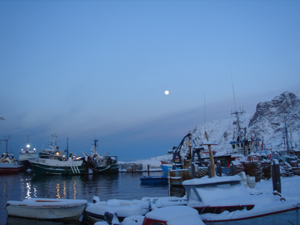 If you do go you can experience first hand why Greenlanders love their country, so be exploratory and walk the streets in any of the towns--join the perambulators being pushed by both male and female in between kids having fun on their way home from school. It's a lifestyle that won't be spoiled by only six thousand American visitors strung out over 18 weeks—which is the max Air Greenland can tote in 2007 from Baltimore.
Bear in mind that this will be Greenland's first effort to attract U.S. visitors and after all, the Island of Greenland is not a sophisticated island like Majorca or a world renowned playground like Cancun, however, it is perhaps the world's most wondrous place that you can still visit and breathe the fresh air of open space, taste the ice cold water from a pure iceberg and listen to the silence of nothing. A little research before you go will augment your visit either alone or with a tour guide. But do have a look at one of the many informative web sites to enhance the visit.
www.greenland.com/; www.nuuk-tourism.gl/; www.airgreenland.dk/