Saratoga Scene
by Dick Healy

Photo: Courtesy of Brien Bouyea,
National Museum of Racing and
Hall of Fame communications officer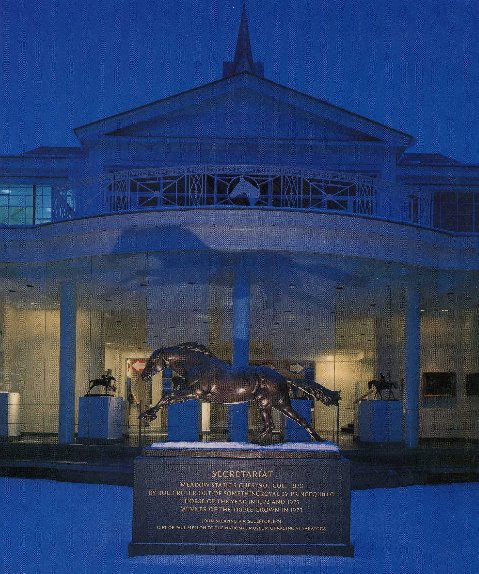 Few places in the country can generate as much excitement and press coverage as historic Saratoga Springs, N Y when the oldest track in the nation is running. The 2015 summer outing—July 24 through Labor Day, September 7—will be no exception. In fact, the famed Race Course has, according to early released information from Mark Bardack of Ed Lewi Associates, "Two of the biggest days in North American racing going into its 147th meet. They include the Grade 1, $1.25 million Travers on August 29, and the Grade 1, $1.25 million Whitney anchoring five stakes on Whitney Festival Day, Saturday, August 8."
Races will take place six days a week, Wednesdays through Mondays. Bardack's office reports that it will include 69 stakes worth a record $18.7 million in purses.
"We have made improvements to Travers Day to keep in line the creation of our 'must-see' events," said Martin Panza, Senior Vice President of Racing Operations for the New York Racing Association. "We are developing Travers Day into a national event—a mini Breeders Cup—by increasing the purses for the Personal Ensign and Forego. By including the Sward Dancer and raising the purse to $1 million we hope to create international involvement in that race."
I'll have more on additional racing dates as we draw closer to summer.
One of the more interesting events in Saratoga is the annual Fasig-Tipton Sales, featuring Saratoga Selected Yearlings, which will take place August 10-11 at the Humphrey S. Finney Pavilion.
These two evenings present, in addition to the horse sales, a glittering array of the world's richest and best-known horse owners, trainers, and jockeys. If you keep your eyes peeled to the crowd moving about the sales grounds and those seated inside the pavilion's reserved seat interior section, you'll no doubt spot some show business celebrities.
Horse racing's elite show up at the fabled sales.
If, by chance, you come to Saratoga to participate in the Fasig-Tipton auction, the entry requirement is May 8, at which time a signed contract and entry fee is due.
Though it's not uncommon to see yearlings sell in the millions, it must be remembered that New York-bred 2003 Kentucky Derby and Preakness stakes winner, Funny Cide, was purchased at Saratoga's 2001 Fasig-Tipton sales for a mere $22,000.
In recent years the Saratoga Scene has developed a strong following to its many new dining establishments. In future coverage I will delve into the more popular spots, both those that operate year-round and seasonally.