Saratoga Scene
by Dick Healy

Photo: Courtesy of Brien Bouyea,
National Museum of Racing and
Hall of Fame communications officer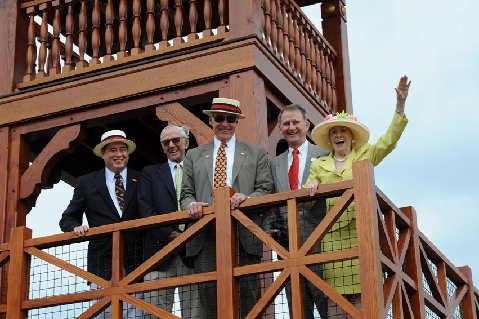 It's a bit early in the spring season to find thoroughbreds racing on Saratoga's Race Course, yet today's opening of the Oklahoma Training Track did officially get underway across Union Avenue from the main historic track.
Horse trainers have been prepping their racing stock for years on the Oklahoma in advance of the annual upcoming Saratoga meet. This year the race season begins on Friday, July 21st.
One of the best places to view the Oklahoma workouts is from the Whitney Viewing Stan overlooking the track. The viewing stand was introduced in 2013 as part of the track's 150th season celebration. Honorary Chairs John Hendrickson and his wife, Marylou Whitney, along with several other members of the Saratoga 150 Committee, participated in the unveiling. The viewing stand is one of many contributions Marylou Whitney has bestowed upon her beloved Saratoga where, as most know, she makes her home.
The stand is a near perfect replica of the 1892 original Judges' stand. Information furnished by the 150 Committee says, " The Whitney Viewing Stand is flanked by two plaques – an original plaque that has been refurbished from the Saratoga Race Course centennial celebration plaque in 1963, and the new plaque honoring the sesquicentennial."
Visitors can access the Oklahoma Training Track from the East Avenue gate during morning training hours during the 2015 meet. Free parking is available during training hours.