The Butte's Grand Recovery
By Dick Healy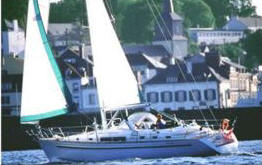 They were finishing up Crested Butte's fourth annual Slush Huck competition on April 1st, the fifth and final day of our recent stay at this idyllic western resort. An exciting event is highlighted by the pond skimming competition, with skiers/riders of all ages attempting to skim across some 116 feet of ice-cold water in quest of winning a share of $15,000 in cash and prizes. Some made it with seemingly effortless ease, while others didn't. It was warming up and it had been announced that the mountain would close for the season April 8, but not for lack of snow base. In fact, Crested Butte's trails and slopes received some five inches of fresh powder the day before and those fortunate enough to make first tracks on the mountain – that is around 8 a. m. – were rewarded with super conditions, abetted by bright sun and no wind.

On the previous Wednesday we landed at the nearby Gunnison Airport via an American Airlines jet from Dallas, TX. A flight that took approximately one hour thirty-five minutes. I arrived in Dallas earlier that day from Reagan National in Washington, D. C. It was the first time in 17 years I had landed in Gunnison, though the previous arrival had been in a 16-passenger prop plane from Denver. Vivid remembrance of that earlier landing was very much on my mind, as I recalled the smaller craft maneuvered its away through the towering Colorado peaks and eventually – with considerable dipping and rolling - settled on a much shorter runway and a less spacious Gunnison terminal facility. The American flight's approach and landing was more pleasant. I later was told that the runway is now two-miles long and some 80-feet wider and, of course, instrument guided.

My visit this time was to attend the 2007 North American Snow Sports Journalists Annual Meeting, with lodging at the newly renovated (some work still in progress) The Elevation Hotel, just a few yards away from the Red Lady Express high-speed quad lift. The scope, creative reengineering and amount of investment infused into the resort since Tim and Diane Mueller bought it in March 2004 – teetering around $200 million - is quite obvious. Compared to my Crested Butte ski experience 17 years ago, the transition is startling. Locals say real estate values jumped the minute the Mueller's made the purchase. Of course those of us who have followed the Mueller's through their purchase of Okemo Mountain Resort in Ludlow, VT 25 years go, to their equally successful operation at Mount Sunapee, NH, kind of knew that their solid ski expertise and reputation would precede them to Crested Butte.

Crested Butte, however, exist in two worlds: the new and old. As things progress up at the mountain resort, the old mining town in the valley below is a step back in time. In my estimation, this gives the Butte a uniqueness you'll not likely find at other western ski resorts. Some other towns once had that original look and appeal, but either lost it to over-commercialism or neglect. This town, with a mere 1, 629 or so population, is a designated Historical District. Fine shops, boutiques, excellent dining, and pure down-to-earth early western atmosphere permeate every street you walk down. No big neon signs glaring at you. Cars and buses move through town at 15 miles an hour. The shuttle runs from town to the resort every 15 minutes. Oh yes, long-time writer, Dave Barrell, took one afternoon off from the slopes, hired a local fishing guide and went fly casting for trout. A few other NASJA members went horseback riding.

The Butte has a first rate Adaptive Sports Center, a program started in 1987 by President Jimmy Carter and his wife, along with some locals, that operates year round. The mountain is noted for its annual Extreme Skiing competition, generally conducted in March. And, while we were there, over 100 cross-country skiers participated in the grueling Elk Mountain Grand Traverse, a 40-mile mid-night trek over the mountains to Aspen.

Crested Butte is a place we will hear more about in the future. Right now cattle in Gunnison County outnumber people. Some like it that way. Some expect that ratio to change in coming years.