SESTRIERE--WINTER OLYMPICS 2006
By Bob Enzel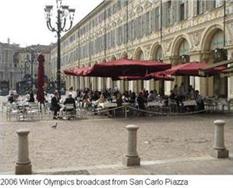 The crowds of yesteryear have disappeared. The cheers and jeers have long been forgotten in the Olympic town of Sestriere; the names of winners and losers have faded from memory. It is late September almost two years later.
The 96 Kilometer ride from Torino--the home city of the 2006 Olympics--to Sestriere took about and hour and a half mostly on a highway. A reminder that spectators and participants had to either stay in one location or the other, thereby limiting which venue they wanted to view. The opening and closing ceremony and the ice events all took place in Torino, whereas, Alpine and Nordic events--including luge, bobsled and biathlon-- took place in and around Sestriere.

I was struck by one constant. There was no visual evidence in Torino, or on the road from Torino to Sestriere, or in the town of Sestriere that the Winter 2006 Olympics ever took place. I looked in vain for banners and signs that said Sesteire was indeed the exciting city of the Alpine and Nordic events. Nothing! Not one sign. Not one banner. The town was quiet. The Olympic Villages, arenas and support facilities are now used for other purposes. In Sestriere, the village that housed the athletes are either rented out or used for condos.

My guide, Alberto Surico from the Provincial Board kindly drove me around to look at nearby venues. The only evidence of any activity was a lone ski jumper on his way home from practice on the Pragelato ski jump. There was no snow, but the landing area was padded with artificial turf suitable for the landing and ski-out during the non-snow months. We checked out the cross country trail and finish line--the visible section that we could see--and the downhill, slalom and giant slalom mountains used for these events. If not for that one lone ski jumper, a ski-ghost-town would come to mind. Time was short, so we could not view the area now used for snow tubing nor the winter bobsled run in Cesana now used for fun.

Don't misconstrue my comments as a put-down. Sestiere even in late summer with hardly anyone around looks like a ski resort that I'd want to stay a week or more when snow has covered the mountains and horse-drawn carriages trek visitors through the streets of white. After all, Sestriere is part of the "Vialattea," or "Milky Way" that encompasses 105 lifts and 248 miles of downhill runs that flow over into the ski towns of Sauze d'Oulx, San Sicario, Cesana, Claviere, Pragelato; and Montgenevere in France...a true international "ski circus." A pretty good deal at 117 Euros for a 4-day all valley ticket. Nearby Bardonechhia also has a mini-ski circus that encompasses, Jafferau, Melezet and Campo Smith. There are also four snowparks among the towns of Sestriere, Sauze d'Oulx, San Sicario and Claviere.

Sestriere is an Olympic Village, not an Olympic town, such as Innsbruck, Austria. It is relatively small and walkable from one end to the other. The architecture is indicitive of a purpose-built ski resort, e.g., not exciting. Signor Agnelli of Fiat renown and indeed the Fiat automaking company itself are credited with the construction and institution of the ski resort of Sestriere in 1934. Club Med still uses one of the buildings described by "Blue Book" editor Ted Heck as, "family-size cans of baked beans." There is one advantage of these round structures; not only is there a wndow with a view, but there is a view from every window.

So, our little group departed the 'Vialattea' with the anticipation that one day we would return when the ski town is in full bloom and all the Olympic venues would be in use by non-Olympians.

On the return to Turino It was ironic that upon visiting the "Vino del Ghiaccio" ice wine vineyards in Chiomonte, Maria Luisa Alberico presented us with a bottle of delicious San Sebastiano ice wine, and gave us all a banner left over from the 2006 Winter Olympics. I finally had proof that an Olympics took place in Torino and Sestriere in 2006.


For more information...

www.turismotorino.org
www.vialattea.it
www.bluebookski.com
Find more information for U.S., Canadian, and European
ski statistics and ski resort information here:

United States ski resorts,
Alaska ski resorts, Arizona ski resorts, Alabama ski resorts, California ski resorts, Colorado ski resorts, Connecticut ski resorts, Delaware ski resorts, Georgia ski resorts, Idaho ski resorts, Illinois ski resorts, Indiana ski resorts, Iowa ski resorts, Maine ski resorts, Maryland ski resorts, Massachusetts ski resorts, Michigan ski resorts, Minnesota ski resorts, Missouri ski resorts, Montana ski resorts, Nebraska ski resorts, Nevada ski resorts, New Hampshire ski resorts, New Jersey ski resorts, New Mexico ski resorts, New York ski resorts, North Carolina ski resorts, North Dakota ski resorts, Ohio ski resorts, Oregon ski resorts, Pennsylvania ski resorts, Rhode Island ski resorts, South Dakota ski resorts, Tennessee ski resorts, Utah ski resorts, Vermont ski resorts, Virginia ski resorts, Washington ski resorts, West Virginia ski resorts, Wisconsin ski resorts, Wyoming ski resorts

Canada ski resorts,
Alberta ski resorts, British Columbia ski resorts,
Saskatchewan-Manitoba, Atlantic Provinces ski resorts,
Ontario ski resorts, Quebec

Europe ski resorts,
Austria ski resorts, Austrian Gemütlichkeit ski resorts,
France ski resorts, Germany ski resorts, Italy ski resorts,
Switzerland ski resorts, Scandinavia ski resorts,
Norway ski resorts, Sweden ski resorts, Iceland ski resorts,
AANDORRA and the French Pyrénées,
Spain ski resorts, Slovenia