THE MONT BLANC GLACIER
OVER, UNDER AND ON TOP

By Bob Enzel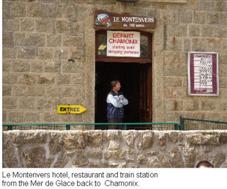 "Why have they taken down the ropes?" I asked. "Because people are stupid and they would try to climb down and probably fall," responded our guide Bernadette. "Down" was 12,000 feet where we stood just below the Mont Blanc on the Aiguille Du Midi plateau during a end of summer visit. My traveling companions and I watched well-equipped climbers with huge ice cleats as they traversed the glacier after expert mountain guides led them down.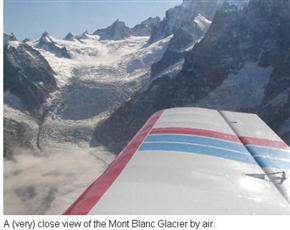 I had been here before during the winter to ski the glacier and I knew about the ropes, but this was the first time for my five non-skiing companions, who carefully watched each step. At this time of year the glacier is not skiable; it is climbable, but not without danger. Recently, a group of experienced mountain climbers were swept to their death by an unexpected avalanche.
My friends watched in awe as each group of climbers slowly--very slowly--descended the narrow ribbon-edge of snow and ice. This was why I had asked Bernadette about the ropes. Skiers with ski boots don't have crampons to grab onto the ice. They go down holding onto ropes, quietly praying as they move downward.

Just how experienced were these Chamonix mountain guides? I watched as one of them climbed up to gather a group of cautious and nervous climbers after previously taking them down to a relatively flat landing area. If you think climbing up is easy, think again. The thin air and dangerous climb up the narrow strip of ice-laced-snow with nothing to hold onto is not for the faint of heart.


| | |
| --- | --- |
| | |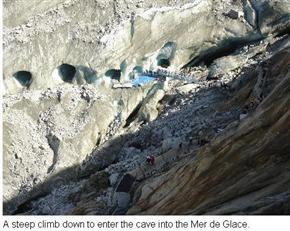 Our little group was not here to climb or ski, but to experience the thrill of a cable car ride perilously close to the side of the mountain and to walk through the massive tunnels cut into the mountain and out onto the parapet and peer over the ledge into nothingness. We lucked into a beautiful and bright Mont Blanc September day where the temperature was only 50 degrees Fahrenheit. A few weeks later the Chamonix temperature dropped 40 degrees. An indication that winter in the Alps was on its way. But this day it was a magnificent site, marred only by the shortness of breath we experienced as we climbed higher for a better vantage point. Climbers were below us at several points, while dare-devil, climber-paragliders tried in vain to catch enough air to sail off into the void.

Watching these jumpers put a damper on our bravery. We flew in a four-seater operated by Megeve Aero-club out of Megeve the day before for a total sightseeing fly-around the glacier. It was a neat flight even though it did scare a few of our group. I also thought we'd moved rather close enough to the glacier wall without having to peer into all the cracks and crevices. When our pilot was asked by a nervous passenger before take-off how often he did this type of flight, he matter-of-factly replied, "Oh! Six or seven times a day." Conversation in the aircraft was limited to the pilot uttering an unintelligable comment about an interesting locale that he tried to fly as close to as possible. Each of us wore a one-way conversation ear phone which kept us from asking stupid questions, while he concentrated on the close-up mountain inspection. One member of our group (we went in two batches) wanted to open a window to take a better photo. A loud "No!" was her answer. Any bravery some of us might have felt about taking a flight into the glacier was certainly dispelled by watching the climbers and paragliders show us what bravery and fear are all about.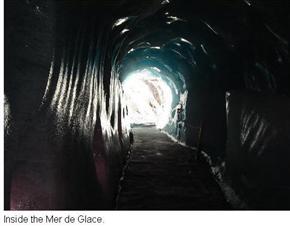 We wanted to relax after watching others have all the fun, so we quickly hustled over to the train station before noon in order to ride the Montenvers cog train to the Mer de Glace for lunch . I had no idea that this is where a previous trip of "Blue Book of European Ski Resort" editors ended up nine years ago, after skiing and climbing out of the Mont Blanc glacier. I think we were all thrilled to have survived the 30 foot climb straight up a slippery iron-rung ladder in our ski gear--boots, poles and skis--that we didn't care where we were, except safe. I figured out that this was the same train that took us down to Chamonix. What a difference nine years makes.

After a lovely lunch on the Grand Hotel du Montenvers' patio overlooking the Mer de Glace we had the option of going back to Chamonix or visiting the ice caves. Most of our group decided they would rather not walk down and back up the 300 steps to visit a cave cut under the Mer de Glace, even though our 21-Euro ride included the entrance fee. Not me! I'd now flown over the glacier; skied in and around the Mer de Glace; rode the cable car to the top and watched climbers descend from the Du Midi, but I'd never heard of the "ice cave" under and into the glacier. I was excited to see a close-up of where we skied and, if possible, to view the ladder nailed into the mountain. I was denied the ladder visit because it was not safe, but was told that they had added more rungs because the glacier had receded over the last decade. The hotel, by the way, has no heating and is only open in the summer.

The Mont Blanc glacier with the characteristics of every glacier moves downward ever so slowly, necessitating a new ice cave to be burrowed out every year. This has been going on for five years and the evidence of each scar into the Mer de Glace ice was visible as we descended into the bowls of the Mer de Glace. A dripping watery entrance was evidence of the melting glacier, but inside it was cold and rather eerie. Man had cut a series of rooms--kitchen, bedroom, bathroom, living room--into the ice as we walked the semi-circle into and then out. Seeing the ice rooms in the Mer de Glace was a pleasant reminder of my nice room at the lovely "Le Hameau Albert 1er" Hotel in Chamonix. As the French say, "chacun a son gout."

Mont Blanc is awesome. Just knowing that I'd skied the glacier, walked under it, looked down upon it and flown over it was an euphoric feeling. It is a feeling available to anyone who does not suffer from acrophobia, claustrophia or vertigo and can ski or climb.

The only requirement for them is to "just do it!"

www.chamonix.com
www.aerocime.com
www.hameaualbert.fr/
Find more information for U.S., Canadian, and European
ski statistics and ski resort information here:

United States ski resorts,
Alaska ski resorts, Arizona ski resorts, Alabama ski resorts, California ski resorts, Colorado ski resorts, Connecticut ski resorts, Delaware ski resorts, Georgia ski resorts, Idaho ski resorts, Illinois ski resorts, Indiana ski resorts, Iowa ski resorts, Maine ski resorts, Maryland ski resorts, Massachusetts ski resorts, Michigan ski resorts, Minnesota ski resorts, Missouri ski resorts, Montana ski resorts, Nebraska ski resorts, Nevada ski resorts, New Hampshire ski resorts, New Jersey ski resorts, New Mexico ski resorts, New York ski resorts, North Carolina ski resorts, North Dakota ski resorts, Ohio ski resorts, Oregon ski resorts, Pennsylvania ski resorts, Rhode Island ski resorts, South Dakota ski resorts, Tennessee ski resorts, Utah ski resorts, Vermont ski resorts, Virginia ski resorts, Washington ski resorts, West Virginia ski resorts, Wisconsin ski resorts, Wyoming ski resorts

Canada ski resorts,
Alberta ski resorts, British Columbia ski resorts,
Saskatchewan-Manitoba, Atlantic Provinces ski resorts,
Ontario ski resorts, Quebec

Europe ski resorts,
Austria ski resorts, Austrian Gemütlichkeit ski resorts,
France ski resorts, Germany ski resorts, Italy ski resorts,
Switzerland ski resorts, Scandinavia ski resorts,
Norway ski resorts, Sweden ski resorts, Iceland ski resorts,
AANDORRA and the French Pyrénées,
Spain ski resorts, Slovenia