A First Trip to Chile
by Ted Heck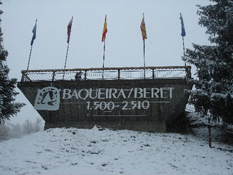 It had been a half-century dream of mine to ski in Chile, where seasons are reversed. But was summer skiing here worth the wait, I wondered apprehensively, as we corkscrewed 8,000 feet up a precipitous mountain road on our way to Valle Nevado ski resort.
Our small group had a wizard at the wheel, but the van still lurched around switchbacks. The scenery was astounding: cliffs, gorges, desert-type vegetation, including large saguaro cactus plants, and an occasional farmer making slower turns on horseback.

The driver put on chains when we finally got above the tree line and into the snow, for the climb up the last 1,000 feet. He dropped us at the Hotel Puerta del Sol in the middle of a vast snowfield.

It was summer in our heads, but in front of us at Valle Nevado were 22,000 skiable acres of snow. Some terrain is hidden in bowls, and there's more if we had time to venture over to the interconnected resorts of La Parva and El Colorado. There's a 2,600-feet vertical drop on groomed slopes and a 6,000 feet descent for skiers who go heliskiing in higher areas of the spectacular Andes Mountains (second only to the Himalayas in elevation).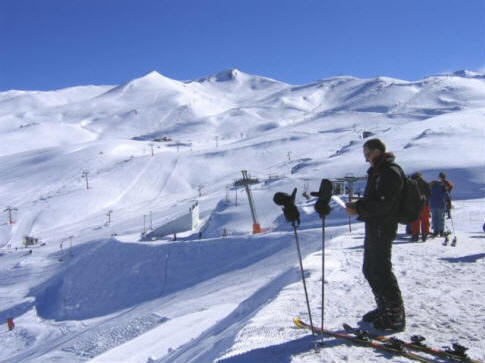 We had been in transit for 20 or more hours, 11 of them overnight on Lan Airlines, who brought the group together. Tired, yes, but we checked in quickly, rushed through lunch, picked up rental skis, and skied that afternoon.
The light was flat, so it made sense to stick to groomed runs, even for better skiers and the snowboarder in our group. Wider exploration was possible after a good sleep and on the next sunlit day.

Ski School Director Andy Marangunic was a great dinner companion, passing along lots of information about skiing in the Andes. For example, he says more Brazilians ski in Valle Nevado than Chileans. He has anecdotes about his experiences in Vail and other USA resorts. He also knows which grapes are best in his big wine producing country.

The menus of eight restaurants in three hotels point to plenty of fish. That's not surprising in a country with a shoreline almost as long as the United States is wide.

The best known resort in Chile among North Americans is arguably Portillo, but we chose to sample Termas de Chillán for our second outing in summer snow.

It wasn't around the corner, however. We returned to Santiago airport, boarded a plane for Concepción, Chile's second largest city, about 300 miles south. A van took us on a scenic, speedy ride through flat dairy land to the city of Chillán and then on to the resort. There was no snow on the ground until we got to our hotel, too late to ski.

The only thing missing in the five-star Gran Hotel is a final "d" in its name. It's a spa, with all the word conjures: luxury quarters, wellness center with thermal water in indoor and outdoor pools, well-appointed dining room, comfortable bar, casino, and ski in/ski out convenience.

My first impression of the mountain was disappointment, even though my son had cautioned me not to be too hasty in judgment, "Wait till you get to the top of the 22-minute chair lift ride." (He and his wife skied here last year and have planned a return visit.)

The chair rose above the trees and over the beginners' area and base lodge. It ascended through a rocky ravine and a few mini bowls where some adventurous skiers had made tracks. One segment of the ride was bordered by shiny black formations that any geologist worth his basalt would identify as lava rock. Some larger pieces looked like cubist statues chiseled by Picasso.

We alighted from a double chair and discovered wide, groomed runs, a little firm in the morning, but manageable and exciting. Three dormant volcanoes, one of them venting, stood sentinel in the distance over billowing snowfields.

The fun we had can be told in numbers: 3,300 feet vertical drop, 28 slopes on 24,700 acres, 11 lifts, 276 inches of natural snow a season. An eight-mile run is longest in South America.

On our last day we had time to loiter in downtown Chillán, where farmers and food merchants hawked their wares. Indoors we saw enough sausages to supply every restaurant in the land. Outdoor fruit and vegetable stands were a riot of color and offered a chance to stroll with locals.

There were other cultural tidbits. A statue of Bernardo O'Higgins stands atop an imposing monument in the city's main park. Chilean? Irish? We discovered that Bernardo was the illegitimate son of a Spanish nobleman, who was born in Ireland. Bernardo was born in Chillán and educated in London. Back in Chile, he was a hero in the 1817 war that gained independence from Spain and he became head of the new country.

Certainly worth the wait---and how edifying a simple little ski trip can be!
This article is reprinted with permission from www.OnTheSnow.com.
Find more information for U.S., Canadian, and European
ski statistics and ski resort information here:

United States ski resorts,
Alaska ski resorts, Arizona ski resorts, Alabama ski resorts, California ski resorts, Colorado ski resorts, Connecticut ski resorts, Delaware ski resorts, Georgia ski resorts, Idaho ski resorts, Illinois ski resorts, Indiana ski resorts, Iowa ski resorts, Maine ski resorts, Maryland ski resorts, Massachusetts ski resorts, Michigan ski resorts, Minnesota ski resorts, Missouri ski resorts, Montana ski resorts, Nebraska ski resorts, Nevada ski resorts, New Hampshire ski resorts, New Jersey ski resorts, New Mexico ski resorts, New York ski resorts, North Carolina ski resorts, North Dakota ski resorts, Ohio ski resorts, Oregon ski resorts, Pennsylvania ski resorts, Rhode Island ski resorts, South Dakota ski resorts, Tennessee ski resorts, Utah ski resorts, Vermont ski resorts, Virginia ski resorts, Washington ski resorts, West Virginia ski resorts, Wisconsin ski resorts, Wyoming ski resorts

Canada ski resorts,
Alberta ski resorts, British Columbia ski resorts,
Saskatchewan-Manitoba, Atlantic Provinces ski resorts,
Ontario ski resorts, Quebec

Europe ski resorts,
Austria ski resorts, Austrian Gemütlichkeit ski resorts,
France ski resorts, Germany ski resorts, Italy ski resorts,
Switzerland ski resorts, Scandinavia ski resorts,
Norway ski resorts, Sweden ski resorts, Iceland ski resorts,
AANDORRA and the French Pyrénées,
Spain ski resorts, Slovenia