ENTICING DAVOS
By Bob Enzel
Forty-two years ago we drove from Lech, Austria, over the Fluela Pass to Davos, Switzerland, just to see what this famous resort looked like. It was one long street, perhaps a mile long lined with shops and lodging and nothing like the picturesque, quaint village of Lech. We were not impressed. During the past 40 years I skied almost every major and many minor ski resorts in Europe, but I didn't return to ski Davos.
In 2009 I had an opportunity to join friends on a package trip to Davos. I'd punished Davos long enough. We were there the week before the World Economic Forum. The narrow road to the resort was still two-lane, but during the conference week it would be cordoned off and only those with a pass would be permitted into town. Swiss soldiers were hauling wire and barricades to prevent any trouble.

Davos had morphed into a small town with its main street now divided one-way in and one-way out to accommodate both skiers and economists.

Our group stayed at the National Hotel, a family-owned gem about one block uphill from the center of Davos Platz. At night a one-man hotel band provided music for dancing and Swiss folk tunes. We spent a lot of time in the comfortable bar and lounge. The food was good, the service

was excellent and the ski room was conveniently located outside the front door. It was an excellent location for our group.
A quarter-mile away the elegant Congress Hotel would host the forum with all its hotel rooms booked well in advance for an event that has taken place every year since 1970. If we were even able to secure a room reservation in the town during the conference week the slope would have been ours alone--the dark suited visitors don't have time to ski. Even before the Forum we rarely saw a line in any of the 25-35 lifts.

We did not require the skier-comfort of ski-in, ski-out (like Lech) and we certainly were not disappointed by the available terrain. Of the distinct five areas--Jakobshorn, Rinerhorn, Madrisa and Parsenn--we skied one area each day. We only missed Pischa.the smallest area, because of a day-trip to St. Moritz.* One evening we watched a Klosters-Davos hockey match at the Sportzentrum: on another we saw our first night polo match on ice.

Stories I'd heard about Davos being a great ski complex were true and no doubt I missed a lot of good runs over the years. I found It to be a lively ski town with access to excellent terrain on both sides of the valley. Many times over the years I'd heard that the Parsenn ski complex was one of the better places in Europe to ski and I was excited to try it out.

I was also looking forward to the 11km Davos-Serneus connection where one was expected to stop for a schnapps or beer and relax on a comfortable train ride back.

Beautiful weather accompanied our runs down the Rinerhorn and the Jakobshorn, but a snow storm reduced visibility and produced a 2-3 ft powder day on the 9,330-feet-high Parsenn, which has a vertical drop exceeding 5,000 feet.

This unexpected powder bonus thrilled the powder-hounds in our group, but unfortunately I hadn't skied in two years and was recovering from a knee operation. Neither fact helped my powder skiing ability. Two others in our group were also recovering from operations and after one run we decided it was best not to push the envelope.

But we decided not to waste the afternoon: we agreed to walk through town to the Spielzeugmuseum (Children's Museum) owned and operated by Angela Prader. She was on hand to explain anything one wished to discuss about the museum's objects.

The museum--more for adults than children--contained many marvelous collections which bring back memories to anyone over 50.

Several window displays of Noah's Ark with animals lined up two-by-two were quite intriguing, while other rooms were filled with dolls of every description. There was a room devoted to erector sets constructed to magnificent stature--shovels, air planes, Ferris wheel, and many others, all mechanically in operation. On our walk back from Davos Dorf we stopped at a number of enticing shops. It was a snowy but pleasant afternoon and we were in the mood to help the Swiss economy by purchasing delicious chocolates, Swiss knives and fashionable clothes.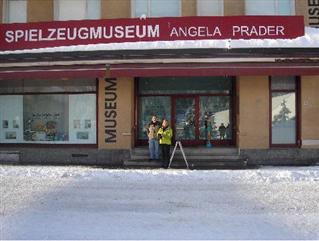 On our final ski day in Davos the best run was saved for last. It was the 11 km. Gotschnagrat run from Davos to Serneus-Klosters. Unfortunately, it was snowing lightly and white-out conditions prevailed. Instead of beautiful scenery to see, we had to focus on following our guide and not missing any turns. About halfway down we stopped for lunch at the Alte Schwendi lodge and hoped the weather would treat us more kindly by the time our leisurely lunch was over. The weather did clear a bit and the latter part of the run was visible, even though a light snow was falling. But the weather didn't affect our schnapps-stop before boarding the train home from Klosters.

The little time we were in Klosters whetted my appetite to return with an extended visit to this small, charming alpine village.

In retrospect, five days were not sufficient to ski the entire complex or to accommodate days when whiteouts stole away the scenery on the Parsenn and Gotschnagrat.

It means that I have to come back before another 40 years slip by.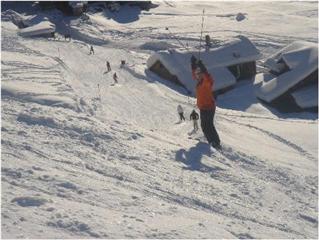 *See article, "An Unusual Day in St. Moritz."

Contact list
www.raileuorpe.com
www.national-davos.com
www.alpineadventures.net
Find more information for U.S., Canadian, and European
ski statistics and ski resort information here:

United States ski resorts,
Alaska ski resorts, Arizona ski resorts, Alabama ski resorts, California ski resorts, Colorado ski resorts, Connecticut ski resorts, Delaware ski resorts, Georgia ski resorts, Idaho ski resorts, Illinois ski resorts, Indiana ski resorts, Iowa ski resorts, Maine ski resorts, Maryland ski resorts, Massachusetts ski resorts, Michigan ski resorts, Minnesota ski resorts, Missouri ski resorts, Montana ski resorts, Nebraska ski resorts, Nevada ski resorts, New Hampshire ski resorts, New Jersey ski resorts, New Mexico ski resorts, New York ski resorts, North Carolina ski resorts, North Dakota ski resorts, Ohio ski resorts, Oregon ski resorts, Pennsylvania ski resorts, Rhode Island ski resorts, South Dakota ski resorts, Tennessee ski resorts, Utah ski resorts, Vermont ski resorts, Virginia ski resorts, Washington ski resorts, West Virginia ski resorts, Wisconsin ski resorts, Wyoming ski resorts

Canada ski resorts,
Alberta ski resorts, British Columbia ski resorts,
Saskatchewan-Manitoba, Atlantic Provinces ski resorts,
Ontario ski resorts, Quebec

Europe ski resorts,
Austria ski resorts, Austrian Gemütlichkeit ski resorts,
France ski resorts, Germany ski resorts, Italy ski resorts,
Switzerland ski resorts, Scandinavia ski resorts,
Norway ski resorts, Sweden ski resorts, Iceland ski resorts,
AANDORRA and the French Pyrénées,
Spain ski resorts, Slovenia