THE ROOKERY AT MARCO
By Bob Enzel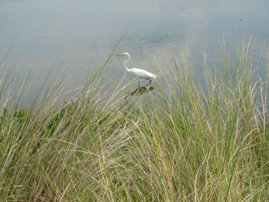 A large group of ski industry people were in Marco Island for an annual convention. And before it even crosses your mind that skiers shouldn't be in warm climes, it's a myth. Skiers need warm climates to thaw out after a long winter.
So here we are in Marco with a golf tournament scheduled just before the convention opens and my golfing buddy Rob and I decide to check out the course ahead of the competition. Well, that was a futile creative thought. The competition was already on the course ahead of us.
Be that is it may, Rob and I were here to have fun and play some golf in addition to attending to the business purpose of our visit…the ski convention that would kick off the 2006-2007 ski season.
The tournament was scheduled to be played at The Rookery a member's only club. The course is located off U.S.41 onto State Road 951 south two miles to the Fiddler's Cree Development and the entrance to the golf course.
It was a gorgeous day for golf and The Rookery appeared to be a course that we were going to enjoy. The layout of the course was designed to coexist with the natural surroundings and a bit of shallow wetlands that we came to know first hand. On the third hole we caught up with a single that was searching for his ball in the marsh, but moved along when he caught sight of us creeping up on him.
One of us hit a ball over by the side of the marsh also. When we went over to find the ball we saw a recumbent alligator just leisurely resting about ten feet from where the single in front of us was poking for his ball. Perhaps, and it's only a perhaps, we averted a confrontation between golf club and 'gator? Let me say right here that alligators are not uncommon to come across on golf courses in Florida. I've now seen five or six of them and most were reposing. And a reposing alligator is just the way we want our 'gator's to act on the golf course.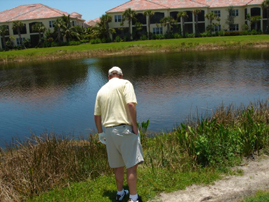 We found that holes one through nine was beautifully laid out with water attached to them, but we all know that water is like a magnet and sirens abound whispering, "come here little ball." If we hit the ball fairly straight on holes one through eight the water hazards shouldn't come into play. But hole #9 was over five hundred yards, dog-leg right with water on both sides of the fairway. Trying to cut the distance between fairway and green is over water and swallows up its share of balls, mine included.
Actually, the entire course had water hazards on every hole so it's a good idea to bring along an extra ball or two just in case. And what's a ball or two when in a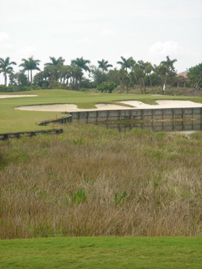 wetland the birds and 'gator's are on home territory. Egrets and herons we also saw lazing about perhaps waiting for a fish or two to come its way.
The club house was being re-constructed--on the day we played--in what appeared to be well on its way to a fine-looking building at completion sometime in late summer. Not being in any rush on this restful day and savoring this attractive course, we took a short break after nine in the temporary tent that was set up. We also teamed up with the single in front of us who we happened to know, but didn't know we knew until our paths crossed at snack time.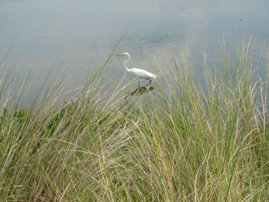 Continuing on as a threesome over the 6,430 yard "Middle" tees we still had our challenges. Of course, those that played the "Champ" tees had 7,180 yards and much more water to contend with. Barring an errant ball, the "Front" tees covered 5,029 yards and pretty much eliminated any threat of water.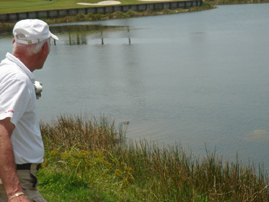 Somewhere about the 16th hole we came across the father of that little 'gator back on #3. This guy wasn't reposing. He was looking just like the pictures you see of alligators in Pogo with only his eyes and forehead (assuming 'gator's have foreheads) poking just a bit out of the water. This guy looked serious. It was a photo opportunity not to be missed, but we had our distance measured to the cart and it was in a go mode. Back to golf…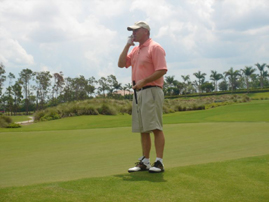 We did fairly well by shooting a little over our handicaps and posting a decent score is always good for the ego. Yet, I believe playing The Rookery on this spectacular day was one of those days when score doesn't matter as much as having a fun time with people you like and playing a course that you enjoyed and one that you look forward to coming back and playing in the future.
If you're down Naples way The Rookery is absolutely worth a visit. Just bring a few extra balls and when (not if) you hit them into the marsh or water let them go.
Check out the course layout on www.rookeryatmarco.com/
PS: It has a Nick Faldo Golf School.