THE OSPREY'S GOLF CLUB
By Bob Enzel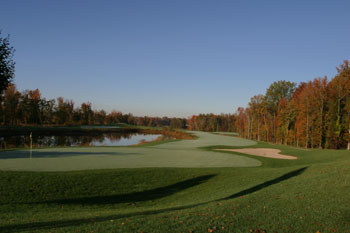 Second visit…

It was about a year ago that I played Osprey and managed to lose about a dozen balls in the brush. This time I came prepared with extra balls and also brought my Tennessee golfing friend George along with the suggestion that he also bring extra balls.

There are only two tee choices, white and blue. We played blue which was the longer of the two at just over 5500 yards. By comparison with other golf courses, 5500 yards is pretty short, but at Ospreys it was enough for us.

I believe a good bit of brush-thinning took place since my last visit or else this visit was earlier in the year and the bushes hadn't grown tall yet. One thing that was certainly different was that the water table was just about nil and balls that would normally have been lost were easily found this time around. In addition, many, many balls were just sitting there covered in mud. One location had so many balls in the mud that a one shovel load would have lifted out about twenty-five balls…there were hundreds. I'm not saying we didn't lose any balls, because we did, but this time around we were able to recoup all that were lost on the previous visit.

Personally I like playing Ospreys. It sits along side the idyllic Occoquan River hidden from the hustle, bustle and noise of both Route 1 and I-95, yet is just a short distance away. The course is challenging despite the length and when I decide to play it again I'll be sure to carry extra balls and not depend on finding balls in the mud. I'll also remember to read the little yellow card they pass out describing the layout of each hole.

See The Osprey's Golf Club's first article below for details…

BALLS SAID THE QUEEN
I've played courses where I've lost balls and I've played courses where I've found balls, but I don't recall playing a course where the lost to found ratio is 8:1. My partner and I calculated we lost about sixteen balls. Make that twenty as there were four in the cart when we started.
What further surprised me about this course is that it is only 5,567 yards long on the blue and 5,214 yards on the white with few water holes and easy sand traps. The 4,285 yard green tees are a mite easier. Although there are many trees they are sort of mixed in with the rough. And the rough is rough.
What it does have is bogs, brush, bushes, bracken wetlands and very high rough that gobble up any ball that it can smell. Another interesting feature is that you need to hit a shot or two before the green and pin are visible on most of the holes. The photo demonstrates why you may not see the green when you tee off.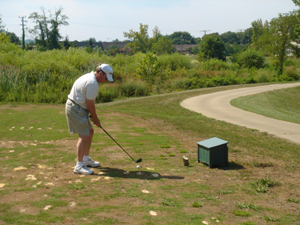 Granted, the next time I play this course I'll at least have a better idea of where to aim…but just in case I'll bring extra balls.

My partner Joe and I hit respectable shots off the first tee and promptly lost both balls in the fairway. Obviously, the balls were swallowed up by the golf-gophers. Golf-gophers in case you are unaware are kissing-kin to snow-snakes in skiing. Man, I hate to hit a good shot on the first tee and lose the ball. Right then, I knew the day would be long.

Pars are not difficult to make, but the holes that are not pared are double bogged… especially when you keep losing balls.


A couple of holes on this interesting course played like this. The par 3, dinky 125 yard #9 hole requires a shot up and over a ravine covered in bracken and brush. You either hit the green or you hit another ball. It may be compared to hitting to a hole that is surrounded by water. Then there is #14, #16 and #17, all doglegs with wetlands and a lake. You can go for the green in two. Miss and you land in the creek. Naturally, if you play like Ernie Ells, it's no big deal, you just hit over the trees.

The Club House burgers were excellent. The beer was cold and served properly. Hey! The golf day wasn't all bad.

The Osprey's Golf Club
401 Belmont Bay Drive
Woodbridge, VA 22191
www.ospreysgolf.com
Pro Shop: 703/497-0722

The Osprey management have this to say about their course.

"You're meandering through the hills, ponds and wetlands at The Osprey's. Here in Woodbridge, VA., on the banks of the Occoquan River… Almost every hole is an adventure with ... more than one risk to take. This is a shot-maker's course that offers marshes and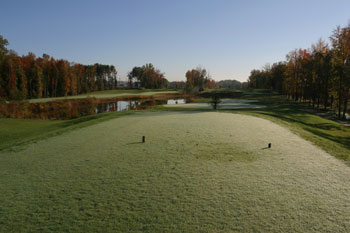 wetlands to cross, trees to dodge and ravines to carry. And we've thrown in some bunkers and fast greens as well. The Osprey's may not be as long as some, but it makes up for that with thrilling targets, unique wildlife and breathtaking waterfront scenery that tends to grab your attention as you play."