Renditions Revisited
By Bob Enzel
I don't believe that Renditions is a difficult course for everyone, but it is for me.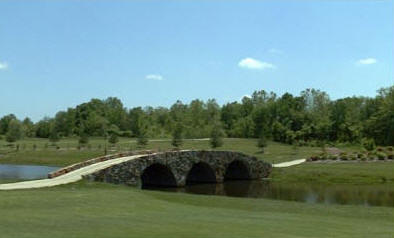 For instance, on the dreaded water hole reminiscent of TPC Sawgrass I put the ball on the edge of the green in one. Then proceeded to four putt. On the next hole, I cut the corner very nicely saving fifty yards and ended up in some trees. No problem, the way was clear except for one tree which, of course, I hit.

My golfing friend George whose handicap is so low that when he occasionally double bogies he's ready to concede the hole; concede the match; then go home and order a new set of clubs. He gave me a half stroke a hole and then proceeded to beat me soundly.

George's first visit to Renditions produced the below comments.
RENDITIONS
By George Schissler
Just a few miles outside our nation's Capitol in Davidsonville, MD there is an unusual treat awaiting golfers.

It is here that Renditions--Golf's Grand Slam Experience—players are carried thousands of miles across the Atlantic to courses like Royal Birkdale and Carnoustie and closer to home to Augusta National, Winged Foot, Medinah and other prestigious and historic golf courses.

On this Dave Edsall public 18 hole, par 72 course each hole is a replica from a course that has hosted one or more of golf's four major championships. Three holes at Augusta National can be played by teeing off here on holes number 6, 7 and eight.

My favorite holes were number #2 (replica of Augusta National Club # 12); number #7 (replica of Augusta National hole #2); and number #17 (replica of Winged Foot #7). Why do these three holes rate as my favorites? They are all par 3's, but more importantly they were the only pars on my scorecard.

If you are in the area and looking for a golf fix, treat yourself to many of the most famous and challenging holes in the sport's history.

Also no passport is needed to enjoy a few "overseas" holes.