Pok-Ta-Pok Golf Course
By Bob Enzel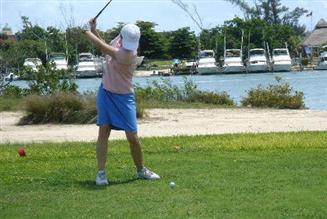 I've always wanted to play Pok-Ta-Pok. I guess the name intrigued me. The course is situated on a peninsula between Cancun City and the Hotel Zone and is set in a picturesque community of shops, small hotels, residences and boat harbors.
After playing the Hilton Hotel's Kukulcan course just across the lagoon we anticipated a similar experience, but were disappointed by the lack of amenities--old carts, no holder for ice or divot filler and no water to drink on the course. Water was also lacking in most of the ball cleaning facilities and yardage indicators were in short supply.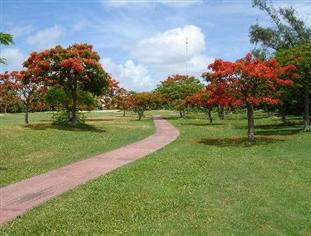 The first nine holes are packed together with tight fairways reminiscent of Palm Springs, CA housing development. In fact, hole #1 and hole #8 share the same elongated rolling green. One in our party hit a shot to the green on hole #1 that rolled onto the green of hole #8 and had to put the length of two greens. The entrance to the back nine is rather interesting. You drive the cart onto the main road, head across a bridge and enter a secluded back nine that is spread out amongst many flame trees and is by far the nicer of the two nines.
Like the Kukulcan course, It is a flat and that about sums up the similarity. The course is populated by fairway shrubs and flattish sand traps and no water holes. The only place water might come into play is along the 7th hole where the fairway runs along the coast. One of our tee shots rolled into the shrubs adjacent to the water. This occurred just about the time a resident was walking his German Shepherd along the edge of the fairway. The approaching dog caused an alligator to slide into the water. The ball was search was abruptly abandoned. Golfers will find a couple of par 4's rather long and challenging. To reach the green in two will require a 250 yard drive and a 200 yard fairway wood.
Now that I've played Pok-Ta-Pok and gotten it out of my system I don't have any desire to return.
Note: As we approached the 18th hole, a twosome showed up as if they were part of our group and played right onto the green with us. The idiots were first time players and had no clue about golf etiquette. Strange!

Par 72. 7,051 blue 72.9/130; 6,473 white 69.0/118; 5,855 yellow 72/125