Palm Springs Revisited
By Bob Enzel
Life in Palm Springs is good …very good. Logistically though, I'm next door in La Quinta visiting a friend with a lovely house at the Trilogy Golf Club.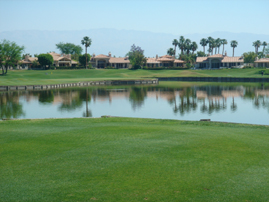 We're here--three of us-- to attend the National Ski Areas Association Convention and Trade Show. An annual occurrence—always held somewhere warm—where owners of ski areas and resorts are gathered to thaw out after a hard winter's work. In between seminars; speakers and the trade show we're also here to play golf, as are many of the other attendees.

Our first outing is at the famed La Quinta PGA Dunes course. It's a Best Ball ski convention sponsored event and the three of us are split into separate foursomes

The Dunes offered high expectations based on reputation; however, when I see my clubs are resting on a public-course-quality-golf-cart I become immediately suspicious. Perhaps this is typical of Palm Springs housing resort courses where carts do not have a GPS system and golfers must buy a course layout booklet for seven dollars.

On this particular Pete Dye desert course, the tee boxes are not lined up with the fairways so you had to pay attention to squaring yourself up for the fairway drive. The greens were in good shape, soft, not bouncy, but fast and it was best not to play to the flag. Any golfer that could read a green could easily read these for they were true and fair. Later we compared notes and agreed that the fairways were wide open and forgiving; not much rough and the play moved right along. But we also agreed that PGA Dunes seemed a bit long in the tooth and ready for rejuvenation, but still, it was a beautiful day for golf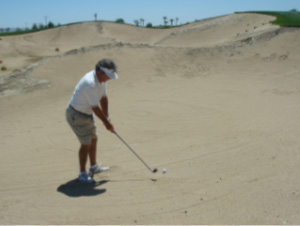 Next for us in La Quinta was a much newer course, SilverRock Resort. I knew immediately that this was not a Palm Springs housing development course when I saw the golf cart. It was top of the line with a GPS system that worked perfectly…would one expect anything less from an Arnold Palmer Classic Course?

I thought it was a pretty neat course, but my two buddies—who by the way play better than me offered negative comments. We played the whites at 6658 yards, "a real challenge" commented friend Roy later that evening. Their dissatisfaction was far ranging: "too much sand for the average golfer; stone and sand waste area would scratch your club if you didn't pick the ball clean; fairways that sloped toward the water; shots needed to be strategically placed to greens that were not visible and were fast and unforgiving; golfers were penalized for not knowing the green's physical appearance."

To sum up their discontent, "too difficult and challenging for the 13 and above handicap golfer." I wonder if shooting fifteen shots over their handicap had anything to do with their discontent. It was challenging, but the fairways and greens were in excellent condition and the $95 fee was reasonable by Palm Springs standards. For myself, I thought it was a scenic, well groomed course.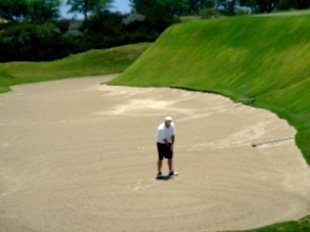 Trilogy Golf Club at La Quinta was next. If you've read my previous article on Palm Springs you know that Trilogy is not my favorite La Quinta layout. I knocked the pretentiousness of the Trilogy course in my prior Palm Springs article so I wanted to play it again with my friends and either confirm or adjust my initial opinion.

In the four months that passed since I played Trilogy I did not expect the golf carts to be replaced based on my opinion of them being run-of-the-mill-public-golf-course-quality…and they were not. The course itself was in better condition and this time the greens were in good (not great) shape. We all had a decent round even though we were constantly pushed on the front nine by a group of women with their own golf carts who played the forward tees. We either moved too slowly or they were LPGA hopefuls.

Between hole #15 and #`16 we missed a turn and ended up in one of Trilogy's construction sites. It was like a movie set. Here we were, two golf carts riding down a construction street looking like idiots. Well! I guess when you're playing a housing development course you have to expect the obvious. It was one of those 102 degree days and golfers and construction workers were equally very hot.

The last of the four Palm Springs courses we played was the prominent PGA West Stadium Course also designed by Pete Dye who must have owned a sand company. I've seen sand traps before, but they are not 350 yards long or 20 feet deep.

The entrance driveway was spectacularly lined with elegant palms that ended at an also elegant club house. The carts did not have GPS and the ice chests were dirty, but on the positive side, golfers could help themselves to all the T's; markers; score cards; pencils and ice they wanted.

Our threesome agreed that accurate T-shots were in order as it was best to keep the ball off the sides. There was no natural habitat, but there were lots of fairway mounds, deep bunkers and long sand traps. The greens were in good shape and the scenic Santa Rosa Mountain range provided its usual lovely vista

This is a course where many major professional events have taken place and one of several used as a Q-School qualification course. The Traveling Golfer in Golf Magazine

recently said "PGA West (Stadium) is overpriced ($180)… This course has the smug vibe of a restaurant that's received too many glowing reviews." Possibly this is true, but we enjoyed the experience and only paid one hundred and fifteen dollars.


SUMMING UP…

We three sat around (with a beer of course) reminiscing about our four rounds of golf on four different courses; discussed the pros and cons; good and bad; likes and dislikes about each course. We decided to conclude with a vote as to which course we each liked best. We rated them with four being the highest and one being the lowest. We quickly agreed that La Quinta Dunes was our least favorite of the four. Then we differed on the other three. Roy liked Trilogy best and PGA West next; Rob and I liked PGA West best and here we differed again. Rob went with his home course of Trilogy as his second choice, followed by SilverRock. I liked SilverRock as my second choice, followed by Trilogy. This was the result: PGA West Stadium Course 11; Trilogy 9; SilverRock Resort 7 and PGA Dunes three. Despite my opinion that the Trilogy Golf Club is a housing-development- course that uses the "Skins Game" as a con to sell more real estate, I was out-voted by my friends as being an attractive course to play…and it is if you didn't have to continually drive your cart through a housing development.

Brief course comparisons:
| | | | |
| --- | --- | --- | --- |
| | Length/Tee | Rating/Slope | Designer |
| La Quinta Resort Dunes | 6320 yards/Championship | 71.5/130 | Pete Dye |
| SilverRock | 7146 yards/Blue | 74.2/135 | Arnold Palmer |
| Trilogy Golf Club | 6739 yards/Black | 72.1/127 | Gary Panks |
| PGA West (Stadium) | 6739 yards/Championship | 73.3/142 | Pete Dye |