Malaysia Golf
The Second Round
By Bob Enzel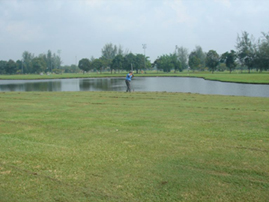 Round two of the Malaysian golf courses were played at the Palm Garden Golf Club in Putrajaya. Palm Gardens is owned by Resort Villa Golf Course BHD, a member of the IOI Resort Group. The grounds were once part of a rubber plantation but now houses three 9-hole golf courses: Putra; Palm; and IOI on the 330 acres of green countryside.
The course layout was designed by architect Rick Robbins whose name I am not familiar with, but do know firsthand that he likes to mix in lots of sand traps with his water hazards. Most of the water does not come into play if you're a good golfer. One thing I do know (from experience) is that if you hit the ball into a sand trap you won't lose the ball. And so far, I haven't experienced any courses that use quicksand in their bunkers.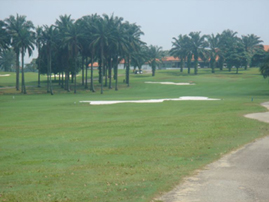 Malaysia has many fine golf courses but Palm Garden is not one of them where amenities are a consideration. It had an interesting number of missing conveniences, such as, no ball washers; a lack of fairway markers; and no water available anywhere on the course except at the club house. The golf cart was even a bit ragged and sputtered around the 18 holes. On the other hand, it was great just being in Malaysia and playing on some nice golf courses; plus we were being treated absolutely superbly by our hosts. Also, we weren't just visiting golf courses—we were entered in tournaments and meeting new friends from foreign lands. As the saying goes, "any day on the golf course beats a day at the office."
My two (Thai) partners from the first day of golf were paired elsewhere. Today our international team consisted of Howard from Australia and Pervaiz and Alam from Pakistan. As directed we played the white tees on Putra and Palm which were in meters —you don't catch me twice—that totaled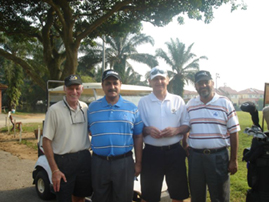 5536m/6054yards.
The day we played was extremely humid and reminiscent of playing golf in Washington, DC in July. The weather didn't seem to bother me as it did my (U.S.) friend Roy who played in a different group. He told me later that he couldn't see to putt because the perspiration was dripping down his line of vision…an excuse I hadn't yet considered. However despite the liquid I consumed the heat came back to bite me later in the day with a touch of heat dehydration. Howard neglected to bring a bottle of water with him believing that it would be provided on the course--as it was the previous time we played, but it didn't happen. I offered him a drink out of my bottle of (now) very hot water, but he declined preferring to wait it out. But after nine holes he zipped to the refreshment counter where he quickly consumed a bottle of water.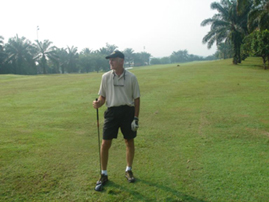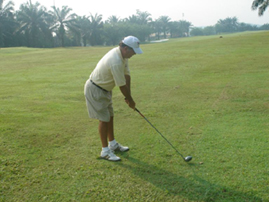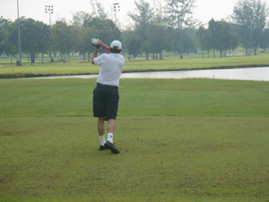 The following description of a few holes should give you a little insight into what we faced on this muggy day. Hole #1 at 445 yards in length had a lateral water hazard and bunkers—a tough beginning hole for (us) 24 handicappers. Hole #9 was listed as the most-difficult-to-play-hole. Two water hazards cut the fairway. The first one at 110 yards and the other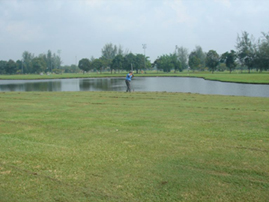 at 165 yards required a solid drive that also had to avoid a greenside bunker that defended the approach. A #1 rating in difficulty seemed appropriate.
Hole #12 at 423 yards was a par 4 which began from an elevated green that had water at the left of the green and a bunker on the right. It carried a #6 index rating. The last hole I'll describe is #15, a par 3 at 189 yards. It had a water hazard directly in front of the green, which left you a choice…, go for it or play it safe on the left side and take a safe two strokes. I had plenty of golf balls, so what the hell…
Pervaiz, Howard and I played relatively well, but not well enough to overcome our (high) handicaps. Our teammate Alam had shot a little over par for 15 holes until the bottom fell out of his bag of tricks when he carded a 22 on the last three holes. He just shrugged and smiled.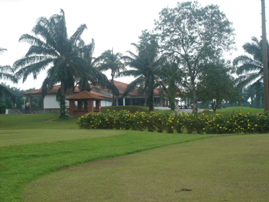 Overlooking the course was the Golfers Terrace Lounge and after a humid 18 holes of golf we all made a beeline for some liquid refreshment. The lounge is also where we had lunch before continuing our day via a sightseeing bus venture. A nice feature about Malaysian golf courses is that they have changing rooms where you may rent a towel and locker for a couple of Ringgets. This particular club didn't disappoint for it had a largish changing room, many lockers and sufficient individual shower stalls. We all came prepared with a change of clothes, and it was a pleasure to rid ourselves of our soggy golfing attire.
In case you want to play 18 holes at Palm Garden the fees are reasonable. The weekday fee is RM 94.50/ $25.00 for a guest or RM 126.00/$33.00 for a walk on. There is an additional fee for the buggy (literally and figuratively) at RM 57.75/$15.00. And if you fancy you can order yourself up a caddy at RM 36.75/$10.00. Should you wish to join the club the membership fee is RM 25,000.00 or about sixty-five hundred dollars which is quite reasonable by U.S. values.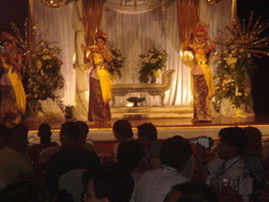 Refreshed by the shower and dry clothes we eventually boarded the bus for a tour of Malaysia's new Administrative Capital---Putrajaya and drove by its new IT city, Cyberjaya (nicknamed Cybercity). We then visited the National Mosque where we had a good view of the King's residence just across the lake. Our next stop allowed us to enjoy a walk though a natural habitat. Next we visited the impressive Malaysian WWII Memorial. Lastly, we drove into Kuala Lumpur to peek at the Twin Towers--way up in the air--as the evening ended with a Malaysian dinner show. It was a long, full day and I for one was worn out from my bout with dehydration and glad to return to the hotel.
Note: Photos and a full description of our Malaysian sightseeing tour may be viewed on the Travel section of this site.
For more details on Palm Gardens Golf Course visit http://www.palmgarden.net.my/