Malaysia Golf
Round Three
By Bob Enzel
On tap today was the conclusion of the World Amateur Inter-Team Golf Championship* to be played at the Kebab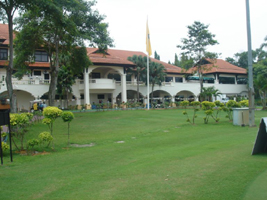 Golf Sultan Abdul Aziz Shah Course (KGSAAS). The winning team of this event today would be honored tonight at a banquet reception at the Hotel Concorde Shah Alam. Immediately following the Amateur Golf Championship our international group of golfers would compete with less angst on the same golf course.
The KGSAAS Golf Club was the creation of His Royal Highness the Sultan of Selangor and bears his name. When we drove on to the club grounds I had a feeling that we were about to play a very fine course. In actuality, there are 27 holes of golf on three separate courses that 5-time British Open Champion Peter Thompson designed.
The entire 27-holes of KGSAAS are uniquely lit up for night golfing and have been given the tag line "the home of night golfing". The three nine hole courses: Alam Shah Nine; President Nine and Sultan Nine are all beautifully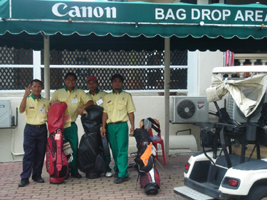 laid out in the shape of a horseshoe with a small lake in the
center. We were not playing at night but were scheduled for lunch and a 1:30pm tee off time.
Today's lunch was provided in the beautiful 3-level Club House which also houses a golf reception/administration center, pro shop, changing rooms, caddy & buggy stations, VIP suite, function rooms, viewing galleries and a very large dining area with a private banquet room. We had the privilege today of lunching in the private dining room reserved for both groups. Ours, which had yet to play and the incoming group of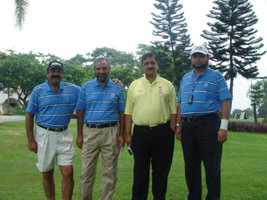 "World Amateurs" that were about to complete their six month shoot-out.
Today our own little tournament appeared to be a bit more serious with carts set aside and caddies in readiness. All in all, there were over forty golfers from the nine countries represented today: Korea; Pakistan; Indonesia; China; Thailand; Australia; Japan; America and of course, Malaysia. Other countries represented with the World Golf Amateurs (but not with us) were from Brunei; Singapore; Taiwan; New Zealand and South Africa. As it turned out I was again teamed with my Australian partner Howard from a couple of days ago and a new team player, Tan from Indonesia.
Play was set up for a shot gun start with our designated tee off on Sultan Nine at hole number six. The #6 tee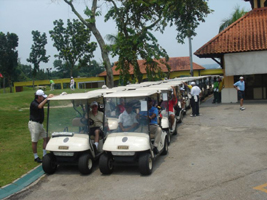 box was placed well above the hole which looked down to a tricky green one hundred and fifty three yards distant. None of us hit the green but all three shots were close. A short hole tee off was a good confidence builder to attack the challenging 6,332 yard course.
The formidable #7 hole of 472 yards followed. It was a par five which I thought was rated a bit high at only a seven index difficulty. It bent left from tee to green with water that cut the fairway in half at the 369 yard mark. The next two par 5's were hole #12 with an eight index rating and the number sixteen hole at 554 yards rated as the second toughest--which I whole hardily agreed with. It had water in front of the tee box and a pond that cut the fairway in half at the 284 yard mark.
It took awhile for us to play around to the #2 hole, but we were already aware of its notoriety. It was designated as the to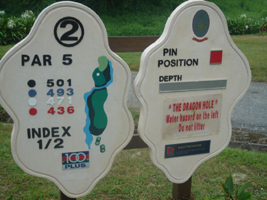 ughest on the course and was aptly nicknamed the "Dragon". A five hundred and fifteen yard downhill narrow fairly with water bordering the left side and then cutting across the entire fairway. Then it went uphill to the green that sat on a plateau blocked by four bunkers.
Our scores didn't reflect the well attended holes even though our caddies knew the greens like the back of their hands. "Putt right two ball" or "three ball left"[sic]. On one occasion the caddie marked a spot for me to hit to about 20 feet distant where the break to the hole would be. I followed his advice and hit it square on the spot he told me to hit it, but it stopped right there leaving me another 8 feet to the hole. He and I looked at each another and laughed at my ability to hit the exact spot he had pointed to yet neglected to hit it hard enough to make the break. My golf partners wondered what was so funny about my missing the putt.
And so it went--good shot--good shot--bad shot—good—bad, rhetorically asking myself why I couldn't be more consistent? Possibly a question asked by every golfer to one degree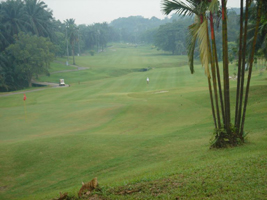 or another. Howard was also inconsistent, but that's why we were listed as 24 handicappers. All in all, water didn't threaten as much as all the sand (in traps) which could have covered a small beach.
In particular, the hole number plaques at each tee were attractive and informative. One such plaque (on Hole #1) rated the green speed at 8.0. I don't know where 8.0 rates on the "stimpometer", but since it was the only hole on the course with this notation, I guess it may be decoded as a difficult putting surface? Then somewhere in the middle of the play The Blue Mosque loudspeaker went into action with its daily call to prayer. I hesitate to say this, but the only praying among this group was for the ball to go into the cup.
Both the Alam Shah Nine and the Sultan Nine lived up to expectations…lovely scenery, well maintained fairways, challenging holes and nicely attended greens. Plus it was a beautiful day to play this course. There is a sign near the club house that explained that they use "Tour Turf" throughout the course. The sign clarified the use of "a synthetic surface that looks, feels and plays like grass." I'm certain that I encountered it on the course but I didn't note any difference in surface…which proves their point quite well.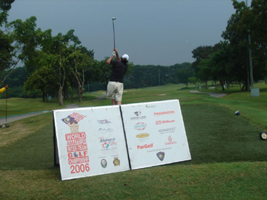 The tournament concluded that night with a massive banquet dinner where there was good fellowship among all the nationalities represented. Although we were also awarded prizes for our tournament the main event was the conclusion of the 2006 World Amateur Inter-Team Golf Championship. Our group acted more or less as observers to the concluding awards presented to the final three teams. After six months of elimination rounds a team from Australia took top honors, followed by Pakistan in second place and Malaysia in third.
The next day when most of the golfers departed I had an opportunity to visit the Capital City of Kuala Lumpur (see the article on Malaysia under the Travel section on this site.) It was good fun and a great trip.
For more information on KGSAAS visit their web site www.kgsaas.com
* On http://www.waitgc.com/the details to play in the 14th annual tournament will be posted. A few of the details are: Registration fee is $1500 per team of four players. The fee includes 5 nights lodging, air transfers, breakfast, welcome party, four rounds of golf and dinner. The game is both gross and net score over 54 holes. To enter the competition a valid minimum handicap is18 or less for males and 24 or less for females.
Finalists from approximately 20 countries will compete over six elimination rounds beginning February 12, 2007 and continuing until July 12, 2007 at various golf clubs throughout Malaysia. Each group of winners comprising 30 teams will advance to the Grand Final August 28, 2007. Malaysia is a very long way and certainly it's a foreign country. The time change and the cost are good reasons not to play, or maybe they're excuses. Seventy percent of the teams are from outside Malaysia, but no U.S. teams competed in the recently concluded 2006 tournament.
I'll put the call in here and now for four very good USA amateur golfers—college or just friends—to play in a tournament in Malaysia and see if they can win against other countries. The year 2007 will also be a once-in-a-lifetime opportunity to visit and help Malaysia celebrate its 50th Year of Nationhood.