Malaysia Golf Round One
By Bob Enzel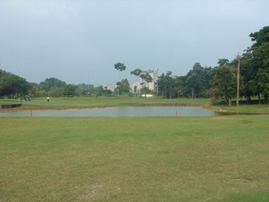 A number of writers from the United States were extended an invitation to visit Malaysia: To see the country; visit some golf courses and check out this year's World Amateur Inter-Team Golf Championship that was about to finalize in Selangor. Curiously, only my friend Roy and I accepted the invitation from Tourism Malaysia.
Speaking for myself, I had only the faintest idea where Malaysia was located and no idea of its politics. First I went on-line at www.state.gov/ to read what the U.S. State Department had to say about Malaysia. I then asked my much traveled brother-in-law about the people and the food. I had already accepted the invite, yet it was good to know that my decision was viewed positively by both State and my B-in-L.
I came to know that the tournament for amateur golfers had been going on since 1994 and that there were no Americans registered this year. In retrospect, I'm not sure if the U.S. has ever had a representative? Maybe our amateur U.S. golfers should check out this championship. It might just be the place to be in 2007.*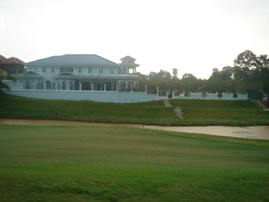 I have arrived in the city of Selangor where we are lodged. Today we had an indoctrination session over lunch and I'm now on the first of three golf courses that we will get to experience –one public—one semi-private—and one members and guests only. This one is a public course, The Kelab Golf Seri Selangor and it is considered the number one public golf course among Malaysia's over two hundred courses—not all public of course. We were a group of golfers from many different nationalities—Malaysia; Pakistan; Thailand; China; Indonesia. Australia and American.
We were designated to play the white tees with the usual starter admonitions—"90 degree rule is in effect; don't drive on the par 3 holes; balls hit beyond the white stakes are out of bounds"—all of which is typical golf speak everywhere you play. As it turned
out, the red tees were a modest 5,652 yards; the white tees a respectable 6,406 yards; and the blue tees stretched to 6,853 yards.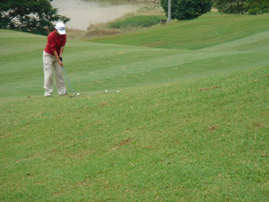 When one of our players was a no show our foursome dissolved into a threesome, which included myself and two golfers from Thailand…female partner Thitinan ("Oh" for short) and male partner Songsak ("Song" for short.) Fortunately for me, both spoke English well enough for us to communicate without using hand signals. To move the group of 20+ golfers along we were sent to hole #15 to tee off on the white tees.
I teed off first and of course topped my first drive--but it did go (just) past the women's tee. My male partner said, "No worry! No worry!" (Sic) My female partner smiled shyly at me and sort of shrugged her shoulders. Then "Song" hit his tee shot about 175 yards on this uphill hole. Then we wheeled over to the red tees where "Oh" also hit a very nice drive. There's nothing like an uphill climb to get the juices flowing.
"Song" and I were now on the upside of the green. He putts first. Zoom! Off the green the ball goes. I was watching very carefully and putted cautiously. I missed the cup and off the green went my ball also. "Oh" was downhill and putted last. Not a perfect putt, but close enough for an easy tap in.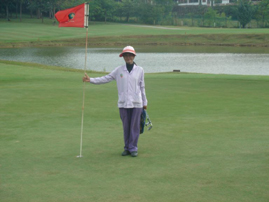 Thinking about #15 hole on the way to #16 it crossed my mind that it seemed a little long for 371 yards, but then again any hole is long when you screw up the drive and the fairway is all uphill. We all hit good drives on #16 and reached the green in regulation. We were doing fine until we all slid our balls off the green again. In our different tongues we muttered something like; stupid greens are very fast today. Again, I'm thinking, man that hole sure played longer than 340 yards.
We arrived at hole #17 and male partner "Song" says, "you first 360 meters." (sic) I said what? He repeats, "360 meters". No wonder these holes seemed long to me, they're in meters, not yards. Duh!
When we arrived at #18 I must have looked lonesome riding by myself because a female caddy of Indonesian nationality attached herself to me in particular and our threesome in general. It was fine by me. Anyone that doesn't know meters from yards needs all the help he can get.
Our group was provided with plenty of water on this very hot day. But the hot weather wasn't the only thing in everyone's thoughts. Keeping the ball on the green was another. A one-putt hole generally saved two or three additional strokes. In reading about the greens in the Seri Selangor literature after I arrived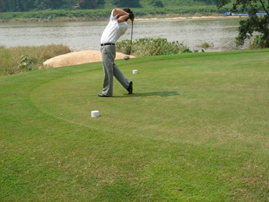 home this is what it said. "Definitely not among the biggest of putting surfaces…undulating surfaces with breaks that are tough to read…with green speeds of 10.5 on the Stimpmeter…"
Despite the hot day, but we were all having a good time until we were rained off the course with 3 holes left to play. As the lightning and thunder moved over us and the horn blared for five minutes we all reluctantly headed in. I say reluctantly, because our putting and scores were improving. Mine certainly did once I began converting the meters to yards and had a caddy to advise me. Plus, the drizzle before the rain slowed down the putting surfaces.
Later—much later, we came to find out why the greens were like glass. It seems the course was being prepared for a tournament the next day and hole placements were situated in precarious spots to prevent tomorrow's pros from knowing the precise hole locations. Our little group of 18-24 handicappers felt vindicated after we heard the same grumbling about the greens from the 8-17 handicap players.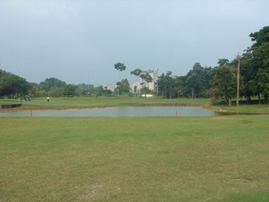 Rain ended my first round of golf on a Malaysian golf course, but it was a fun fifteen holes. It seems golf is golf the world over. The games the same and foreign courses may have their own personality, but so do all courses---only the scenery changes. Overall, I enjoyed playing with "Oh" and "Song" and I believe they enjoyed my company also, because they suggested we pair up again when we next play—but it was not to be.
Maybe I'm being snobby, but I wondered if golfers would travel to Malaysia to play golf on a public course even if it is rated as #1? I diffidently concluded they would. So, if you are in Selangor and want to play a very good public course with reasonable fees--$16.00 for nine holes and $27.00 for 18 holes--you won't go wrong with this one. If you wish more information on Malaysia's #1 Public Course visit,
www.seriselangor.com.my/
.
All in all, Malaysia has 212 courses that are located most everywhere: in cities, on mountains and along the sea. Many of these international-class courses have been designed by the likes of Jack Nicklaus, Robert Trent-Jones, Max Wexler and other golfing greats.
A great book on golf courses in Malaysia is "Malaysia Your Golfing Paradise." which can be requested through Tourism Malaysia's web site www.tourismmalaysia.gov.my/
.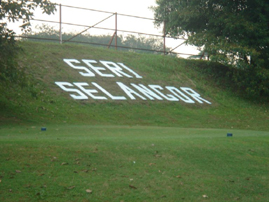 *Golfers take note. 2007 will also herald in the Fourteenth Annual World Amateur Inter-Team Golf Championship. In year's past, the U.S. has been conspicuously absent from this event, but there is plenty of time to register a team of three or four players for the upcoming championship. Have a look at www.waitgc.com/ if you believe you're good enough to compete against your international rivals. It's a sort of Asian Ryder Cup for amateurs.
Also, in 2007 Malaysia will be celebrating its 50th Anniversary of Statehood. It is the perfect chance for American tourists to experience the excitement of a nation in its infancy…an opportunity to visit a country that truly welcomes U.S. visitors. Not only welcomes them, but wants them to make Malaysia their second home. Plus, the 50th Anniversary celebration should be one great party.