Iberostar Golf Club Cancun
By Bob Enzel
This is a flat course non-similar to other flat courses generally offered as "public" courses.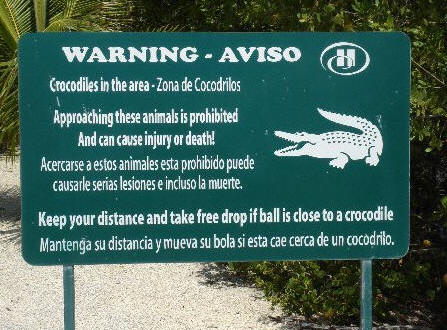 For instance, I have never played a course--flat or hilly-- with any hole designated with this caveat. "Crocodiles (sic) are considered immovable objects. A drop with no penalty is allowed; please avoid dangerous confrontations or disturbing these animals." I'd say that's a good rule to follow.

It is also unique in its location. Bordered on the west by Nichupte Lagoon and to the east by the Atlantic Ocean and a string of hotels--one of which serenades beach goers and golfers with "pop" music on occasion.




Flat with charitable fairways it is nonetheless challenging. Several of the 18 holes require accurate shots over water. The 376 yard (blue)/356 yard (white) on hole #18 collects more than its share of erratic shots even though the "hardship" is only an eight.
There are enough positioned sand traps on every hole to keep the game interesting, and there is the rough... Golfers are cautioned several times to stay away from "nesting alligators."

Needless to say, it is very wise not to take more than a cursory look in the rough or in the water for an errant ball.

An accurate golfer with less than an 18 handicap can probably play his/her average, but don't rely on the flatness to help other than to get a decent faraway roll when hit straight. If not hit straight it will roll into the rough keeping play honest. The greens were in good condition and fairly easy to read.

However, a ball stroked too firmly that misses the hole will roll on and on making the comeback shot just as difficult. A delicately hit ball that doesn't quite reach the hole has a tendency to break several feet away.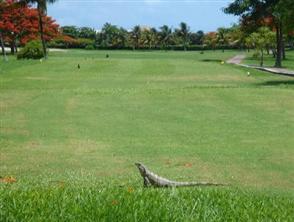 A variety of birds and water fowl line the course chirping away. A howl you may hear that sounds like a cat in heat is the voice of a peacock. Many Iguanas are in abundance on several holes and the 16th hole overlooks the ancient Mayan Ruin, "El Rey" making it an interesting course to play.
The flat course between the waters humbled us as we all shot above our average. I look forward to playing it again.

Par 72, 6374 blue 71.1/121; 6261 white 68.2/115; 5810 yellow 69.3/188; and 5029 red 70.4/114