HAWK'S LANDING GOLF CLUB
By George Schissler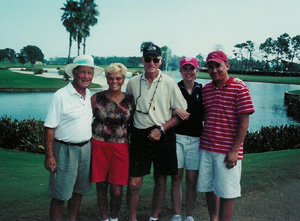 This course immediately brought me back to my sophomore year in high school when I had to stand before the entire class and recite this quote from the Rhyme of the Ancient Mariner by Samuel Coleridge Keats: "Water, water everywhere and not a drop to drink".
From the back tees Hawk's Landing yardage measures 6,810 yards, but can be shortened considerably by playing from three shorter yardage tees. Par, however, is 72 from all tees. The generous greens are Bermuda grass and water comes into play on 15 of the 18 holes, including the entire back nine. Extra balls are a desirable commodity.
The course occupies 200 acres on three sides of the Orlando World Center, Marriott in Orlando, Florida and provides every amenity a vacation or a day of golf demand. There are several fine restaurants, a fully stocked pro shop, driving range, chipping and practice putting greens, teaching academy and everything one expects from a first class golf facility. It's all here at Hawk's Landing.
Here's how the course SHOULD be played:
#1 This par 4 can be played anywhere from 309 to 426 yards depending on which tee you choose. The slight dog leg right requires a left center tee shot to gain easy access to a large open green.
#2 A short par 3 (113 to 182 yds.) to a wide open slightly sloping back to front green bunkered on the right. …
#3 Water on the right but a generous fairway to accommodate a left center tee shot. Fairway wood or mid iron to green open in front (Par 4, 286-387 yds.) Easy enough so far…
#4 (Par 5, 424-535 yards.) Depending on which tee you choose to hit from this can be a driver or a long iron to the right edge of the severely sloped fairway. Keep the tee shot to the right center of fairway leaving a second shot which must carry over water whether you choose to play safe or take the long route (a dangerous, low percentage shot) to the elevated green with water on the left. The safe route should leave a short iron to a large green. Keep right of the pin to avoid more water. Big numbers come up here.
CAUTION: If you hit into the water and wish to retrieve your ball, check to see where the alligator is first.
#5 Water on left should not come into play. Bunkers and rough to right. Use a mid or short iron to large fairly flat green. (Short par 4, 263-342 yards.)
#6 Par 4, (356-475 yds.) Trees are on the right so keep tee ball to left center on this generous fairway. Second shot usually requires a fairway wood, but keep to the right to avoid water and marsh. Third short iron shot to small elevated green sloped back to front. Stay below the hole.
#7 (Par 3, 175-229 yds) Plays longer than it looks. Solid tee shot needed here whether it is wood or iron. Large elevated bunkered green sloping back to front. Keep under the hole.
#8 (Short par 4, 230-353) Trees on right, but adequate fairway to avoid trouble. Good driving hole. Usually mid to short iron to large green guarded on right by sand and water.
#9 Tough par 4 (244-407 yds). Water directly in front of tee should not come into play, but trees on right might. Keep tee ball to right center to avoid second shot going into water on left and for best access to the large green. Par is a good score here. Note: Trees on left harbor many driving range balls.
OK. You have gotten through the front nine. Take a break, go in, have something to eat, have a drink and then go to the pro shop and purchase a ball retriever. It most likely will pay for itself on the back nine. This is where the "Water, water…" really comes in.
#10 Par 5, (417-554 yds.) This relatively easy par 5 is the only break you will get on the backside. Fairway is wide open for tee shot and usually a fairway wood second shot leaves a short iron to a large bunkered green. Water on right should not come into play.
#11 Par 4, (243-390 yds.) Straightaway tee shot avoids water on left and trees on right, but leaves challenging shot to green. Either play it safe and lay up with short iron or use enough club to clear water and hit green surrounded by water. Too short or too long left or right and you can use the ball retriever.
#12 Water and waste area fairway all along left with fence and trees on right calls for tee ball to left center of fairway. Fairway wood or long iron (stay right on this shot also) to large green. Can be a difficult par 4, (293-412 yards.)
#13 Short par 3 (100-160 yds.) Just looks easy. Requires tee shot over water with short iron. Go for the pin and hit short and you will find water (even if you find land the ball will roll back into water because of the severely sloped bank in front of the green).
#14 Challenging par 4 Left center tee shot. Water all the way to green on left can come into play on second shot so stay right. Usually requires third shot to large back to front sloping green. Stay under hole (341-432 yards.)
#15 Short par 3 (96-142 yds.) Looks easy. Short iron must be kept to right of pin or green to avoid the enticing water. Severe slope on right allows kick to large green.
#16 Dog leg left requires tee ball to right center to the open green. Sand and water on right and rear protects gently sloped front to back green. Par 4 (279-399 yards.)
Pin Placement can make this a very difficult hole.
#17 Par 4 (286-420 yds.) Severe dog left requires tee shot over water to be slightly right center. Fairway bunkers come into play off tee and second shots. Fairway wood or long iron to bunkered difficult green. Toughest green on the course slopes front to back. Tough hole!!
#18 Par 5 (435-565 yds.) Longest hole on the course. Water should not come into play off tee and ample fairway provides room for fairway wood second shot. Reaching green in two is not likely so you will be faced with tough decision on how to reach the green. Daring (and skilled) golfers can attempt to hit over the water to the green or opt to play out to the left and chip to the sloping green. Either way a par 5 is a good score.
-----------------
I have played this course probably 25-35 times and it always humbles me to the point where I always bring extra money to purchase new balls. If I conquer a different hole each time I play this course there is personal satisfaction, but that's what makes this game so challenging. I don't post par as a final score, but there is hope that like life--which should be lived one day at a time--golf should be played one hole at a time.
HAWK'S LANDING GOLF CLUB
ORLANDO, FLORIDA 32821
(800) 567 262
www.golfhawkslanding.com