Golfing In the Alps
By Bob Enzel
"Smell that fresh mountain air" my golf cart companion said to me as we traversed the course high above the village of Megeve in the Savoie Region of France.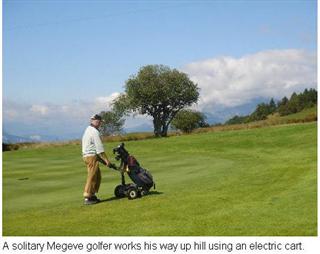 Ten years ago I sniffed this same mountain air when I skied this golf course under several feet of snow . Actually, I skied only the six golf holes that are permitted for skiing. Things didn't look the same. At that time the majestic Alps were covered with a white blanket of fresh powder. But now it was the end of summer and the weather had turned a bit chilly. (Chilly for me means below 80 degrees.) The day before it had rained and the course was still drying out, but that didn't stop a sizable number of local golfers from whacking their way up and down the hilly course. Mostly up it seemed to me.

My traveling companions and I stayed at the very comfortable and beautiful Chalet du Mont d'Arbois in the d'Alice Lodge adjacent to the course. That weekend the course in Megeve hosted a Pro-Am competition where the cream of French golfers converged for a convivial and fun weekend. The #1 golfer in France; probably Thomas Levet, also stayed at this same mountain chalet, but in a separate lodge with his family. I won't mention the per week cost for the lodge, but anyone rated above #5 probably would want to stay somewhere less convenient.


The village of Megeve just below us, was a mute reminder that, after a round of golf or a day on the slopes, nice cafes and elegant shops would welcome us, no matter what score we shot or how poorly we skied. Megeve in summer is not as popular as it is in winter, as evidenced by the number of visitors. But this bodes well for golfers who don't like to be rushed and crowded into seven or eight minute time slots.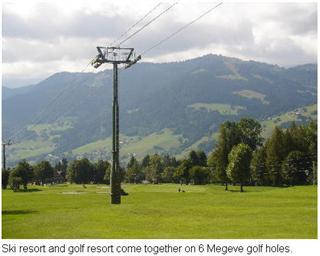 Franck Martin, director of golf at the Megeve course, and I checked the number of sand traps (50+) and "watering points" (5 or 6) and other obstructions--like trees--to confound a poor swing. It sits in a pastoral plateau at an altitude of 4,330 feet. The big challenge is hitting uphill. One leg a bit shorter than the other could be considered a benefit when swinging a fairway club. Alas, I didn't have this advantage. Mr. Martin acknowledged that the 18-hole, 71 par Megeve course was a good test of golfing skill.

Pro golfers have no difficulty with these ups or downs. They merely hit it from tee to green.

The next course I checked out was in Chamonix about 25 Kilometers down the road from Megeve . A blanket of snow also covered these slopes on my last visit in 1999. My guide and companion Bernadette on these recent visits helped me fix the date of my first visit based on two horrific episodes. A devastating avalanche that took the lives of 12 residents in the town of Montroc in February and the even more horrific accident that killed 41 drivers and passengers in the March 24 Mont Blanc Tunnel fire. The avalanche covered road was quickly re-opened and the destroyed houses rebuilt in good time, but the Mont Blanc Tunnel took three years before the 11 km route under the mountain to Courmayeur, Italy was again open to traffic.

More skiing memories were brought out of my memory depth while riding the Montenvers cog train to the Mer de Glace Station. The last time I rode this train my fellow skiers and I had just climbed out of the Vallee Blanche in our ski boots on a 30-foot metal ladder up a sheer wall. This ride was infinitely more pleasant. Just below these train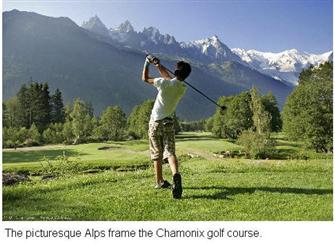 tracks sits the "Golf Club Chamonix Mont Blanc" neatly resting at the mounain base. Just below means about two thousand feet down into the valley.

Unlike the Megeve golf course the Chamonix course is laid out along the base of the Alps in a lovely Alpine valley setting. The 18-hole course is low-lying. A very good reason for this is that the mountains in Chamonix are high, like 12,000 feet high. I'd need to carry an oxygen tank along with my golf bag should there be such a course. The 6,644-yard, par 72 course was created by famed American designer Robert Trent Jones, Sr.

Not far away by auto are two other mountain courses for those who like to play golf where they ski. Courchevel and Meribel are two very famous resorts in the Trois Vallees ski complex (see The Blue Book of European Ski Resorts for full ski information) that also have golf courses. The Courchevel course is only 9-holes, 3,360 yards, but the Meribel course is an 18-hole, par 71, 6,000 yard challenge.

Anyone used to playing golf at sea level and wanting to vary the intensity can come to the mountains of France. In addition to the altitude he will be faced with a gastronomic challenge that will take the edge off your score. Over a bottle of local French wine and a plate of Savoie cheese who cares about the golf score?

Megeve Tourism. www.megeve.com
Chamonix Tourism. www.chamonix.com
Golfing in Chamonix. www.golfdechamonix.com
Golfing in Megeve. www.golf.megeve.com