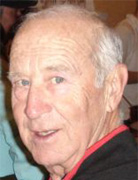 Binks Forest G.C. and James Petrokus, Jr.
By George Schissler
We, my visiting friend from Washington, D.C. and I decided to try our skill (and luck) at a golf course
new to us and selected Binks Forest Golf Club in the nearby Village of Wellington, Florida.

The decision to play here was made after checking their internet site which noted that the 18 hole,
par 72 Johnny Miller and Gene Bates designed facility had been completely renovated in 2007 by Bates. It features pine tree lined fairways, four sets of tee boxes on each hole, Tifeagle greens which proved to be lightning fast, some water and 85-90 bunkers.
Other amenities include a driving range, large practice putting green, club rentals, a well stocked pro shop and restaurant.
Binks Forest proved to be a surprising test and challenge to our limited skills - but the biggest (or smallest) surprise came somewhere toward the middle of the front nine. It was there that we became aware of the twosome behind us.
Because of the lengthy tee shots we practiced good golf etiquette and waved them on not wanting to slow their pace of play. As the father and son rode by we remarked to the father that he was hitting the ball well. He then informed us that he was only driving the cart and not playing at all. It was his 12-year-old passenger, James Petrokus. Jr. pictured here hitting the shots.

We watched as James Jr., a little lefty. hit his tee shot approximately 220-230 yards down the middle of the fairway and the two of us turned, wide-eyed at what we had just witnessed. Naturally we had questions and Dad revealed that James Jr. played his first golf at age three and will be competing in the U.S. Kids World Championship at Pinehurst No. 4 in North Carolina in August. He has also competed in the South Florida 2011 division. The August championship pits qualifiers in separate age brackets and James will compete in the 12 and under age bracket.
We also noticed that the clubs in his bag were Taylor Made and were told that his favorite PGA player is Rory McElroy. He is coached by Matt Messor from Bear Lakes in Palm Beach, Florida, a Jack Nicklaus designed golf course.
James Petrokus, Jr. just might be a name we will all be familiar with in the future. But for now we can all wish him the best of luck in August at Pinehurst No. 4 where he could be No. 1.