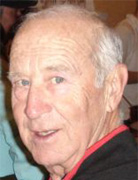 Rusutsu Resort, Hokkaido, Japan
By George Schissler
After enjoying visiting ski country in three continents (N. America, S. America and Europe) a winter holiday visiting my son George, his wife Kelayna and granddaughters Emi and Izabelle a winter holiday in Japan did not include even the slightest thought of spending three days on skis--but when the opportunity to do so presented itself it was quickly accepted.
I was invited to join a group of my sons friends and fellow workers heading for the Rusutsu Resort on the island of Hokkaido in northern Japan to have some fun on snow. It proved to be the best decision of the trip as his three fellow workers, Kendall Ching,Yi Ping Deng both from Hawaii and Anh Nguyen from California had skied Rusutsu many times in the past and served as personal guides and escorted me to the best snow and trails on the mountain. And I believe with their help I pretty much spent time on every trail and lift.

The trip began with boarding Japan Air Lines Flight 506 at Tokyo's Haneda Airport for a two hour flight to Sapporo, site of the1972 Winter Olympic games and from there a 90 minute bus ride through Vermont-like countryside to the Rusutsu Resort and our hotel at the base of the resort's West Mountain.

A side note regarding Sapporo: A very special attaraction which takes place there this season on February 5-11 is the Snow Festival which might be enjoyed on a off day from skiing. The event draws approximately four million visitors to view the snow statues and amazing ice sculptures.
------------

The ski-in-ski out hotel can accommodate 4,000 guests, has 16 restaurants, 16 different food outlets and is located near the scenic wonders of Mt. Yotei and Lake Toya and on a clear day you can see the lake and the Pacific Ocean from the top of Mt. Isola, the resort's highest point.

The hotel offers hot baths, gymnasium, wave pool, a sophisticated indoor toddlers learn-to-ski center, top of the line ski rentals and more ski instructors than I was able to count. English is not widely spoken here but there are numerous Australian employees and ski instructors who will gladly assist in solving any language difficulties.

Rusutsu proudly claims "We are the home of perfect snow" a boast that held true for our entire stay. Although no snow fell during our visit (Rusutsu's average annual snowfall is above 200 inches) the snow conditions were excellent and newly groomed for morning skiers. The ski terrain is divided between the three mountains. West Mountain more or less serves as an instructional and beginner's area. The real ski terrain is divided onto East Mountain and Mt. Isola. Its here that the longer and a little more demanding slopes attract the greatest number of skiers. A gondola gains access for skiers to both mountains and to long, wide trails such as Steamboat A and B and Isola Grand. From here skiers and boarders can connect to Heavenly Ridge, Heavenly Canyon and Heavenly Spirit which are served by three gondolas and to long, wide trails such as Steamboat A and B and Isola Grand allowing skiers to connect to Heavenly Ridge, Heavenly Canyon and Heavenly Spirit which are served by three quads.

Combined these facilities offer 37 slopes, 42km of length and are predominately rated intermediate. There are only 6 advanced or expert trails on the mountains. To carry you to the slopes there are a total of 18 lifts--4 gondolas, 7 quads (five of which are covered and 6 which are high speed); 7 doubles (one covered and one high speed). Rusutsu also offers night skiing on West Mountain. Opening date is usually in late November and an early April date ends the ski season. The elevation on top is 994 meters and the base is situated at 400 meters for a vertical descent of 594 meters.

Rusutsu operates throughout the year and offers a varied summer program with an amusement park and an 18 hole golf course.