GOLF 101
By George Schissler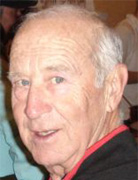 By definition golf is a game played on a large outdoor course with a series of 9 or 18 holes spaced far apart, the object being to propel a small, hard ball with the use of various clubs into each hole with as few strokes as possible.
Well, we all know that and we also know that it is not easy. Winston Churchill described golf as "a good walk spoiled" and his definition more aptly fits most golfers' games. But try as we might there is solace in the fact that players before us, and those who are to follow will contend with the same problems players have faced for centuries. Although in this country we have not fought the fight as long as its originators back in the 1600's in Scotland.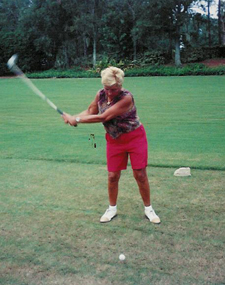 The first permanent golf club in this country was organized sometime in the late 1880's and shortly thereafter (in 1894) the United States Golf Association came into being and set forth rules for us to follow. As the game progressed The Professional Golf Association was formed in 1916 and golf as we know it came into being and the sport has flourished ever since.
How much has the sport gained in popularity is evidenced by the fact that today there are approximately 16,200 courses operating in the United States and of that number 12,000 are available for public use. (World-wide 32,000 courses are presently open for play). And more courses are being constructed each year. In 2004 150 new facilities were built in this country, although experts contend that they are real estate driven and not necessarily a demand from the golfing public.
And just who are these American golf enthusiasts?
At present there are 12.8 million adult golfers in this country who play at least eight times a year with the overall average hitting the links 37 times a season. The makeup of this group breaks into 10.2 million male and 2.5 million female players. There is also an additional 14.6 million adult golfers who play less than eight times a year and 2.9 million junior participants ages 12-17. All total it is estimated that 30 million people are committed in varying degree to the sport of golf.
Where do all these players put in time playing the game? Of the 16,000 plus courses the greatest number call Florida home. The state boasts almost 1.100 courses; California comes in second (925); then Texas (857); Michigan (852); and New York (822) but new courses are being built with regularity. Another interesting fact is that public courses in this country charge an average fee of $35 for 18 holes for golf only, sans cart.
Statistics tell us that the numbers for golf are flat but holding. The industry cites that although they attract 1 to 1 1/2 million new participants every year they also lose that number one million each season through death or disability. The other half million just give up the game altogether.
Let's see how those who are left score.
Here is the average scoring keeping in mind that only 8% of all golfers shoot under 80 with the average being 97 (95 for men and 106 for the ladies). Twenty percent shoot between 80-89; 31% mark their cards between 90-99; 30% add their strokes from 100-119 and 11% score 120 plus.
Where does the money go? Golfers spent $24.3 billion (that's with a B) in 2002. Almost 20 billion went directly to green fees, dues and equipment. Of that amount $19.7 billion accounted for 81% of all expenditures. The remaining 4.7 billion was spent on equipment alone. Those who played 25 rounds or more annually make up the smallest player segment (23%). but account for 63% of golf related spending.
Other interesting facts tell us that $26 billion is spent on travel, hotel and other expenditures by golfers, while not actually contributing to golf related income. Also 3.7 million or 15% of all golfers live on a golf course.

Regardless of how we score we keep coming back waiting to hit that perfect shot, sink that winning putt, or just try to better yesterday's score. That's the beauty of the game. Every day is another chance to do better because every day is a new game.
Winston Churchill also said something that may encourage golfers not to give-up but to try harder. "Sure I am of this, that you have only to endure to conquer."
We may not conquer the game but as golfers we can surely endure.