BULL RUN GOLF CLUB
By Bob Enzel

Intrepid Joe and I were off to tame another Virginia golf course. This time it was the Bull Run Golf Club out near the site of the infamous battle of Bull Run. Our battle with the course was more like a micro-skirmish compared to our previous annihilation at the hands of The Osprey's golf course.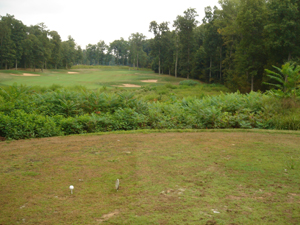 We had our choice of colors: black (7009 yds); blue (6552 yds); white (6219 yds); green (5727 yds) and red (5069 yds). No, we didn't opt for the wimpy green. This being another new course (again) to us we choose white as a compromise.
There were a few water holes, but none that intimidated until the five hundred yard 18th hole where a body of water cuts across the fairway just about where you need to make a decision. The big "d" being, can I hit it far enough to carry over the stream or should I lay up and save a ball and a couple of strokes? How did we do? The hole is ranked as the eighth hardest on the course, but if we were to rank it we'd give it a number one. That's how we did.
There are the usual sand traps sprinkled amidst the woodlands and wide undeveloped meadows, however, most pins were visible from the tees. What was not so good the day we played were the greens. They were being aerated. That was unfortunate because Bull Run has been rated locally as "the best public course in the DC area"; "100 must play courses in the Mid-Atlantic" and so on. We'll try it again when it's back to being one of the "must play courses."
It was a nice day weather-wise, but we started late and finished late; thus choose not to stop at the 19th hole even though it looked inviting. Next time we'll start earlier.
Location and fees can be had off their web site at www.bullrungolfclub.com/
The web site shows a hole by hole display that can be blown up to illustrate the flavor of the course and the Virginia countryside where fierce battles once raged.