Switzerland Golf
By Bob Enzel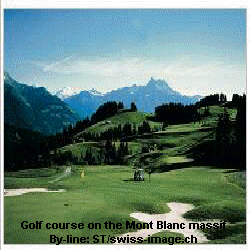 Switzerland has a neat little book titled, "Swiss Golf." It's neat because it includes helpful advice on golf, lodging and packages by Swiss region. It's also neat because the book is soft cover and just slightly bigger than a pocket sized book.
Go to www.swiss-golf.ch or www.myswitzerland.com and request a copy. In poking through the book looking for golf courses, I came across many familiar names of places I've skied.
Take for example Graubünden, well known for its sensational ski resorts, but also home to Europe's highest 18-hole golf course at the Golf Club Arosa. Or, permit me to name drop St. Moritz where everyone including royalty visits and skis. Golf Club St. Mortiz Kulm offers a full-service 9-hole Executive Course on the grounds of the Kulm Hotel St. Mortiz.
Or slip over to the Lake Lucerne area where there are a number of courses; all with gorgeous views. One lodge with golf facilities that looked enticing was the newly renovated 4-star Kurhotel Sonnmatt that overlooks the lake and is only 12 km. from the center of town.
I've just touched on a few of the many options proffered in the book, but beware…every page shows beautiful scenery, lovely hotels in dreamlike settings that entice you to visit their town; their hotel; or their golf course.
Note: On out-bound flights from the U.S. or Canada, Swiss International Air Lines lets you check your clubs and baggage through to your final destination. To my knowledge this is the only airline that provides this type of service. And if you fly into the Zurich Airport you will be in one of the more travel friendly airports in the world. To assist your travel plans, a short bio on the Zürich Airport, the Glacier Express and Alamo rental cars are also on this site.
Happy traveling and happy golfing.